Heads up! We're working hard to be accurate – but these are unusual times, so please always check before heading out.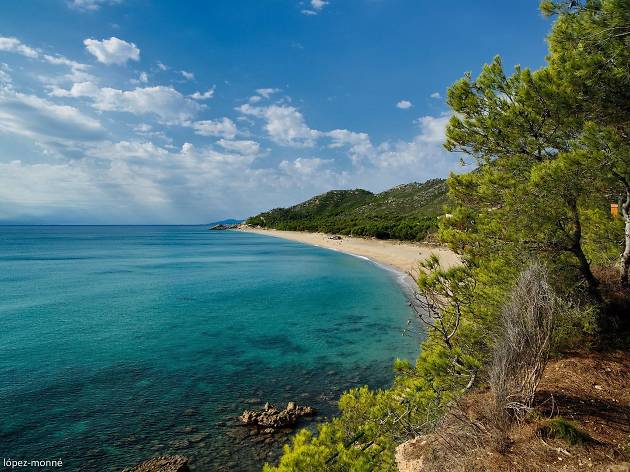 Getaway to L'Hospitalet de l'Infant i La Vall de Llors
A fascinating and tasty 48-hour trip to the sea and mountains
Afternoon day 1: Camí de Ronda to paradise
After your journey to L'Hospitalet de l'Infant, you'll doubtless be in the mood for stretching your legs. And what better way to do it than by the sea, following the Litoral del Jonquet coastal path (the GR-92 walking route) that will take you to some splendid areas. The walk begins on the Passeig Marítim of L'Hospitalet de l'Infant, then heads south towards Torn beach. When the Passeig Marítim ends, the well-marked coastal path begins, which will take you to Cala Bea, where you can see a bunker from the Spanish Civil War.

The route starts to climb and brings you to the Cala d'Oques cove, where you start getting some extraordinary views, especially at Torn beach. This is a beach with dunes and vegetation, perfect for nature lovers. If you like naturism, this is an ideal place for stopping. Here you'll also find the islet of Torn, which gives its name to the beach, and where you can find the vestiges of its 16th-century watchtower from where you can admire how the greens and blues blend in the Mediterranean forest of the protected area Rojala-Platja del Torn.

On the way back, retrace your steps from the islet until you arrive at the Tintín, Temple of the Sun campsite. From here you take part of the old N-340 road called Vía Augusta. This leads you back to L'Hospitalet de l'Infant, where we recommend having dinner in one of the restaurants you'll find in the Port Esportiu, then rounding off your day with a drink in a local pub while enjoying some live music.
Morning day 2: Water sports at Arenal
Fancy some time by the sea? If the weather suits, you can get in some nautical sports at the city beaches. At the longest beach, Arenal, you'll find almost 2 kilometres of fine sand, clear waters and, of course, a Blue Flag flying there as a guarantee of its quality. It's also a great place for playing beach volleyball and football as well as enjoying the various aquatic sports offered by the Estació Nàutica water sports centre. If the mistral wind is blowing, it's ideal for windsurfing; and if there's no wind, why not head out on a kayak or a paddle surfboard and head for the Llop Marí Cave? And if you like the idea of snorkelling, grab your gear and explore the seabed and the flora and fauna living there by following one of the three underwater routes either on your own or with guides.

With all that sea air, you'll doubtless be peckish, so head to a good restaurant and order a fish stew ('suquet'), bream ('orada'), bass ('llobarro') or any speciality made with tuna ('tonyina').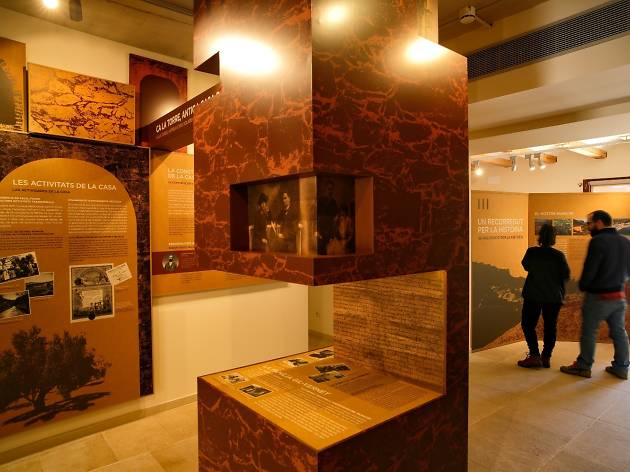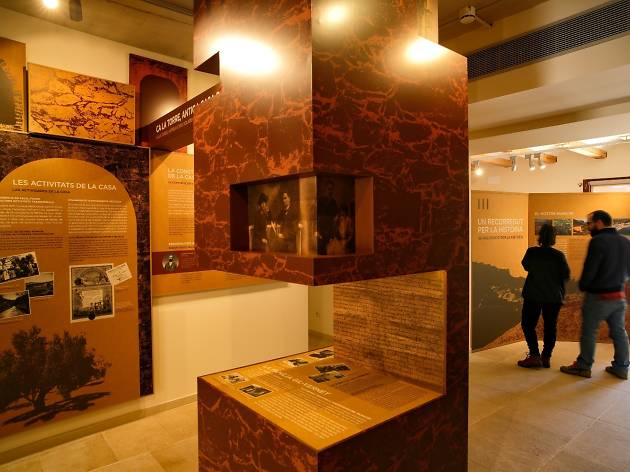 © Rafael López-Monné
Afternoon day 2: Inland villages
Now it's time to get to know the other part of the town. Just a few kilometres away, running parallel to the C-44 road, are Vandellòs, Masboquera and Masriudoms. It's worth taking the time to walk around each of them. Vandellòs is the biggest of the three. Head to the centre to see Ca la Torre, a robust square building dating from the 16th century that was part of the local defences, and today is a Cultural Asset of National Interest. Together with its next-door neighbour (manor home of the Gil-Vernet family), this is the headquarters of the Historical Archive.

If you're one who likes to see things with perspective, head up to the hill of Lo Castell (follow the yellow signposts that start at C/Amunt). At the peak you'll find various boards explaining the different mountains you can see around you, as well as fabulous views. As you head back down, take a guided tour of the Oil Information Centre, a restored mill that has been converted into a museum. At the end of your visit you can try (and buy, if you like) oil from Vall de Llors.

In Masboquera, you'll quickly spot the bell tower, known as the Tower of Hours (Torre de les Hores). It has been significantly remodelled and has a gabled brickwork bell tower. When you've finished in the village, you may want to stop the car for a moment as you leave to enjoy the views of the tower from a distance and take a selfie with the mountains as backdrop.

Finally, in Masriudoms take a walk along C/Major to the church of Sant Jaume, a small building that has a 13th-century defensive tower, which today is a bell and clock tower, and has been declared a Cultural Asset of National Interest. Also worth seeing are Plaça de la Font and the old outdoor public laundries where locals cleaned their clothes in the days before running water reached all the houses.
Morning day 3: All in a name
You might be wondering where the name of L'Hospitalet de l'Infant comes from. According to local historians, in 1344, a hospital was built on the orders of the son of King Jaume II the Just and Blanca d'Anjou, Prince ('Infant' in Catalan) Pere d'Aragó i d'Anjou. The hospital treated travellers going between Valencia and Barcelona. Today, of the original construction, it is still possible to see a tower and various walls, which now make up part of the Visitors' Centre of L'Hospital del Coll de Balaguer. These features are a journey to the town's medieval past that lets you put yourself in the shoes of travellers, walk around and visit the defence tower.

If your third morning falls on a Sunday, head to the market held along the Passeig Marítim with all sorts of products on sale, and where there are several bars where you can stop for an aperitif.
Afternoon day 3: A modern hermitage
The time to leave is fast approaching. If at lunchtime you enjoyed another copious meal (and even if you didn't), then we suggest a walk to the hermitage of Sant Roc, about 5 kilometres from the centre of L'Hospitalet de l'Infant in the Serres del Mestral mountain range. It's just 200 metres above sea level, but the panoramic views it offers are fantastic to see and photograph. If you're visiting in the middle of August, there is a public trek to this spot, which you're welcome to sign up for. The hermitage itself has its own merits, built as it was between 1993 and 1996. This is the last sight you'll take with you from this getaway to L'Hospitalet de l'Infant i La Vall de Llors.
Cultural venues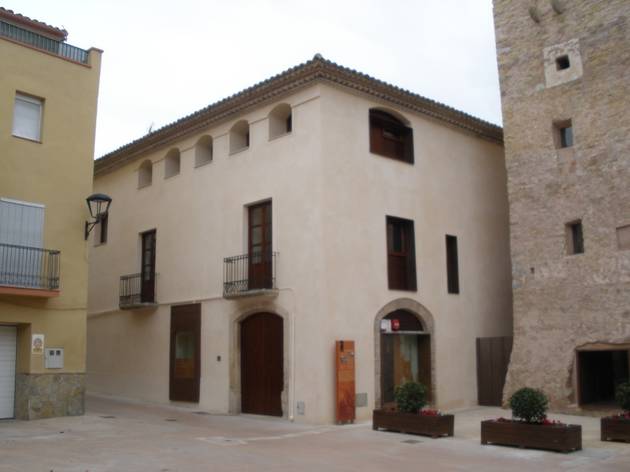 Located right next door to the church and the town hall in Vandellòs, Ca la Torre is a manor house that takes its name from its defence tower, which dates from the Middle Ages. Decaled a site of national cultural interest, today it is a cultural centre that provides the town with a variety of services.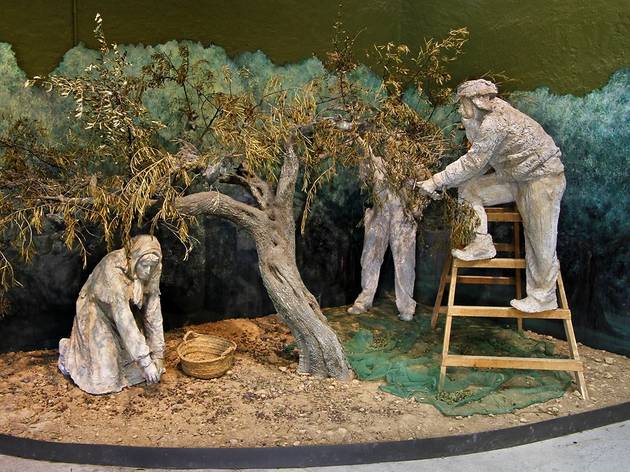 This old oil mill has been restored and converted into an study centre dedicated to the world of olive oil. Its modern museum exhibits invite visitors to discover and explore the world of olive oil through the mill's original machinery and the testimony of some of the millers who once worked there.