Heads up! We're working hard to be accurate – but these are unusual times, so please always check before heading out.
Getaway to Garraf – 'Indian' country
A trip that lets you discover the hidden treasures of Sant Pere de Ribes and Sitges
During the 18th and 19th centuries many locals from the county of Garraf headed to the Americas to seek their fortune. Many of them achieved their aim, and later returned home (where they became known as 'Indians') with their pockets full. They built important homes for themselves in towns such as Sant Pere de Ribes and Sitges, and these can still be admired today. However, Garraf is also known for its lovely beaches, which you'll have time to visit during this trip. In addition, this is an ideal county for enjoying walking routes, and it's with this last activity that you will start your getaway.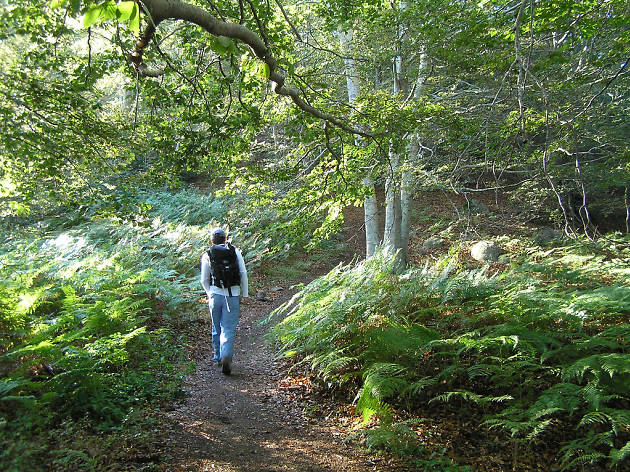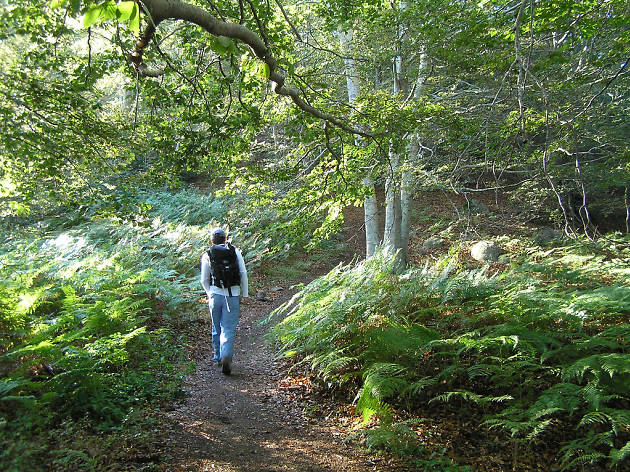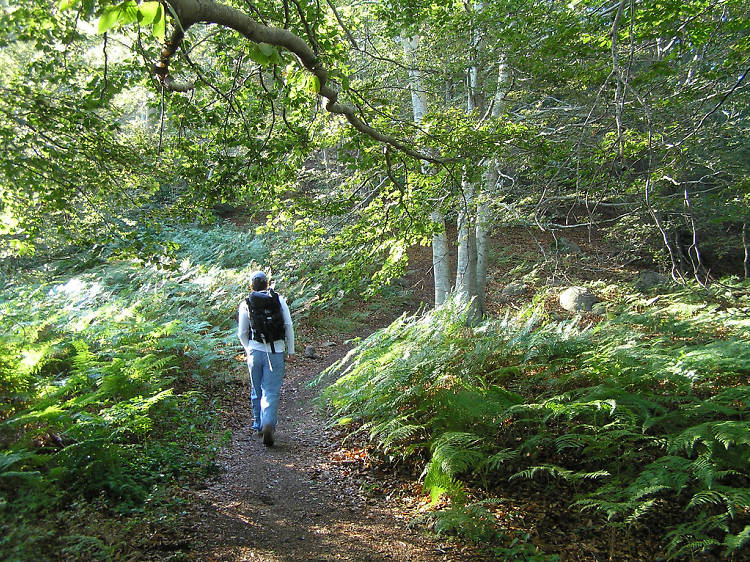 © Agència Desenvolupament Node Garraf
Day 1 – afternoon: Canyelles – Olèrdola – Puig de l'Àgila
A good way to discover a place is by observing it from a special view-point, and on this trip, you'll enjoy a truly panoramic sight. It's a route that can easily take up the whole afternoon as it's 13 kilometres long, but it's not complicated. Before starting, head to a local Tourist Office to pick up an information brochure about where you're going, then follow the milestones that you'll find along the itinerary.

The route is semicircular, which means you can start from wherever suits you best. We suggest starting in Canyelles, a town worth exploring and whose castle is particularly noteworthy. It was started in the 15th century, and since then it has been through different stages of construction. Today it's a private residence, and has been designated a Cultural Asset of National Interest.

Head out of the town towards the Pla del Bosc, a flat expanse that has farmhouses (masos) and vineyards. After a while, the path starts to climb, which is when the panoramic views over Canyelles and the Pla del Bosc start to become really impressive.
Head next towards Olèrdola. This involves changing county to Alt Penedès, a foray that is well worth it: Olèrdola is the Penedès town with perhaps the most important history and most valuable archaeological features, and at one point, it was actually the county capital. Along the way, you'll pass by the hill of Sant Miquel, location of the historical settlement of Olèrdola, with sites from different eras and one of the branches of the Catalan Archaeological Museum.
You can also take a look at the more modern part of Olèrdola, but don't forget there's still part of your walk to complete. You need to retrace your steps and then follow the directions towards Puig de l'Àliga. At 465 metres high and often busy with hikers, this is an emblematic spot with excellent views of Penedès, Garraf and even the Pyrenees - on very clear days, it's actually possible to see the mountains of Mallorca. Once you are refreshed in mind and spirit, follow the path back to Canyelles.
Day 2: the 'transformers' of Sant Pere de Ribes
The whole of your second day will be spent in Sant Pere de Ribes. It's thought that in the 19th century, around 400 natives of the town (Ribetans) set off in search of their own particular American dream, and those who returned home (known collectively as 'Indians') led a significant urban and cultural transformation of the town, filling it with buildings with a romantic air. Start on C/Major at Can Puig, a country house (masia) that dates from 1853 and today houses the tourist information office. Just in front, you'll see a magnificent locust tree. On C/Major, you'll find a number of Indian houses, and those at numbers 9, 10, 11, 13 and 18 are particularly worth seeing - some are private residences, others serve as public buildings and one is used as a social centre. In Plaça de la Font, you'll find an elegant modernista fountain constructed in 1906, while in Plaça de la Vila is the 18th-century town hall – look up and you'll see the clocktower, financed by Ribetans living in Cuba.

Take C/ del Pi, another road with 'Indian' houses (at numbers 16, 20 and 25) whose large windows and balconies symbolise of the wealth of their original owners. The history of this street is particularly marked by the presence of a large pine tree growing in the grounds of one of the properties, and which extends its branches as far as the opposite side of the street. Local resident Josep Mestre Planas has dedicated a poem about both the street and the tree: 'My street goes up / it's very old and well looked after / where there's a pine tree that's even older / and is the pride of all the neighbours'.

Turning on to the C/ del Dr. Cuadras, you'll soon reach the neighbourhood of Palou, where there is an 'Indian' house traditionally known as Can Cuadras and which today is a hotel. Head next to Plaça d'Olivella, and then to C/Narcís Oller, C/Eixemenis and C/Maristany, which will take you to the New Church (Església Nova), a 100-year-old building inspired by Barcelona's Santa Maria del Mar. The bells of the church – located in twin towers – were paid for by Ribes local Francesc Marcer, an Indian living in Guantanamo. Go along beside the church to reach Plaça Marcer, which has a West Indian appearance and is the nerve centre of Sant Pere de Ribes – a good place to bring your walk to an end.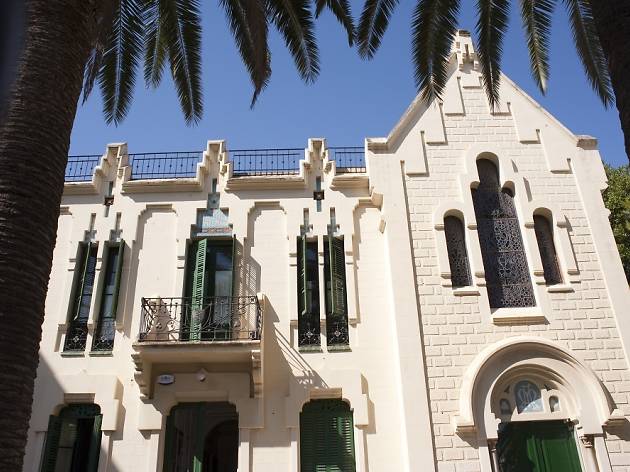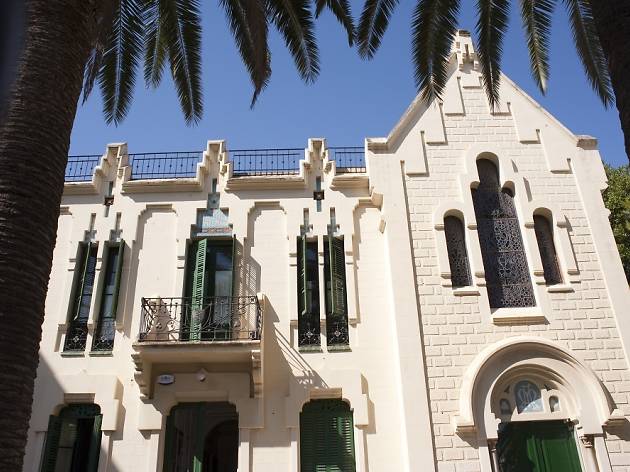 © Josep Cano / Diputació de Barcelona
Day 3 – Sitges and its 'Americans'
You might already know that Sitges has many interesting places to visit and activities to do. However, as you did yesterday when you discovered the 'Indian' past of neighbouring Sant Pere de Ribes, today in Sitges, you'll discover even more about the Garraf emigrants who headed to the American continent. In Sitges, as in some other towns, they are known more as 'Americans' than 'Indians', and, once they returned from their adventure, they filled the town with myriad treasures in the form of lovely buildings and houses.

It's a good idea to sign up for a guided tour in Sitges - in this way, you won't miss any interesting detail and discover anecdotes about the 'Americans' that have been passed down from parents to children. The tours generally last about two hours, and you will doubtless pass along the street of l'Illa de Cuba, one of the most emblematic from those important times, with various 'American' buildings and many modernista houses, which are also the work of those who returned from the other side of the Atlantic. It's no coincidence that at the end of the 19th century and start of the 20th, Sitges was one of the key places in the modernista movement - artists held parties there and have left behind, among many other things, the magnificent Cau Ferrat and Palau Maricel.

And after your cultural morning, we suggest a final afternoon in Garraf, enjoying its beaches. In Sitges alone there are 26, if you include their lovely coves, which means you have plenty to choose from. They all have a range of services, from stands where you can enjoy a drink in the shade to companies dedicated to water sports. But don't forget – apply lots of sun cream, wear your sunglasses and enjoy your final hours in Garraf.