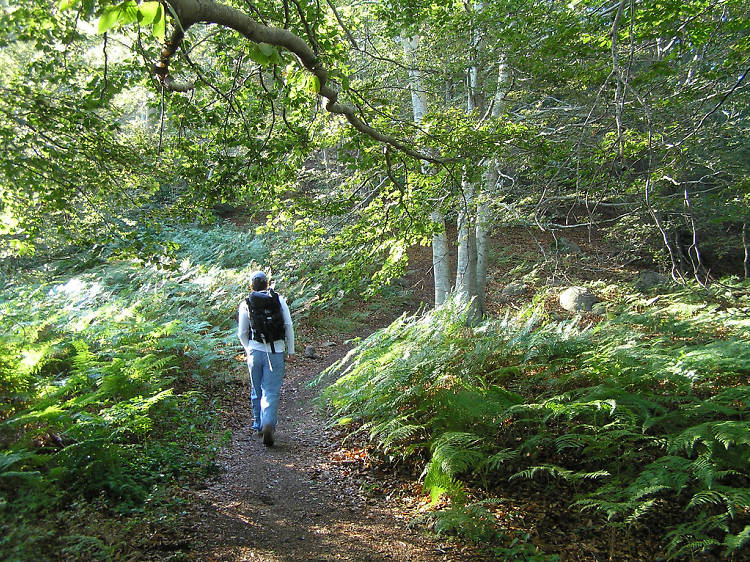 © Agència Desenvolupament Node Garraf
Day 1 – afternoon: Canyelles – Olèrdola – Puig de l'Àgila
A good way to discover a place is by observing it from a special view-point, and on this trip, you'll enjoy a truly panoramic sight. It's a route that can easily take up the whole afternoon as it's 13 kilometres long, but it's not complicated. Before starting, head to a local Tourist Office to pick up an information brochure about where you're going, then follow the milestones that you'll find along the itinerary.

The route is semicircular, which means you can start from wherever suits you best. We suggest starting in Canyelles, a town worth exploring and whose castle is particularly noteworthy. It was started in the 15th century, and since then it has been through different stages of construction. Today it's a private residence, and has been designated a Cultural Asset of National Interest.

Head out of the town towards the Pla del Bosc, a flat expanse that has farmhouses (masos) and vineyards. After a while, the path starts to climb, which is when the panoramic views over Canyelles and the Pla del Bosc start to become really impressive.
Head next towards Olèrdola. This involves changing county to Alt Penedès, a foray that is well worth it: Olèrdola is the Penedès town with perhaps the most important history and most valuable archaeological features, and at one point, it was actually the county capital. Along the way, you'll pass by the hill of Sant Miquel, location of the historical settlement of Olèrdola, with sites from different eras and one of the branches of the Catalan Archaeological Museum.
You can also take a look at the more modern part of Olèrdola, but don't forget there's still part of your walk to complete. You need to retrace your steps and then follow the directions towards Puig de l'Àliga. At 465 metres high and often busy with hikers, this is an emblematic spot with excellent views of Penedès, Garraf and even the Pyrenees - on very clear days, it's actually possible to see the mountains of Mallorca. Once you are refreshed in mind and spirit, follow the path back to Canyelles.