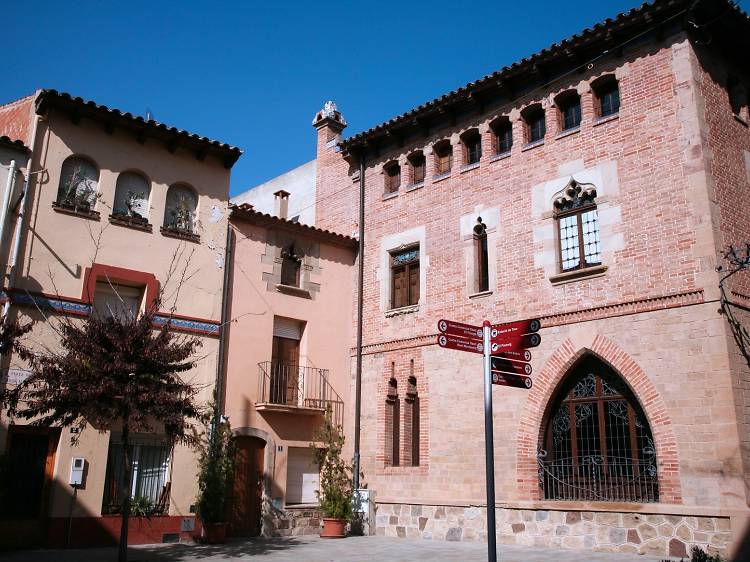 ©Jordi Bastart / Diputació de Barcelona
La Garriga
You'll start in a town that was one of the first to be used by Barcelona's bourgeoisie for summer holidays, leaving behind many elements of modernisme and changing its physiognomy. It isn't summer but of course it's still well worth visiting La Garriga and yielding to the charms of its many buildings from the late 19th and early 20th centuries. Take a relaxing stroll along its flat, long and pleasant El Passeig, which has many of the great houses built a hundred years ago. Some panels at the start and end of El Passeig tell you the names and location: Casa Sebastià Bosch i Sala, Casa Santamaria, Casa Barraquer, Torre Iris... The summer houses near Plaça del Silenci are well worth seeing. This is the so-called Illa Raspall, where there are four, surrounded by a garden, built by Manuel J. Raspall between 1910 and 1913, today listed as a national cultural interest asset. But to see the first architectural work by Raspall you have to go to Carrer dels Banys; there, in 1903, the architect reformed his mother's ancestral home from top to bottom. He kept some of the gothic elements from the 14th century farmhouse, and you can see the influence of Josep Puig i Cadafalch.
Staying in the town, you'll have a complete change of theme. On the outskirts, in the direction of Les Franqueses del Vallès, there's a place that speaks to us of a painful and not so distant past: Rosanes Airfield. It was built in the 1930s by an Argentinean businessman, but with the outbreak of the Spanish Civil War it was expanded and used by the Republican Army and became a very strategically important point. You'll find air raid shelters, command centres and the soldiers' dining area, as well as the control tower.
Leave behind the History and delve into the Nature of the present. From La Garriga you can take several paths on which you'll discover the landscape of this part of El Vallès. Choose whichever you fancy, but if you go with the family we recommend a simple one and not too long: Ca l'Oliveró. Leaving from Passeig dels Til·lers, walk towards Carrer de Cardedeu and Carrer Torrent de la Cova. The path will climb slightly but isn't difficult, and you'll see old crop fields reclaimed today by the forest, a fantastic view of La Garriga, and the 16th century farmhouse of Ca l'Oliveró.
If before leaving La Garriga you want to buy some local products, go to the farm shop El Rebost del Pou Calent, in Carrer dels Banys. In fact, in the region you're visiting there's a long list of farm shops where they sell products from cooperatives and farms and other local producers.