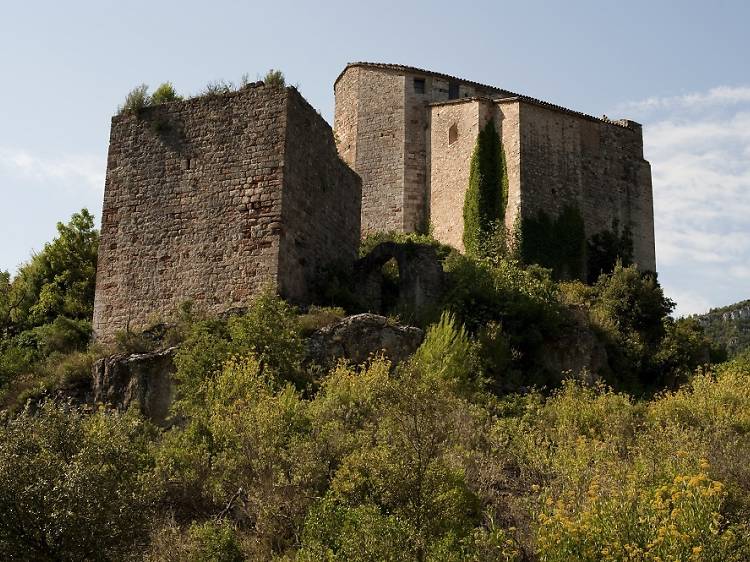 © Josep Cano / Diputació de Barcelona
Day 1 – afternoon: medieval peace
A thousand years of history looks down on you from the Torre Grossa of Mediona Castle in Alt Penedès. Since its construction in the 10th century – probably on top of an existing Saracen building – many years, lives and architectural styles have passed by, but it has never been uninhabited. In the 21st century, this monumental edifice houses multiple social, cultural and leisure activities. Apart from the peace and contact with nature you'll find there, they also organise regular get-togethers, workshops, courses, exhibitions and guided visits.

For a few hours, you will explore this castle that is soaked in history and located in the middle of the countryside. Found at the top of a mountain pass on the Bolet range, low-lying among hills and vineyards, the castle is accessible via a single road – an ideal route for transporting you to the medieval world, like the knights who, asleep on their horses, were bewitched by fairies and taken to a marvellous alternative dimension. To get there, head out of the town of Sant Quintí de Mediona and take the C-244a towards Sant Joan de Mediona. Turn onto the side road signposted as the way to the castle, around the 18-kilometre point. These instructions apply if you go by car, obviously. If you're walking, on horseback or bike, then you can get there by taking C/ de Ponent along a path among the vines until, when you reach an old factory, you'll find a sign indicating the way to the castle. An unmissable experience, the climb on foot or bike is a pleasure aimed at lovers of hiking.

If the weather is good, and you've got time to spare, stop before reaching your destination to explore the woods along one of the paths covered by the extensive vegetation. When you get to the castle, you'll see a primitive 10th-century building that has been gradually transformed into its current state by numerous generations of inhabitants. A Romanesque chapel from the 12th century was expanded in the 13th and 14th centuries in the gothic style, there is a Knights Templar building from the 13th century and, finally, the Torre Grossa (Large Tower), built in the 15th century by the Duke of Cardona. This simultaneous chronological and architectural tour will be well explained to you if you take one of the castle's guided tours, which need to be reserved in advance, and will make an excellent end to your first day in Alt Penedès.