48 hours in Maresme
A getaway to enjoy the sea and the coastal mountains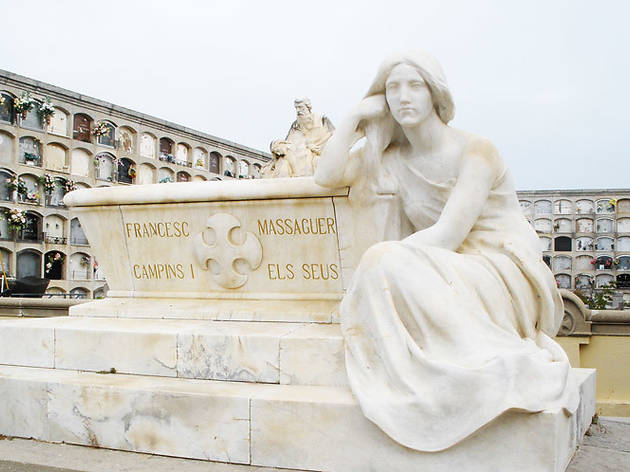 This long and narrow county, bounded by 37 kilometres of coastline on one side and the pine trees of three natural parks on the other, is easily accessible from Barcelona, making it an ideal spot for a weekend getaway, with a variety of entertainment options and a cuisine featuring tempting local products.
Beginning our stay in Maresme with a visit to a cemetery may not seem like much fun, but the cemetery at Arenys - or, inverting the order of the letters, Sinera, as the poet Salvador Espriu called it, - is no ordinary graveyard. Declared a monument of national interest and roosting atop a hill overlooking the sea and the nearby town, it is impregnated with the white architectural style characteristic of seaside villages and blessed with sculptures by artists such as the modernistes Josep Llimona and Venanci Vallmitjana, making it more like an open-air museum. This year sees the 100th anniversary of birth of Salvador Espriu, who popularised the location in his poems and was buried here.
We will now head for the neighbouring Caldes d'Estrac, where the friendship between poet and playwright Josep Palau i Fabre and Pablo Picasso resulted in the Fundació Palau, an art museum opened only ten years ago. Its permanent exhibition offer an approach to the Barcelona of the first decades of the 20th century and the creativity of Picasso, as well as works by artists such as Miró, Clavé and Gargallo.
If we wake up early enough we will be able to reach the Castle of Burriac without sweating too much. Although standing within the municpal limits of Cabrera de Mar, its round tower stands out on the horizon of all of the villages and towns in the area. It can be reached by a simple and not overlong walk from Cabrera, but make sure you are wearing adequate footwear, especially for the steep and rocky final metres. The effort is well worthwhile, offering aerial views of the county and beyond, as well as placing your feet on remains that were made by recycling a Roman cistern, though most of the walls standing today and the tower date from the Middle Ages.
On the road between Dosrius and Canyamars you will find two activities that are ideal for kids but that adults will also find fun. At Rucs del Corredor, we can go on donkey rides, while at Bosc Vertical, everything is ready for you to begin the adventure of your lives among the trees, with hanging bridges, zip-lines, swinging vines, nets and even snowboards. You can choose from four circuits with different levels of difficulty. Booking is advisable, both at both places.
Perhaps after the morning's frenetic activity it's time to head for the beach in search of refreshment. As we stated at the beginning, you have plenty of kilometres of coastline to choose from. Varador and Callao beaches in Mataró, and Garbí in Calella, have all been awarded the Q for quality distinction this year by the Instituto de Calidad Turística Española, though if you should choose any other beach you are unlikely to regret it. If you wish to bathe unencumbered by clothing, you will also find a variety of places to do so in Maresme. We especially recommend the nudist beaches at Calella, Sant Pol, and Arenys de Mar.
We ourselves have opted to take a dip near Canet de Mar, and when the sun goes down, we'll explore the moderniste legacy of a town that gave us one of the leading figures in the movement - Lluís Domènech i Montaner. In order not to miss a single detail, you can visit the town accompanied by a guide by phoning the Casa Museu Lluís Domènech i Montaner on 93 795 46 15.
If you started this getaway to Maresme on Friday afternoon, today will be Sunday, which is market day in Tordera. With a history going back more than 150 years, this is one of the country's most popular weekly markets, extending for two kilometres and with 300 stalls in the heart of a town in the northern part of the county. Immerse yourself in the atmosphere and, if you are feeling peckish, stop off for one of the large cooked breakfasts prepared by the town's restaurants.
Since we have a little time on our hands before lunch, we will look for the Roman aqueduct at Pineda de Mar. Though not as famous as some of the country's other aqueducts, it still conserves four of its arches after twenty centuries. It is located on the right hand side of the road that runs from Pineda to Hortsavinyà, near Can Cua.
We left for the end of our getaway this visit to the interpretive center of the lighthouse of Calella, which started working in 1859 and has become a symbol of the town. The first optical system was brought expressly from Paris and illuminated an area stretching 18 miles offshore. Today its light reaches 35 miles. All of this, and plenty of other information, can be found at the center (admission €2).
We will spend our remaining time in Maresme exploring the capital city, Mataró. We have opted to visit three buildings with big anniversaries in 2014: the prison, designed by Elies Rogent, which is 150 years old in 2014; Nau Gaudí, one of Antoni Gaudí's first projects, commemorating 130 years after being transformed into a Contemporary Art Museum housing the Lluís Bassat collection; and Rengle, a market that was redesigned in 1894 by Josep Puig i Cadafalch, another famous name in modernisme who has many other works in the town, which we can visit on another occasion.
By train:
Line R1 has stations in practically all of the coastal towns in the county (902 24 02 02) (
www.renfe.com
).

By bus:
Casas (93 798 11 00) (
www.sarfa.com
) offers buses between Barcelona and Mataró and other towns. Barcelona Bus (902 13 00 14) (
www.barcelonabus.es
) offers routes between Granollers and Mataró.
By car:
The C-32 and the N-II run the whole length of the county, while the C-60 connects Granollers and Mataró.