How to make a Bloody Mary
Skip brunch and recreate the hangover-curing vodka sipper in your own home


It's unclear where the tomato-juice–based sipper first originated, but perhaps one of the strongest claims comes from the King Cole Bar at the St. Regis Hotel. According to New York legend, it was St. Regis bartender Fernand Petiot who first served the cocktail to a Russian guest in 1934. While that classic mix of vodka, tomato juice and Worcestershire sauce has been tweaked to no end, the original recipe lives on at the hotel, christened the Red Snapper. Watch our video above to see bartender Robert 'Bob' Albright of the King Cole Bar demonstrate how to make a classic Bloody Mary.
Bloody Mary recipe:
Ingredients:
1 oz. vodka
2 oz. tomato juice
1 dash lemon juice
2 dashes celery salt
2 dashes black pepper
2 dashes cayenne pepper
3 dashes Worcestershire sauce
Instructions:
Combine ingredients in cocktail shaker
Shake vigorously
Strain over ice cubes
Garnish with a lemon wedge
RECOMMENDED: See America's best cocktails
Find the best Bloody Marys in the world
From the 80-year-old original to a new Korean-accented number, these are the best Bloody Marys in NYC
From easy drinking Bloody Marys to some that are hearty enough to pass as a meal, Chicago's Bloody Mary game is strong
It's never too early for a Bloody Mary. Start your weekend off right with a boozy brunch featuring this savory cocktail.
Find more cocktail recipes
Enjoy this cocktail made with South American liquor from the comfort of your own home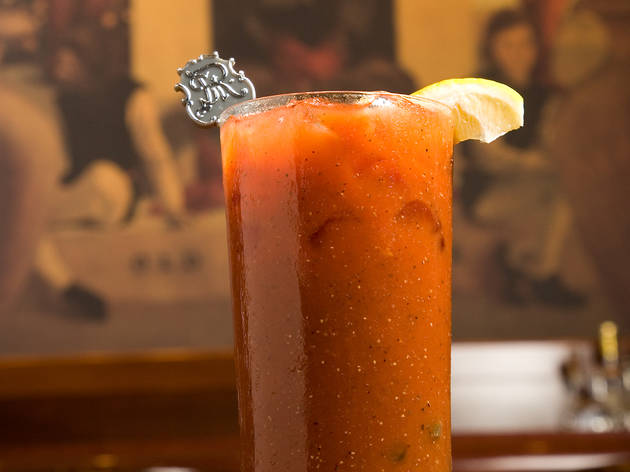 Skip brunch and create the hangover-curing vodka sipper in your own home
Using just four ingrediants, whip up your own Irish coffee cocktail at home with this simple video tutorial
Show more