Heads up! We're working hard to be accurate – but these are unusual times, so please always check before heading out.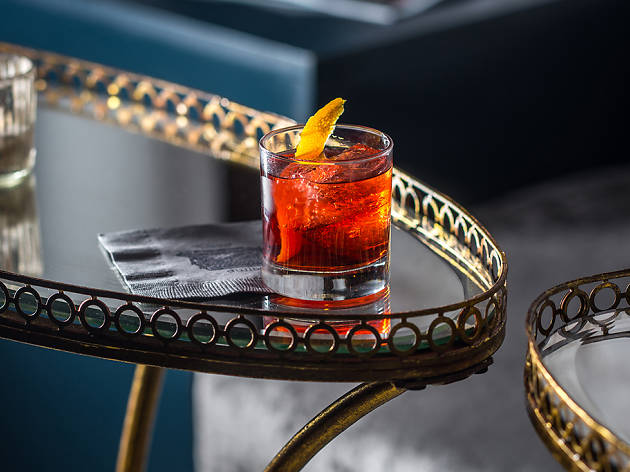 10 cocktails every cocktail geek needs to know how to make
Become a master mixologist with just 10 simple recipes. You'll never have to drink a vodka-soda again.
Sure, there are some decent bars out there in New York and L.A., but there are also plenty of times you'd rather practice craft cocktail sorcery in the comfort of your own apartment. Whether you're throwing a boozy brunch party, hosting a romantic dinner or planning a big date night with Netflix, drink to impress with intuitively layered libations, not just some run-of-the-mill martinis. We've compiled a list of 10 cocktails to elevate your quaff-making game, separating you from the pack and securing your status as a true cocktail geek. Start stocking your bar with rum, bourbon and spiced plum tea now.
RECOMMENDED: See the full list of America's best cocktails
10 cocktails to make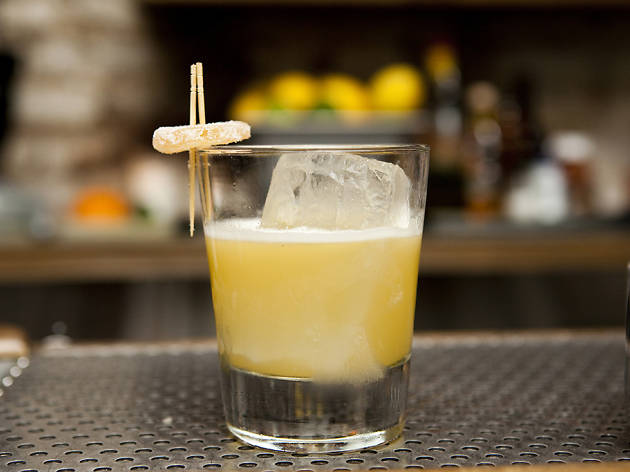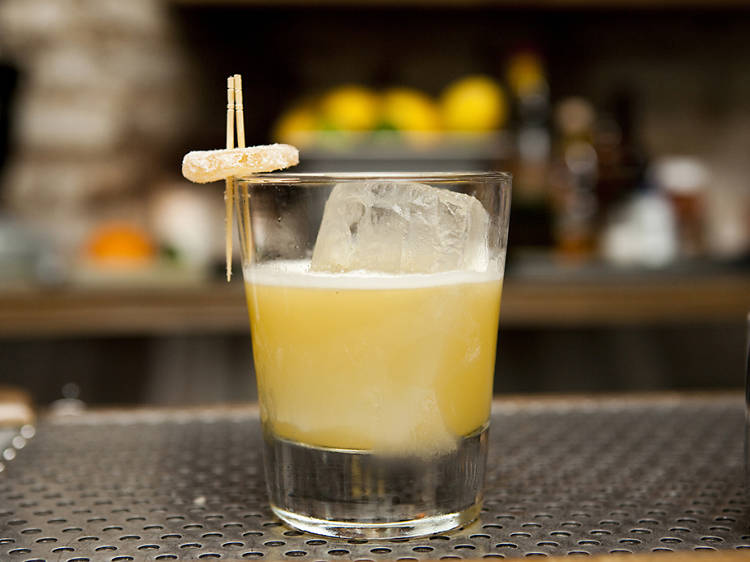 Photograph: Jessica Lin
If you like: Hot Toddies
If you're drawn to the medicinal effects of a classic brown liquor–laden hot toddy, try your luck with a Penicillin—a Scotch whisky cocktail highlighted by the healing properties of ginger and honey. Created by bartender Sam Ross of New York's Attaboy, the Penicillin takes the medicinal cocktail to the next level, calling for muddled fresh ginger, homemade honey syrup, lemon juice and not one but two types of Scotch—a blended base with a single malt float. We feel better already.

Ingredients:
2 oz blended scotch whiskey, preferably Famous Grouse
¾ oz fresh lemon juice
¾ oz honey syrup
3 slices fresh ginger
¼ oz single malt whiskey, preferably Laphroaig

Directions:
In the bottom of a cocktail shaker, muddle the fresh ginger until well mashed. Add the Famous Grouse Blended Scotch, lemon juice, honey syrup and ice. Shake about 20 seconds, or until well chilled. Strain over an ice-filled rocks glass, then top with a Laphroaig Single Malt Whisky float.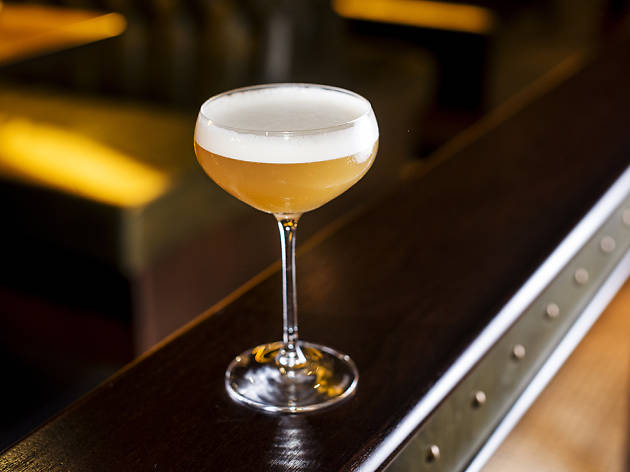 Photograph: Cayla Zahoran
If you like: Scotch Cocktails
This citrusy scotch-based cocktail first appeared in print back in 1930 in Harry Craddock's The Savoy Cocktail Book. Named after the classic Rudolph Valentino movie about bullfighting, the Blood and Sand cocktail exhibits a delicate balance of smoke and fruit that drinks well year-round, providing opportunities to prove your cocktail-making prowess through all four seasons.

Ingredients:
¾ oz single malt scotch whiskey
¾ oz sweet vermouth
¾ oz Cherry Heering
¾ oz orange juice
Orange peel to garnish

Directions:
Add all ingredients to a cocktail shaker and fill with ice. Shake, then strain into a chilled cocktail glass. Twist orange peel to express oils over the cocktail, then add it as garnish.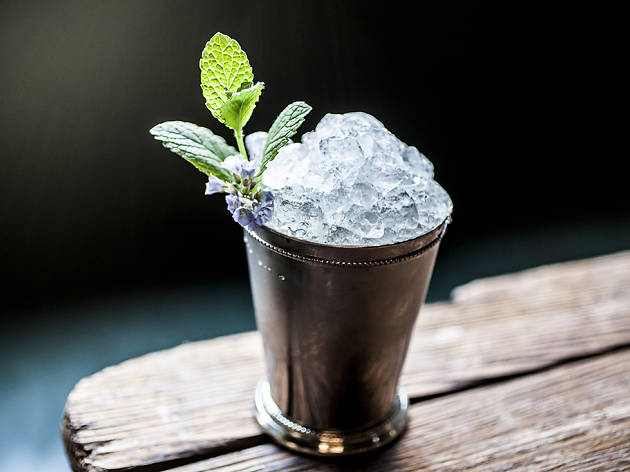 Photograph: Krista Schlueter
If you like: Mint Juleps
Traditionally served as a stand-alone aperitif or simply mixed with soda, Cynar (chee-nar) is a 1950s Italian artichoke liqueur made from 13 different herbs and plants. A rarity in American bars for decades, craft bartenders are now experimenting with this rich and earthy amaro. Thanks to its bittersweet boldness and ABV strength (16.5 percent), Cynar makes for a great bourbon substitute when you're looking to kick your julep game up a notch. (And the super booze enthused should reach for Cynar 70, which clocks in at a whopping 35 percent ABV.)

Ingredients:
2 oz Cynar
½ oz lemon juice
½ oz grapefruit juice
½ oz simple syrup
2 dashes Angostura bitters
2 oz soda water
1 mint leaves

Directions:
In a collins glass, add Cynar, mint, simple syrup, grapefruit and lemon juice. Gently muddle. Add ice, soda and a dash of bitters. Add mint leaf to garnish.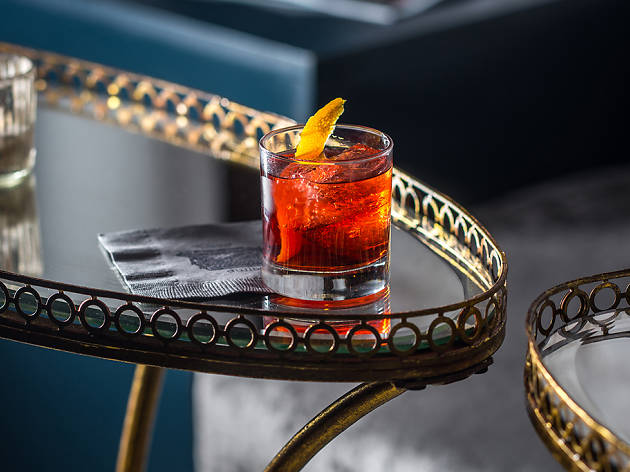 Photograph: Paul Wagtouicz
If you like: Negronis
Created by bartenders Henry Prendergast and Robby Haynes of Chicago's Analogue, the Slow Fade is a modern riff on the classic negroni, combining equal parts mezcal, Campari and blanc vermouth with a dash of Angostura bitters and a touch of elderflower liqueur for added depth. Its complex layers of smoke, sweet and bite ensure an incredibly well-balanced cocktail.

Ingredients:
1 oz mezcal
1 oz blanc vermouth
1 oz Campari
1/8 oz elderflower liqueur
1 dash Angostura bitters

Directions:
Combine all ingredients into a mixing glass. Add ice to chill. Stir, then strain into an ice-filled rocks glass. Twist grapefruit peel to express oils over the cocktail, then add as garnish.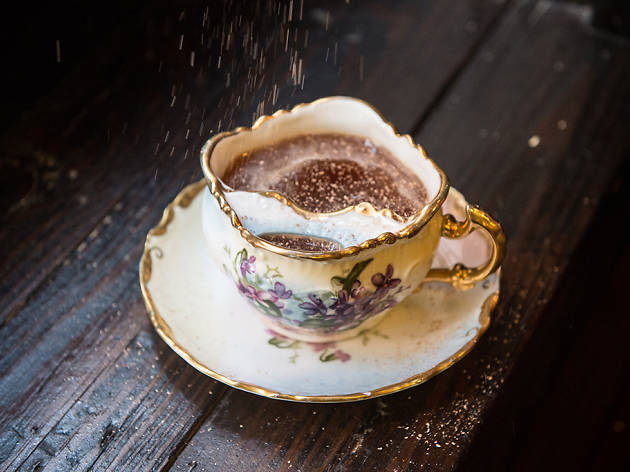 Photograph: Filip Wolak
If you like: Whiskey Sours
For a sophisticated twist on a cocktail classic, garner inspiration from New York's iconic Bemelmans Bar where whiskey sours are replaced with Red Velvets—a refined union of rye whiskey, spiced plum syrup, lemon and egg white finished off with a dusting of bee pollen. Because, let's be honest, honey is so pedestrian.

Ingredients:
2 oz rye whiskey
1½ oz spiced plum tea
1½ oz lemon juice
1 oz simple syrup
1 egg white
Bee pollen to garnish

Directions:
Combine all ingredients in an ice-filled cocktail shaker and shake well. Strain into a martini glass and sprinkle with bee pollen.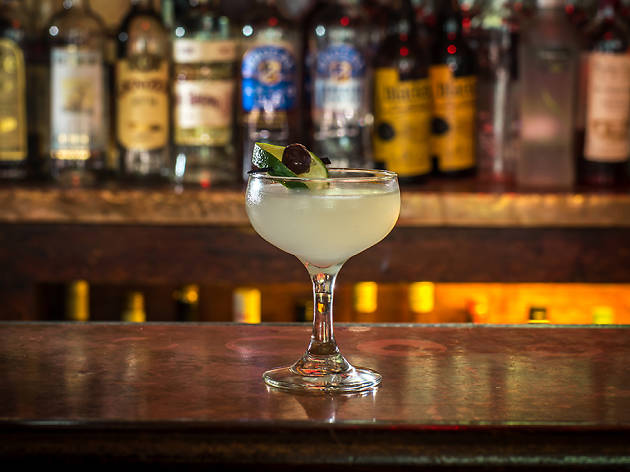 Photograph: Paul Wagtouicz
If you like: Daiquiris
According to Simone Goldberg, bartender extraordinaire at New York's vegivore-friendly hot spot Narcissa, her Vaquero is a boulevardier meets an herbal mai tai. This winter-ready daiquiri ventures far beyond your typical rum-lime-sugar standard, marrying a Buffalo Trace Bourbon base with bitter Aperol, zesty lemon, spicy Chile Liqueur and earthy sage.

Ingredients:
1½ oz bourbon
¾ oz lemon juice
¾ oz ancho chile liqueur, preferably Ancho Reyes
½ oz Aperol
¼ oz demerara syrup (a 1:1 mix of sugar and water)
2 dashes Angostura bitters
2 pineapple chunks, muddled
1 sage leaf, muddled
Sage leaf to garnish

Directions:
In a cocktail shaker, muddle pineapple chunks and sage leaf. And ice and all remaining ingredients, and shake well. Strain into a coupe glass and garnish with a sage leaf.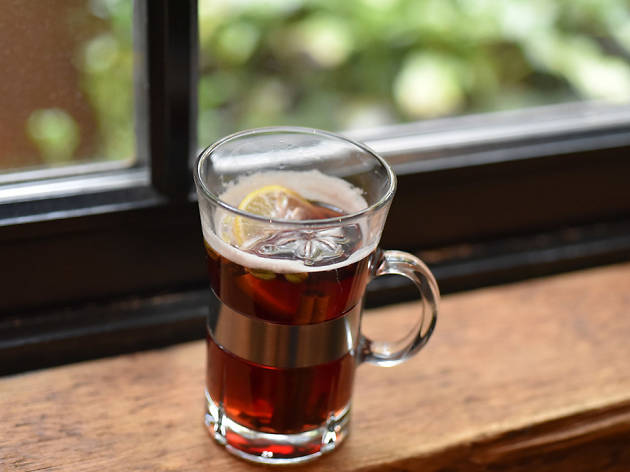 Photograph: Michael Tulipan
7. Chinese Five-Spice Mulled Wine
If you like: Mulled Wine
Anyone can make mulled wine, but only true enthusiasts pair their cinnamon sticks with anise, cloves, fennel and cracked white peppercorns. Created by Bobby Heugel of Houston's Anvil Bar & Refuge, this mulled medley of Chinese spice and everything nice proves that even the simplest of cocktails is worthy of an upgrade sometimes.

Ingredients:
½ cup sugar
1 bottle old vine zinfandel
1 cup ruby port
6 cinnamon sticks
2 whole star anise
6 whole cloves
1 tsp fennel seeds
½ tsp whole white peppercorns, cracked
1 cup cognac or brandy

Directions:
In a saucepan, bring ½ cup water and the sugar to a boil until sugar dissolves. Remove from heat and set aside. In a large saucepan, combine Old Vine Zinfandel, port and spices. Bring mixture to a slight simmer, reduce heat to low and cook for about 10 minutes. Strain mixture, discarding the spice debris. Pour two tablespoons cognac and one tablespoon reserved syrup into a punch glass. Add ¼ cup mulled wine and stir to blend.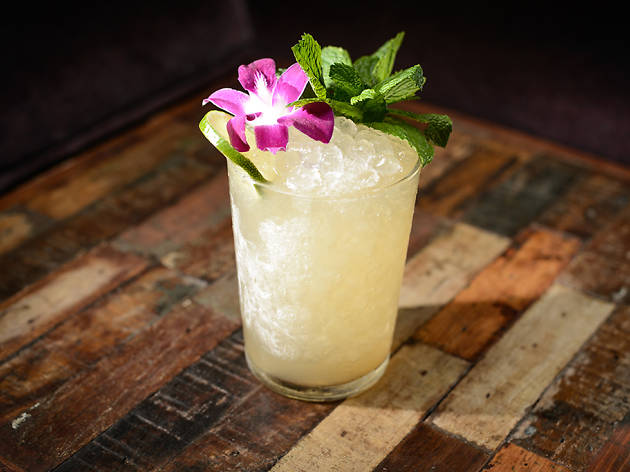 Photograph: Filip Wolak
If you like: Mai Tais
Invented by Don the Beachcomber in 1941, the Navy Grog is considered one of the most authentic tiki drinks, staying true to its recipe roots over time. Traditionally, the three-rum combo is served in a rocks glass over a mountain of snow cone–shaped crushed ice, ensuring each and every sip is just as cold as the last.

Ingredients:
1 oz white rum, preferably El Dorado 3 Year Old Cask Aged
1 oz Trinidad rum, preferably Scarlet Ibis
1 oz Jamaica rum, preferably Appleton Estate Rare Blend Aged 12 Years
¾ oz lime juice
¾ oz grapefruit juice
¾ oz honey syrup
¼ oz allspice dram
Mint leaf to garnish

Directions:
Fill a cocktail shaker with ice and add all ingredients. Shake well, then strain into a crushed ice-filled double rocks glass. Garnish with a mint leaf.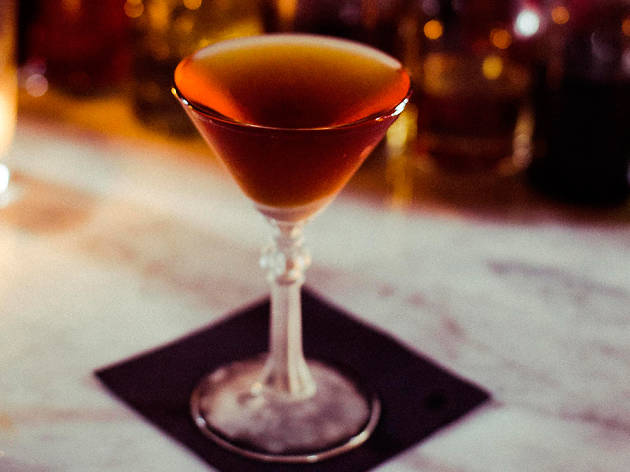 Photograph: Courtesy William Hereford
If you like: Manhattans
Next St. Patrick's Day, consider the Irish Cocktail your ideal antidote to mandated green beer and Irish car bombs. First appearing in the 1888 edition of Harry Johnson's Bartenders' Manual, this Irish riff on a classic Manhattan combines Irish whiskey with the aromatics of orange curaçao, the sweet cherry creaminess of Luxardo Maraschino and the bittersweet warmth of Pernod pastis.

Ingredients:
2 ¼ oz Irish whiskey
½ oz orange curaçao
2 tsp Luxardo maraschino liqueur
½ tsp Pernod pastis
2 dashes aromatic bitters
Orange peel to garnish

Directions:
In a pint glass, combine all ingredients over ice and stir. Strain into a chilled cocktail coupe and garnish with an orange twist.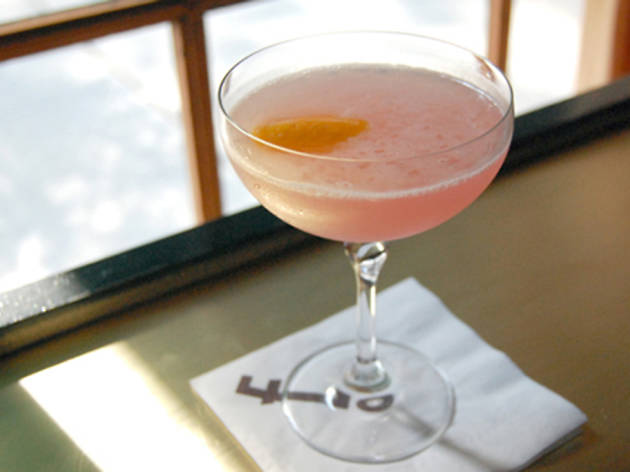 Photograph: Virginia Rollison
If you like: Cosmopolitans
Looking to celebrate with a refreshing vodka cocktail? Forget about the basic vodka-cranberry mixture and opt for a Jubilee instead. The Jubilee dates back to 1930s London when Harry Craddock, head of American Bar at the Savoy Hotel, created the festive elixir as a tribute to King George V during his 1935 Silver Jubilee. While jubilee variations abound, this thoughtful fusion of vodka, dry red wine, spiced pear liqueur, maple syrup, lemon juice and seltzer water will prove to guests that you're capable of much more than typical party punch.

Ingredients:
1½ oz vodka
1½ oz dry red wine
½ oz spiced pear liqueur
¼ oz maple syrup
¼ oz lemon juice
1 oz seltzer water
Sliced pear and grated nutmeg to garnish

Directions:
In an ice-filled wine glass, add all ingredients except the seltzer. Stir gently, then top with a splash of seltzer. Garnish with a pear fan and grated nutmeg.