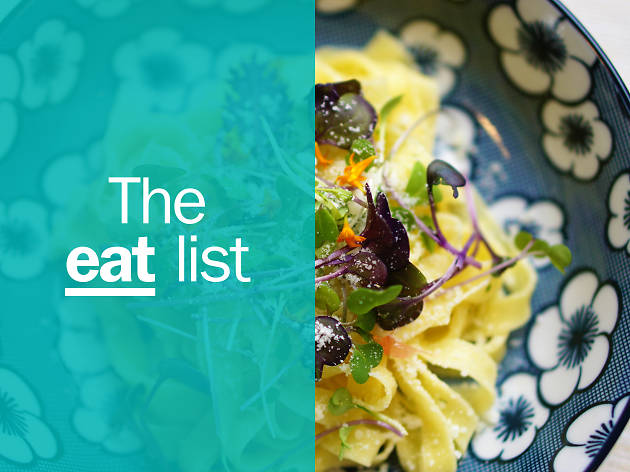 The 13 best restaurants in Bath
Enter foodie heaven with our guide to the best restaurants in Bath
Forget Jane Austen, the Royal Crescent and all the other things to do in Bath, the number one reason to visit is this: food. The West Country spa town has quietly morphed into a top destination for foodies. Sink your teeth into a freshly baked scone in the afternoon before heading out to dinner at one of the many, many top-notch restaurants cooking cuisines from across the globe. Vegans and vegetarians are in for a treat, with the area's eateries making eating your greens nothing but a pleasure. Start your tastebuds a yearning by browsing our round-up of the best restaurants in Bath.
Best restaurants in Bath
© Emma Lewis Photography
Why go? Award-winning, intimate vegetarian restaurant in a gorgeously Georgian setting.
Loved by locals and tourists alike, Acorn's 100% plant-based dishes have the power to convince even the biggest steak-and-chips fan that veggie food is a bit of alright. Sample the affordable set lunch menu (two courses £17.90) or splash out on their Instagrammably sexy five-course taster menu. Just make sure you book in advance. High-end.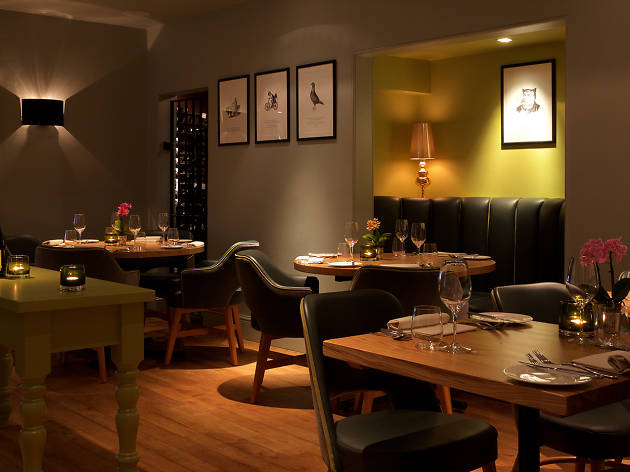 © nicksmithphotography.com
Why go? Fine dining deeply rooted in the local area.
Nestling in the basement of the Queensberry Hotel, the Olive Tree Restaurant takes the best of west country produce and transforms it into properly posh grub. They do a good line in trendy taster menus (including vegan, veggie and dairy-free options), but with a traditional, British heart. Robust flavours abound (trout, game, beetroot), making it a wintertime winner. High-end.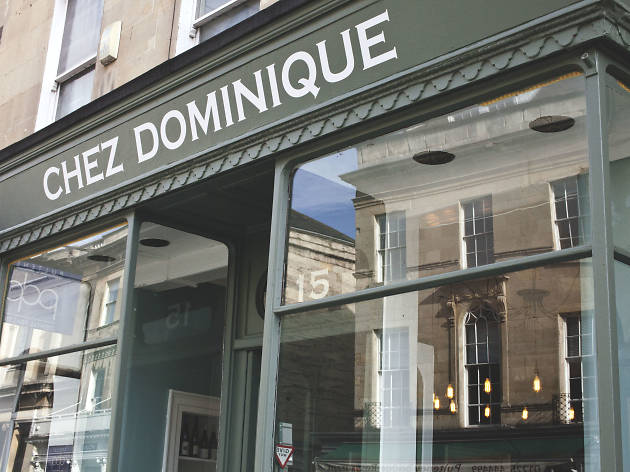 Why go? Modern French restaurant with a stunning view across Pulteney Weir.
Delicious food is best served with a view. And whilst you won't be able to gaze longingly on the Eiffel Tower, Chez Dominique's dining room does come with more than a sneak peak across Bath's iconic weir. Unfussy European dishes are remixed with a few local twists. Mid/high end.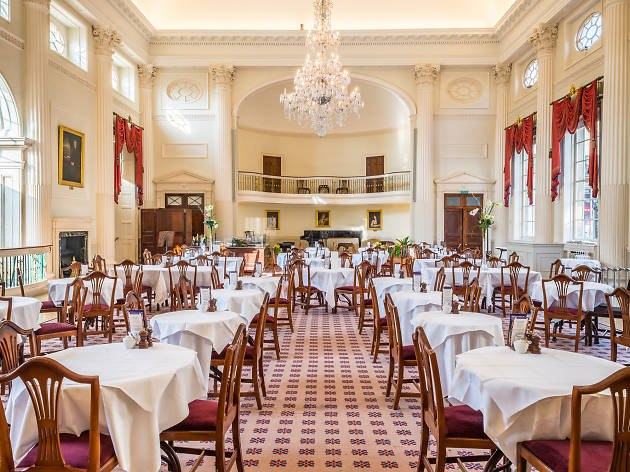 © Andy Fletcher Photography
4. The Pump Room Restaurant
Why go? Iconic restaurant in the heart of Bath that's perfect for Austen-inspired daydreaming.
No trip to Bath is worth its salt if it doesn't include a visit to The Pump Rooms. Crumbly scones, luscious clotted cream and sweet, fruity jams: this is the go-to location for Afternoon Tea. But wait! It also does lunch! And breakfast! Chomp down on hearty English dishes then go wallow contentedly in the nearby Baths. Mid/high-end.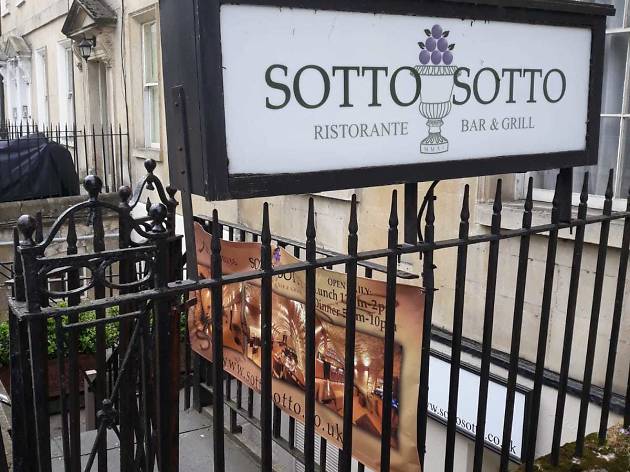 © Renske Visser
Why go? Atmospheric Italian restaurant in unique underground location that's a favourite with the locals.
When in Rome… ok, so you're actually in Bath, but with the historic Roman Baths just around the corner, an evening's meal in Sotto Sotto makes total sense. It's traditional Italian given some superior modern updates. Feast like an Emperor on homemade pasta, washed down with a glass from their Italian wine menu. Definitely make sure to book in advance. Mid/high-end.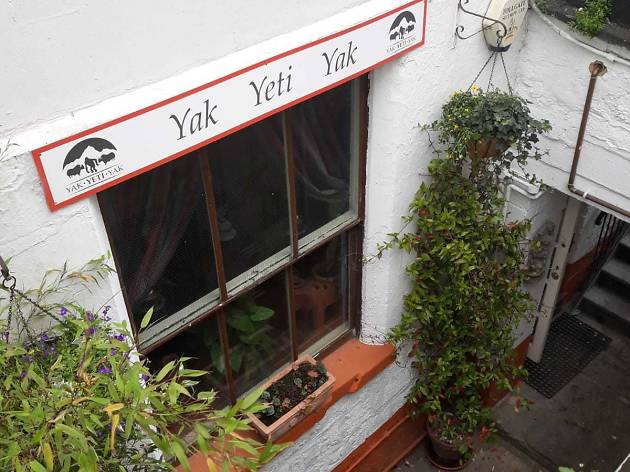 © Renske Visser
Why go? Vibrant Nepalese restaurant serving mouthwatering, spicy dishes.
Located a stone's throw from the station, Yak Yeti Yak is a long-standing hit with Bath clientele. Bringing tangy, super-tasty Asian recipes to the West Country, this semi-hidden gem is well suited to vegetarians. Finish dinner with some sweetly spiced Nepalese tea or stay up all night with the help of a Mustang coffee. Mid-end.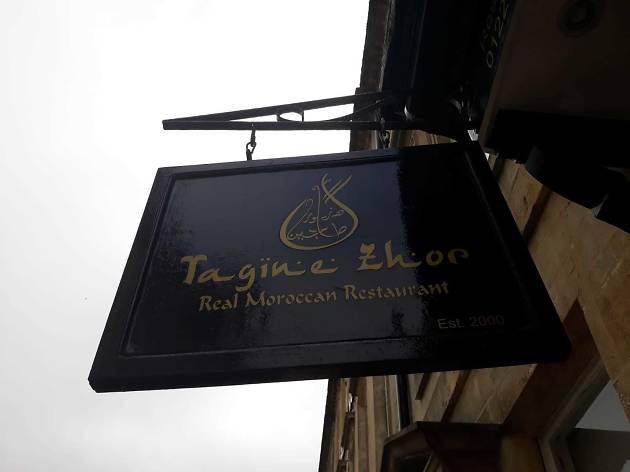 © Renske Visser
Why go? Relaxed Moroccan restaurant that's great for a quick bite with friends.
Tagine Zhor is Bath's only Moroccan restaurant but, frankly, why would you want another? Centrally located, it's a good one for pre-theatre dining. Their mezze is a must-try and cries out for sharing with a loud and hungry group of friends. Pipe down after dinner on their shisha terrace. Mid-end.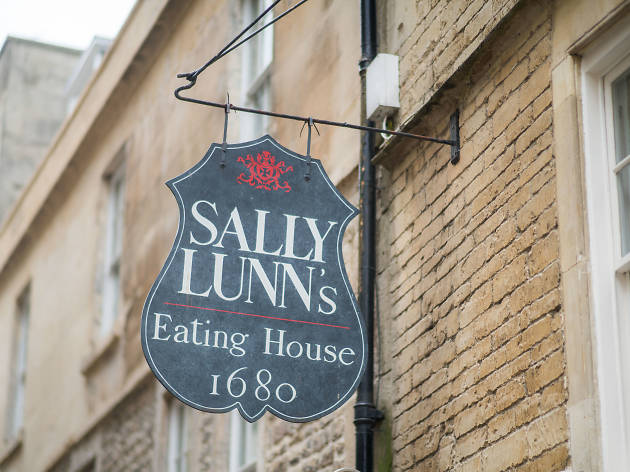 Why go? Historic restaurant in one of the oldest houses in the city, famous for its Bath bunns.
Pretty much all of Bath is old, but Sally Lunn's is older still. Punters have been getting their sticky bunn (yes, double 'n') fix here for centuries. Like the Pump Room, Sally Lunn's is a big hitter on the Afternoon Tea circuit. But it also serves hearty, traditional meals from morning until evening. Oh, and those bunns aren't what you expect them to be – but they are delicious. Mid-end.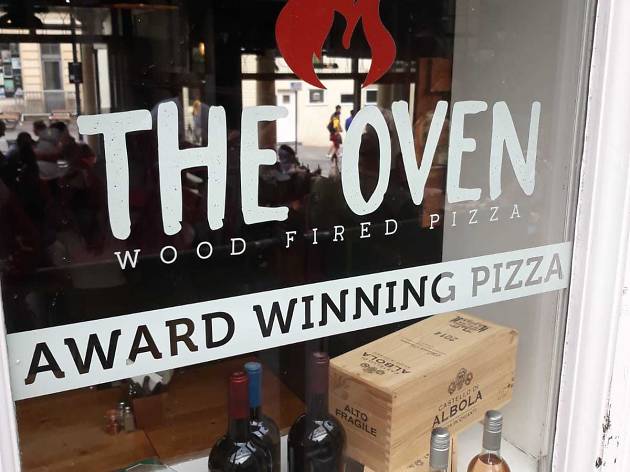 © Renske Visser
Why go? Popular pizzeria offering awesome artisan versions of the cheese-topped staple.
Sometimes only a pizza will do, and The Oven is the Bath restaurant to provide it. This welcoming Neapolitan joint wood-fires its creations, perfecting their superior, springy dough in the process. Never stingy on the toppings, and quick to serve, The Oven is ideal for a quick lunch or post-work indulgence. It's also very close to the Theatre Royal Bath and Ustinov Studio. Mid-end.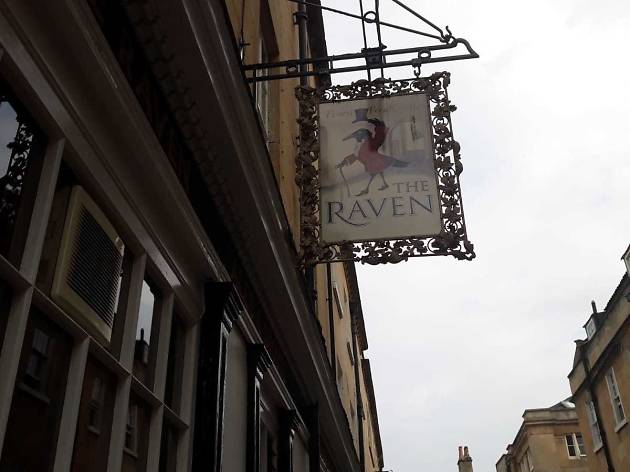 © Renske Visser
Why go? Bath isn't exactly short of watering holes, but The Raven serves up good ol' hearty pub grub and real ale.
Ever had a Pieminster pie? If not, you can tuck into one at The Raven. They used to have a permanent spot, but now you can enjoy the award-winning pies in this authentic British boozer. Wash it down with a pint of their own Raven dark ale. Mid-end.
Why go? Classic Indian grub in classy surrounds.
From the outside, The Eastern Eye looks more like Bath Tourist Information. But venture through the narrow entrance and you'll be rewarded with irresistible smells, authentic Indian carvings and beautiful Georgian architecture. A lovely setting to spend a leisurely dinner. Mid-end with budget lunch options.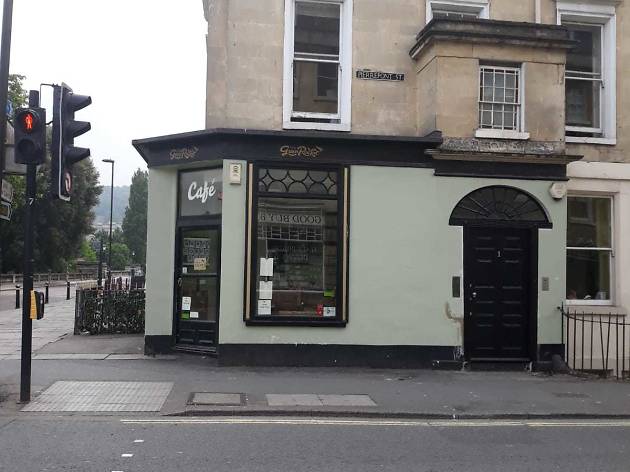 © Renske Visser
Why go? Informal vegan and vegetarian cafe that's perfect for breakfast, lunch and coffee.
If you prefer beetroot to beef, you'll love The Green Rocket's inventive menu of delicious and healthy dishes. On Wed, Thurs, Fri, and Sat they also stay open for dinner, but if you can't stick around that long pop in during the afternoon for a generous helping of their homemade cakes and a chat with their lovely, friendly staff. Budget/mid-end.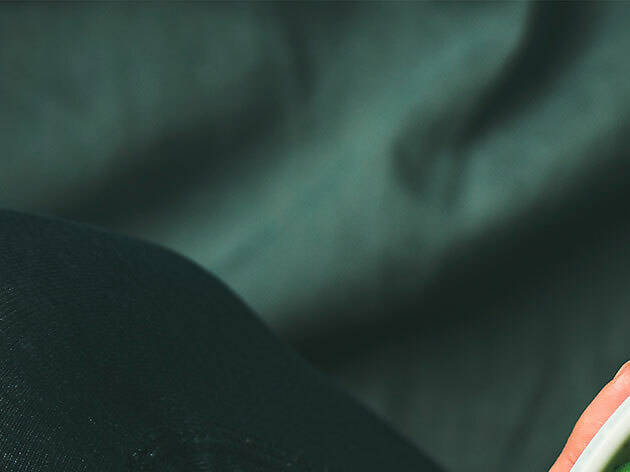 Photograph: Shutterstock
Why go? Health-kicks all round at Beyond the Kale's vegan haven.
Yes, yes, yes another vegan joint in a city that's already very vegan-friendly. But this one has an ace name (who doesn't like a good pun?) and they cook up the most delicious health-conscious grub. Mid-end.
Discover Time Out Market: the best of the city under one roof
Best selling Time Out Offers