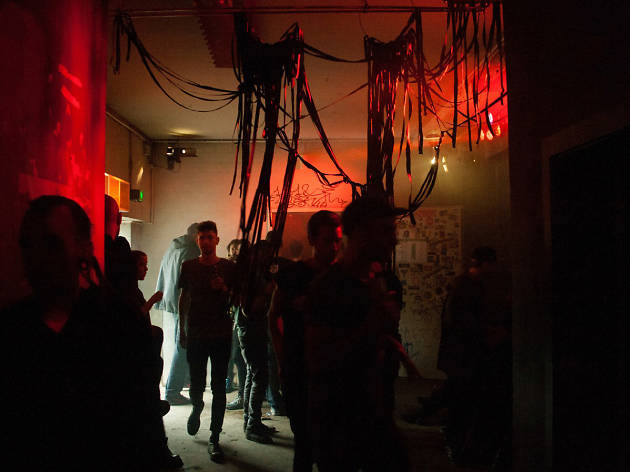 Although not that old, this venue is about as perfect an example of Berlin's utilitarian club aesthetic as you're likely to find. Impossible to even hazard a guess at its previous use, the building has had very little done to it – other than ubiquitous graffiti – but like much in Berlin, the rough and rugged exterior proves quite opposite to its friendly atmosphere. Set in a large property behind Ostkreuz station, it has expansive grounds for open-air partying, featuring a chill-out caravan and wooded area with hidden clearings to get lost in. Inside, there are two smallish dance floors, the usual worn leather sofas (passed out raver optional), and a punchy sound system. The music policy is varied, but niche, with hard techno and deep house favoured. It plays home to the cult gay party Homopatik where local hero Mr. Ties has made a name for himself and his epic party sets.
Venue name:
://about blank
Contact:
Address:
Markgrafendamm 24c
Berlin
10245

Opening hours:
Open 6pm-late Wed; midnight-late Thu-Sat; noon-late Sun
Transport:
S-Bahn Ostkreuz
Rating Breakdown
5 star:

0

4 star:

0

3 star:

0

2 star:

0

1 star:

1
Violently attacked by doormen, refused entry due to nationality!!
My friends and I (all English) went to the club last Thursday (26/11/15) and were denied entry to the club. Everyone else in the queue had been allowed in so far and we weren't drunk or loud or aggressive in any way, nor were we dressed any differently to anyone else in the queue (it was freezing so we all had coats on anyway), and so we asked why we weren't. They said they couldn't say why and we had to leave because we are trespassing (?!?) and then very forcibly pushed and kicked us all (mainly girls) backwards down the stairs, grabbed my boyfriend around his neck and had him in a headlock. Such disgusting behaviour! They then continued to let the rest of the queue (Germans) in.
Reading other reviews I see other people haven't been allowed in because they were English. So not only were we discriminated against because of our nationality (Isn't that against EU law?!), we were physically attacked, and they didn't want to tell us because they didn't want to admit discriminationt! We called the police for the attack but their discrimination has gone unchecked. Stay away from this club, and if anyone else is physically attacked by the door-staff, immediately call the police. Since we were attacked without provoking them at all, I imagine this happens every night.