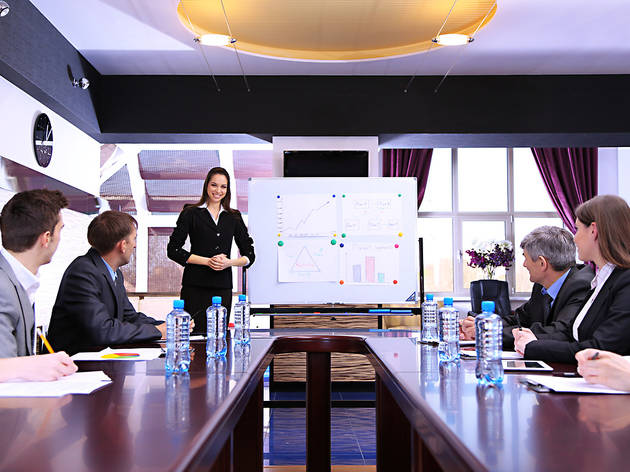 Business services in Berlin
Navigate the world of business in Berlin with our guide to recommended business services and useful information
Conferences
Messe Berlin
Messedamm 22, Charlottenburg (303 80/www.messe-berlin.de). U2 Theodor-Heuss-Platz
. Open 10am-6pm Mon-Fri; 10am-2pm Sat.
The city's official trade fair and conference organisation can advise businesses or individuals on setting up small seminars and congresses, or big trade fairs.
Couriers and shippers
Couriers
A package of up to 5kg delivered within Germany costs about €7; to the UK about €17; and to North America about €32. The post office runs a cheaper express service.
DHL
Linkstrasse 10, Tiergarten (0180 5345 2255/www.dhl.de). U2, S1, S2, S25 Potsdamer Strasse.Open 9am-6pm Mon-Fri; 9am-noon Sat. No credit cards.
DHL delivers to 180 countries worldwide.
Office hire
Regus Business Centre
Kurfürstendamm 21, Charlottenburg (887 060/fax 887 061 200/www.regus.de). U2, U9, S5, S7, S9, S75 Zoologischer Garten. Open 8.30am-6pm Mon-Fri. Credit AmEx, MC, V. Other locations Friedrichstrasse 50, Mitte.
Part of a worldwide chain, Regus has offices for rent, secretarial services and conference facilities.
UPS
Lengeder Strasse 17-19, Reinickendorf (0800 882 6630/www.ups.com). S25 Alt Reinickendorf.Open 8am-7pm Mon-Fri. Credit AmEx, MC, V.
Office hire & secretarial services.
Relocation services
The company listed below offers assistance in looking for homes and schools, and will help deal with residence and work permits.
Hardenberg Concept GmbH
Von-Luck-Strasse 13, Zehlendorf (805-8660/www.hardenberg-concept.de). S1, S7 Nikolassee.Open 10am-4pm Mon-Fri.
Translators and interpreters
See also Übersetzungen in the Gelbe Seiten (Yellow Pages).
K Hilau Übersetzungsdienst
Langenscheidtstrasse 9, Schöneberg (781 7584). U7 Kleistpark.Open 1-6pm Mon-Fri.
Intertext Fremdsprachendienst
Greifswalder Strasse 5, Prenzlauer Berg (4210 1777/www.intertext.de). Tram 2,3,4 Friedrichshain.Open 8am-4.30pm Mon-Fri.
Useful organisations
American Chamber of Commerce
Charlottenstrasse 42, Mitte (2887 8920/www.amcham.de) U2, U6 Stadtmitte.Open 9am-5pm Mon-Fri.
American Embassy Commercial Dept
Pariser Platz 2, Mitte (238 5174/http://germany.usembassy.gov). S1, S2 Unter Den Linden.Open 8.30am-5.30pm Mon-Fri.
Berlin Chamber of Commerce
Fasanenstrasse 85, Charlottenburg (315 100/www.berlin-partner.de).Open 8am-5pm Mon-Thur; 8am-4pm Fri.