Heads up! We're working hard to be accurate – but these are unusual times, so please always check before heading out.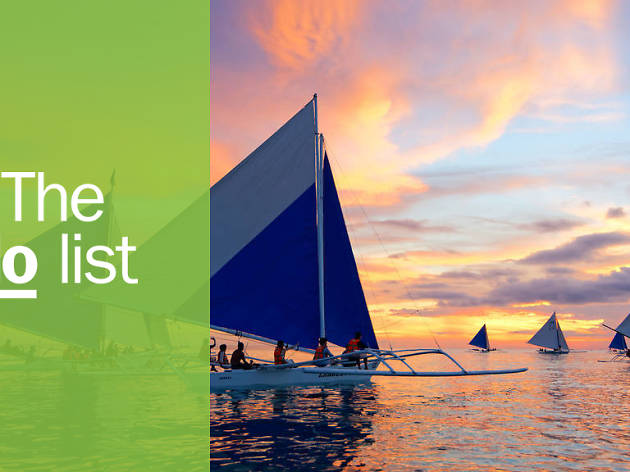 The 9 best things to do in Boracay
Bright blue waters and pristine beaches draw visitors from around the world to explore the best things to do in Boracay
This is undoubtedly one of the most popular island destinations in the Philippines, and it's easy to see why. The best things to do in Boracay draw almost two million visitors each year, arriving to see the postcard-perfect beaches with dreamy turquoise waters, drink at excellent bars and learn to kite surf or snorkel. The tropical island's popularity almost became its downfall, requiring a temporarily closure to all visitors during 2018 for environmental rehabilitation and new infrastructure to be put in place. Boracay's future is looking good, as the island will be preserved for future generations to enjoy. Here are the very best things to experience on one of the best islands in the world.
Note: Boracay has been closed since April, 2018 due to environmental issues. The government hopes to have a soft opening for locals in the fall of 2018 and then to gradually increase visitor numbers every three months to a target of maximum of six thousand overnight guests per day. If you're lucky enough to visit sometime soon, please do your part to leave Boracay better than you found it!
Done something on this list and loved it? Share it with the hashtag #TimeOutDoList and tag @TimeOutEverywhere.
Find out more about how Time Out selects the very best things to do all over the world.
Best things to do in Boracay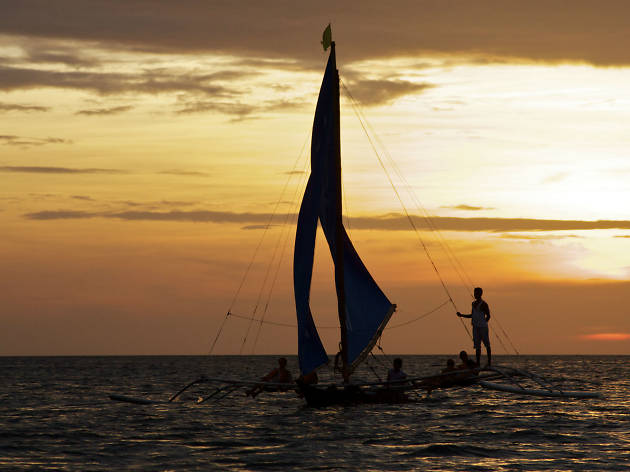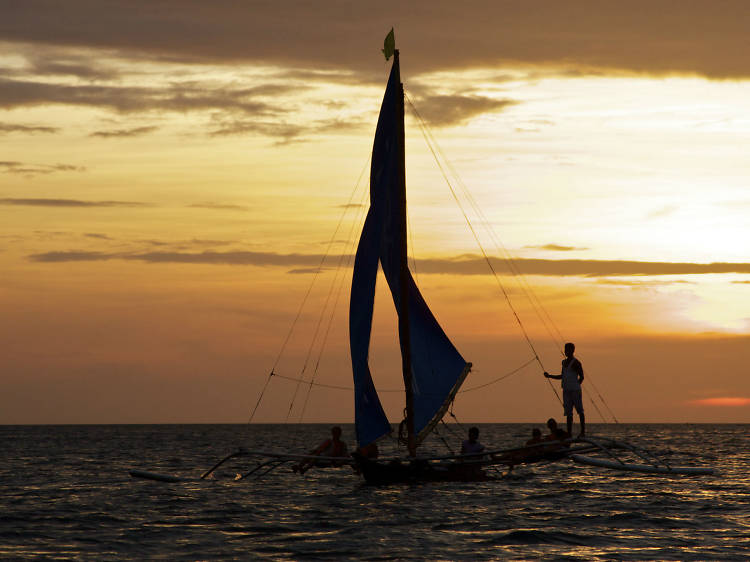 Photograph: Courtesy CC/Flickr/Mr. Leeds
1. Sunset on a paraw boat
What is it? If there's one thing nobody should miss seeing in Boracay, it's the sunset. The best way to enjoy this magical view is by boat.
Why go? There are countless memorable spots where you could watch the sun go down, though we suggest letting the wind take you out into the ocean on a brightly coloured paraw boat. These outrigger sailboats can fit up to six people on suspended nets. It's quite special to lie back and feel the water rushing beneath you as your captain expertly manoeuvres the twin sails. Boats depart from White Beach every evening.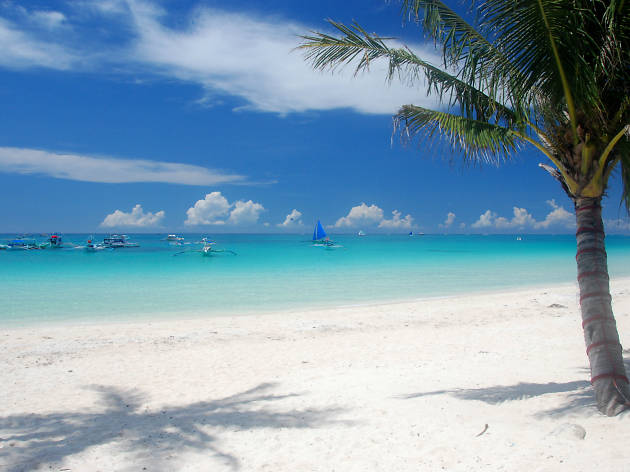 Photograph: Courtesy CC/Flickr/Trent Strohm
What is it? White soft sand, crystal blue water and ice-cold beer.
Why go? White Beach is the main hub of activity on Boracay. Focused around the four-kilometer stretch of pure white sand, it's a slice of real paradise. Divided into three sections, there's Station 1 for high-end hotels and restaurants, Station 2 where the bars, shopping and beach volleyball matches keeps travellers busy and Station 3 which is just a little quieter. Running parallel to the ocean is the beach path – an area packed with cafés, bars, shops, tourist booking booths and restaurants. When the sun begins its glorious descent, fire twirlers and live musicians emerge from restaurants to perform for large crowds. Aplaya Beach Bar is a popular place for visitors and it's easy to lose track of the time when you're wedged into their comfy beanbag seats with a pizza, shisha and ice-cold beer in hand.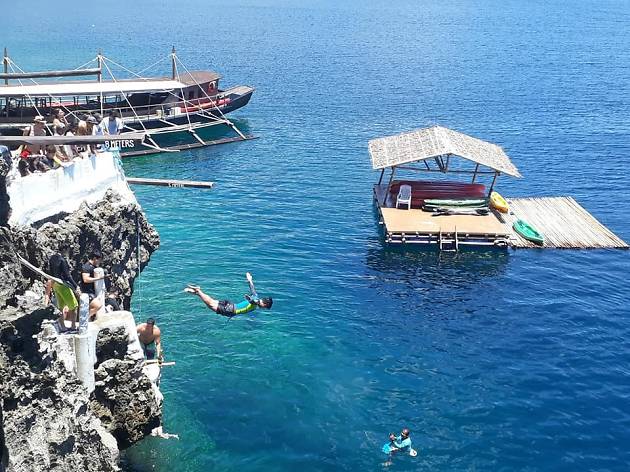 Photograph: Courtesy Ariel's Point
What is it? The chance to conquer your fear of heights by taking a 15-metre leap of faith into the ocean.
Why go? Ariel's Point is a small island made famous for its cliff diving and is only half an hour's boat ride from Boracay. Climbing up the rocky steps to the three diving boards ranging from 3-15 meters high is quite daunting, though there's nothing like the rush of adrenalin as you walk your final steps along the plank and leap into space. Kayaking, paddle boarding and snorkelling gear is also provided if cliff diving is not your thing. The ticket price includes a barbecue lunch buffet and unlimited open bar drinks.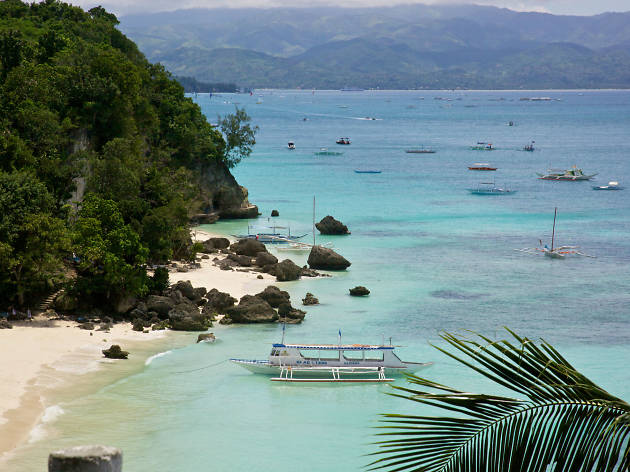 Photograph: Courtesy CC/Flickr/Maxime Guilbot
What is it? White Beach's quiet little cousin.
Why go? When the waves of tourists on White Beach burn you out, head to Boracay's quiet side. Diniwid Beach is a scenic 30-minute walk from the crowded White Beach, and has somehow escaped the usual trappings of Boracay. For a great cocktail and the best views of the coast, head to Nami. Getting up to the restaurant is an experience in itself as you board a rattling, rickety bamboo-clad elevator up the side of the cliff. When you are done soaking up the sights, get some food at nearby Spider House, a quirky restaurant and bar lounge built snug against the cliffs with live music and a floating swimming platform.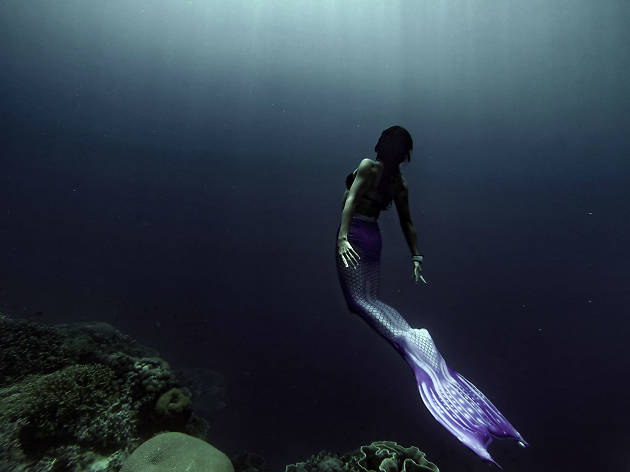 Photograph: Courtesy The Philippine Mermaid Swimming Academy
5. Mermaid Swimming Academy
What is it? A school that lets you become a mermaid for a day.
Why go? The Philippine Mermaid Swimming Academy makes dreams come true with private lessons on 'mermaiding skills' for people of all ages. Your mermaid teacher will help you strap on a tail in the color of your choice before instructing you on different mermaid swimming techniques. It's a surprisingly good workout. If (in the words of Derek Zoolander) you're a Merman, then you will also be welcome to join the fun. Just make sure you bring a camera for the most extra holiday photo you will ever take.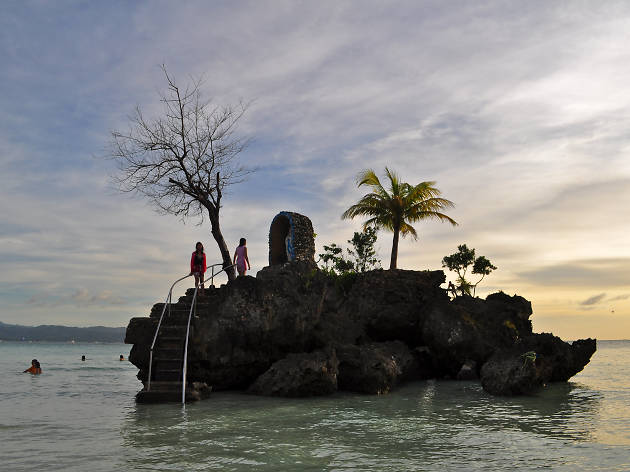 Photograph: Courtesy CC/Flickr/jaya
What is it? One of the most Instagram-worthy spots on the island.
Why go? Located in the middle of Station 1, Willy's Rock is a small rocky outcrop that features on almost every traveller's photos. During low tide it's beautiful to walk through the warm shallow waters and climb up to the small shrine, which is illuminated with electric lighting in the evening. This is a very popular place to watch the sunset too.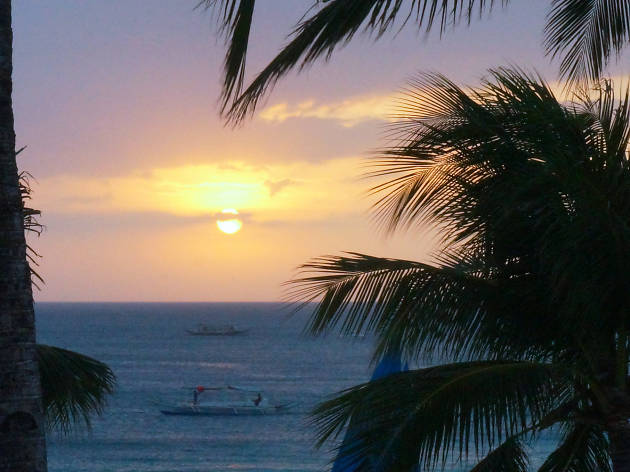 Photograph: Courtesy CC/Flickr/LimAshley
What is it? Sailing through bright blue waters to picturesque islands.
Why go? No matter much time you might have in Boracay, there's bound to be a tour that can take you to visit some nearby islands for some snorkelling, sun-tanning and diving from the boat into the ocean. Tours ordinarily visit three to five spots, the most popular being Crystal Cove, Magic Island, West Cove, Puka Shell Beach and Crocodile Island, which is named for its appearance, not its reptiles. A buffet lunch is almost always included.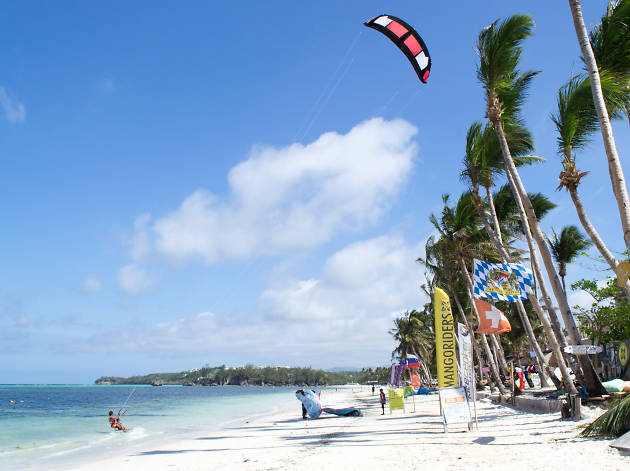 Photograph: Courtesy CC/Flickr/Roman Nuritdinov
8. Kite Surfing at Bulabog Beach
What is it? A kite surfing paradise at the best water sports spot on Boracay.
Why go? Diving, kayaking, paddle boarding, snorkelling, windsurfing, kite boarding – you name it and you're sure to find it in Boracay. The perfect place to learn to kite surf is Bulabog Beach. Known as the 'Back Beach', Bulabog's shoreline has dozens of quality equipment rental offices, and expert instructors are on hand to quite literally show you the ropes.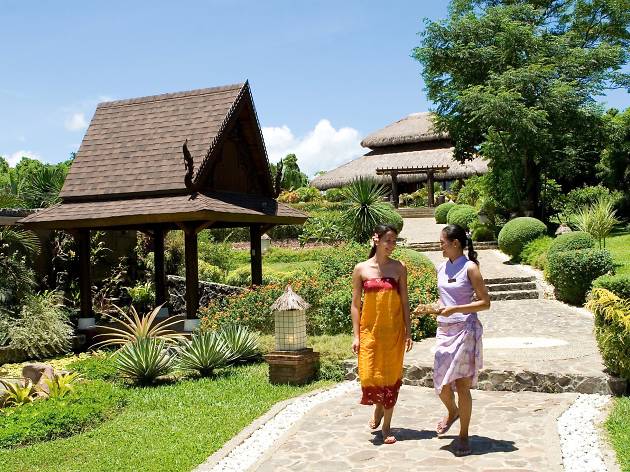 Photograph: Courtesy Tirta Spa Boracay
What is it? Boracay's most luxurious day spa, perfect for purifying, detoxing and unwinding.
Why go? Located in a large villa overlooking the coastline, Tirta Spa is an oasis of calm. While the treatments here are not cheap, neither are the experiences. Some rooms have koi ponds, rain showers, private leafy gardens and flower-filled outdoor baths. Try the 1.5-hour signature massage; a perfect activity for couples looking to relax. At the conclusion to your massage, the gentle sounds of a singing bowl cymbal and a soothing cup of herbal tea will leave you refreshed and feeling like you can tackle the outside world again.