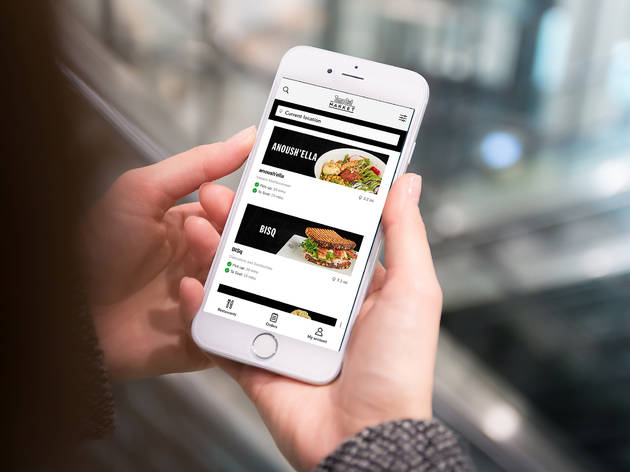 How to order at Time Out Market Boston
Find out how to order at Time Out Market Boston for dining in, takeout and delivery
Among all of the safety precautions and sanitization procedures we've put in place at the market, we've changed the process behind how to order at Time Out Market Boston as well. All are welcome to dine in with us or order food for takeout, but if you have a craving for food and drinks from some of the best chefs and mixologists in the city but want to skip a trip to the Market's gorgeous home in the Fenway? No problem: Soon you can have it delivered straight to your doorstep too. All payment methods are safe and contactless, plus easy to order and easy to track.
RECOMMENDED: Full guide to Time Out Market Boston
Dining In & Ordering Takeout at Time Out Market Boston
Want to join us for a meal at the Market, or come by to pick up some food? We're happy to have you. We're discouraging customers from using cash at the moment at our bars, opting instead for contactless ordering through your phone.
All you need to do is download the Time Out Market app that's available for Apple and Android smartphones: Search for 'Time Out Market' via the App Store or Google Play to download the app for free.
Once you're there, select Time Out Market Boston and check out the bar menu as well as the selection of eateries to order from. (Don't forget: you must bring a valid ID to the bar to pick up drink orders.) From there, you can place orders and have them tracked via email, text, and/or push notifications on your phone. Pretty nifty, right? Note that, just as it was when you could visit Time Out Market Boston during pre-lockdown, orders from eateries cannot be combined; for example, two separate eateries require two separate orders.
All that's left is enjoying your food. If you want a table, we've got partitions on tables set up to help you dine safely next to others, and simply leave the dishes when you're done; our specialized cleaning crew will come around the clean and sanitize where you ate, safely preparing the space for the next person.
All we ask is for you to please wash your hands upon entry using our bathrooms or sanitize them at the sanitization stations we've made available throughout the Market; it is required that you use a mask when you are not eating or drinking; practice safe social distancing from others; respect the floor signage; and keep groups to a minimum of six (6) people from a maximum of three (3) households.
Ordering Delivery from Time Out Market Boston
Delivery is available from Time Out Market Boston through DoorDash! All you need to do is create an account with credit card information and voilà: Food from the best chefs in the city will be brought straight to your door.
Here's who you can order from:
Michael Schlow's Italian Kitchen
Note that orders from eateries cannot be combined; different eateries require different orders. While you might want to combine a sinful savory treat with something light and healthy, they'll need to be ordered separately.
Your guide to the food and drink at Time Out Market Boston
You'll find a handpicked selection of restaurants and chefs by the editorial staff at Time Out Boston. It's got all the bases covered, serving healthful vegan, vegetarian and gluten-free options alongside mouthwatering local classics, inventive new dishes, and a whole lot more.