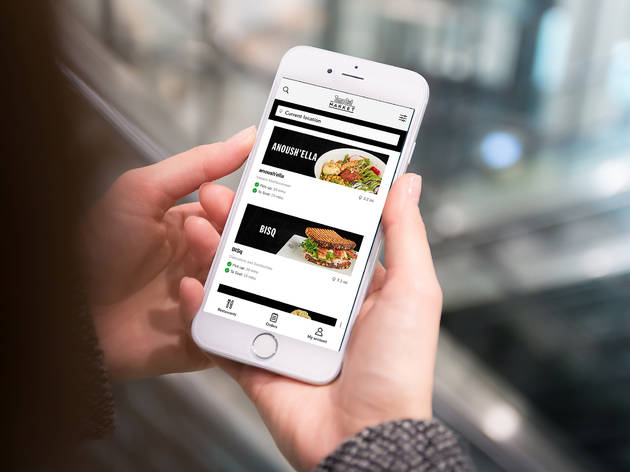 How to order at Time Out Market Boston
Find out how to order at Time Out Market Boston for dining in, takeout and delivery
A lot has changed since you last entered our doors. Over the last year, we've implemented new safety precautions and sanitization procedures, made space in our dining rooms to allow for social distancing and launched touchless ordering platforms for dine-in, takeout and delivery services. Yes, you read that right: You can now order food from Time Out Market Boston to enjoy in the comfort of your own home.
RECOMMENDED: Full guide to Time Out Market Boston
While we love to have you at our 25,000-square-foot dining destination in the Fenway, we understand not everyone is ready to hit the town just yet. It's important to us to ensure there are options for every comfort level. Take a look at all of the ways that you can dine with us—from takeout and delivery to hanging out in our dining room.
Dining In & Ordering Takeout at Time Out Market Boston
Want to join us for a meal at the Market, or come by to pick up some food? We're happy to have you. We're discouraging customers from using cash at the moment at our bars, opting instead for contactless ordering through your phone.
All you need to do is download the Time Out Market app that's available for Apple and Android smartphones: Search for 'Time Out Market' via the App Store or Google Play to download the app for free.
Once you're there, select Time Out Market Boston and check out the bar menu as well as the selection of eateries to order from. (Don't forget: You must bring a valid ID to the bar to pick up drink orders.) From there, you can place orders and have them tracked via email, text, and/or push notifications on your phone. Pretty nifty, right? One thing to note: Some of your favorite Time Out Market dishes are available to purchase within the same order, but not all eatery purchases may be combined.
All that's left is enjoying your food. If you want a table, we've got partitions on tables set up to help you dine safely next to others, and simply leave the dishes when you're done; our specialized cleaning crew will come around the clean and sanitize where you ate, safely preparing the space for the next person. Here's a look at the restaurant menus on our app:
Ms. Cluck's Deluxe (COMING SOON)
gogo ya (COMING SOON)
Ordering Delivery from Time Out Market Boston
Delivery is available from Time Out Market Boston through DoorDash, Uber Eats and Caviar. You just need to create an account with a credit card, place your order and wait for your favorite Boston dishes to be delivered right to your door. Here's who you'll be able to order from:
Cusser's Roast Beef & Seafood: Doordash | Caviar | Uber Eats
Taqueria el Barrio: Doordash | Caviar | Uber Eats
BISq: Doordash | Caviar | Uber Eats
Michael Schlow: Doordash | Caviar | Uber Eats
anoush'ella: Doordash | Caviar | Uber Eats
Monti: Doordash | Caviar | Uber Eats
Nu Burger: Doordash | Caviar | Uber Eats
Union Square Donuts: Doordash | Caviar | Uber Eats
Time Out Market Favorites: Uber Eats
Your guide to the food and drink at Time Out Market Boston
You'll find a handpicked selection of restaurants and chefs by the editorial staff at Time Out Boston. It's got all the bases covered, serving healthful vegan, vegetarian and gluten-free options alongside mouthwatering local classics, inventive new dishes, and a whole lot more.