Heads up! We're working hard to be accurate – but these are unusual times, so please always check before heading out.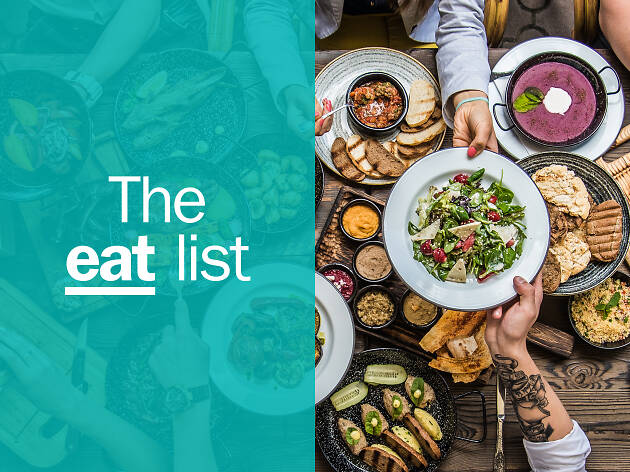 The 20 best restaurants in Brighton
Looking for something fancier than fish and chips? Read our guide to the best restaurants in Brighton and book in for a seaside supper you won't want to share with the seagulls
There are few seaside resorts in England that have retained their shine as long as Brighton has. A pebble's throw from London, this coastal town remains one of the nation's favourite places to visit or live in. Fine-dining establishments wrestle each other for space here, but you can still find plenty of less expensive and more relaxed places to dine. With so many great things to do in Brighton, you're going to have plenty of excuses to stop for a bite.
Best restaurants in Brighton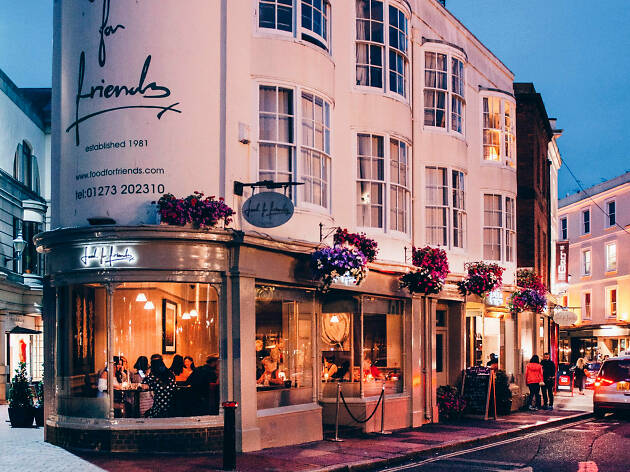 Why go? Well-loved vegetarian restaurant in the South Lanes that's even a hit with non-veggies.
Vegetarian and vegan food often gets a bit of a bad press (although more and more people are turning to it these days), but Brighton restaurant Food for Friends has long been proving that no meat doesn't equal no taste. This award-winning venue specialises in dishes designed to be shared with a table of your best mates (even the ones who claim to dislike veggie food). High-end.
Why go? Hip, contemporary fine dining at one of Brighton's coolest restaurants.
If you think yourself a bit of a foodie fashionista (or know someone who is), then Isaac At (excuse the strange name) is the Brighton restaurant for you. It was the first restaurant in the world to offer a wine list entirely made up of British vino. And the food's rather special too. Splash out on their seasonal and locally-sourced tasting menu or get a speedy pre-theatre dinner. High-end.
Why go? Take your tastebuds all the way to Tokyo and back, without leaving the South East.
Brighton isn't exactly short of a fine dining spot, but those who really know their food also known Bincho Yakitori. This joint has legions of fans who come for its authentically Japanese casual drinking-and-dining experience. It's the meat skewers that everyone goes really wild for, so take your seat at the bar and say hai to everything on offer. Mid-range.
Why go? The Brighton restaurant where no-meat doesn't equal no-fun.
If Brighton's many steak restaurants aren't your thing, try local treasure Terre à Terre. You'll get anything and everything from around the globe here – there are no constraints on the country of origin, as long as the recipe is tasty and plant-based. Make sure you leave room to try their luscious puds. Mid-range.
Why go? Super fresh seafood for when a trip to the seaside requires a coordinating meal.
There's little point being on the British coast if you're not going to take advantage of the culinary fantasia right in front of you. The Salt Room won the 2017 Seafish UK Restaurant of the Year award, and specialises in cooking over coal. Diners also get a meal with a view, thanks to The Salt Room's seafront location opposite the West Pier. High-end (with some mid-range options)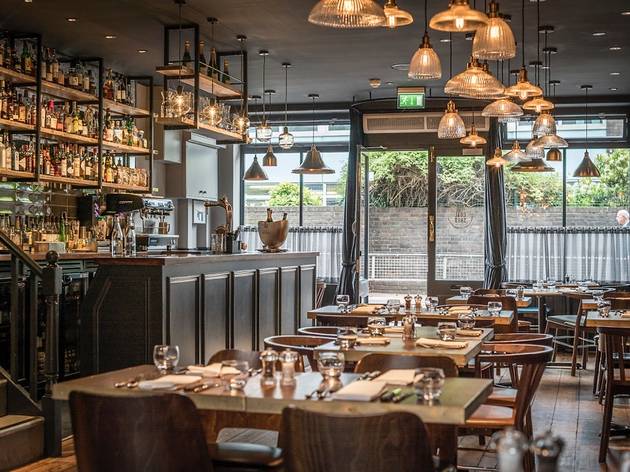 Why go? Celebrated steak restaurant with a commitment to the best of local ingredients.
The sister restaurant of The Salt Room, The Coal Shed is a firm favourite with Brightonians and visitors. If your ideal meal is a simple and classic steak, done extremely well, then this is the place for you. Old school meaty brilliance means even the bread can be served with whipped beef fat, and the robust puddings will keep you full all night. High-end (with some mid-range options inc. pre-theatre menu).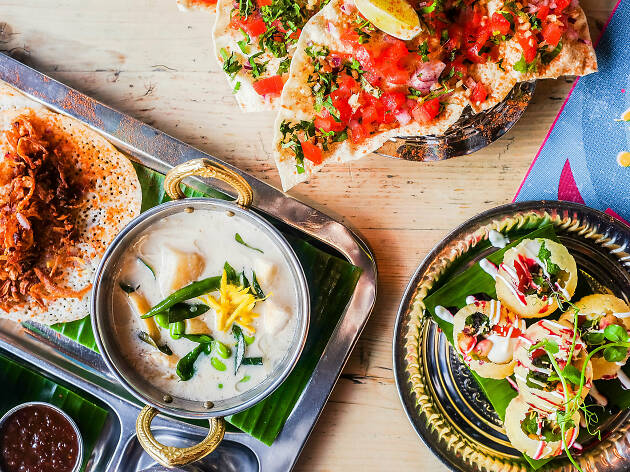 Why go? Delicious and inventive Indian restaurant loved by Brighton foodies.
Many consider The Chilli Pickle Brighton's best Indian restaurant. Suitable for lunch or dinner, the creatively put together menu is crammed with recipes you're unlikely to have tried before. Their dishes are colourful, well-spiced and aromatic – the absolute perfect pick-me-up if you're feeling a tiny bit under the weather or simply suffering from the winter blues. Mid-range.
Why go? 18th century fisherman's cottage transformed into a 21st century steakhouse.
Brighton's big on its meat-loving restaurants, and one of the best is Il Bistro. You can find it in the Lanes where you can enjoy everything from breakfast onwards at this independent joint. Obviously, steak is the thing here, but they also serve a surprisingly large amount of seafood, plus classic European desserts. Mid-range/high-end.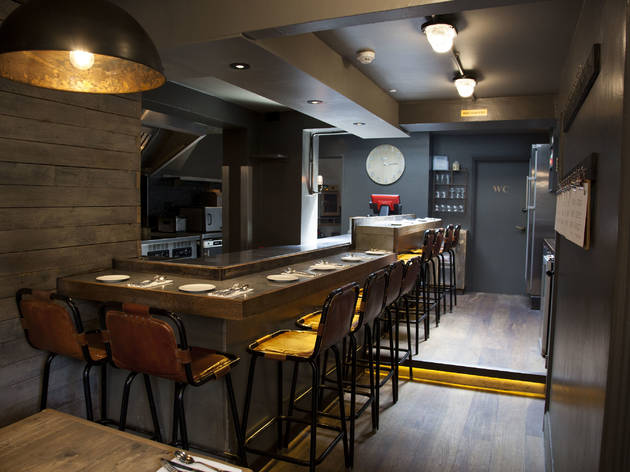 Why go? Stylish, on-trend cuisine in a sleek venue.
Yet more proof that Brighton is rather fond of its super-cool restaurants, 64 Degrees does the 'small plates' thing with a big load of flair. Headed by Michael Bremner, the restaurant prides itself on using local and seasonal produce – so don't be surprised to see a good few Sussex items on the menu. This is a good place to book if you're trying to impress a serious foodie. High-end.
Why go? Sticky, sweaty, steaming Americana served on the British seaside.
You're nursing a terrible hangover from a night out in Brighton and the only thing to resuscitate your sorry corpse is meat, a lot of meat. Head to Smokeys for the biggest of brunches USA-style. Or come here for dinner and get covered in sauce chomping through BBQ'd everything. Even if you're not hungover, it's still a hot brunching spot. Mid-range.
11. The Restaurant at Drakes
Why go? Consistently one of Brighton's most popular seafront restaurants.
The words 'hotel restaurant' can conjure up all manner of culinary horrors. But the Restaurant at Drakes is one of the good guys. Here, you're getting a fine-dining experience suitable for when serious celebrating is called for. Vegetarians are well catered for here, with a dedicated 5-course tasting menu. High-end.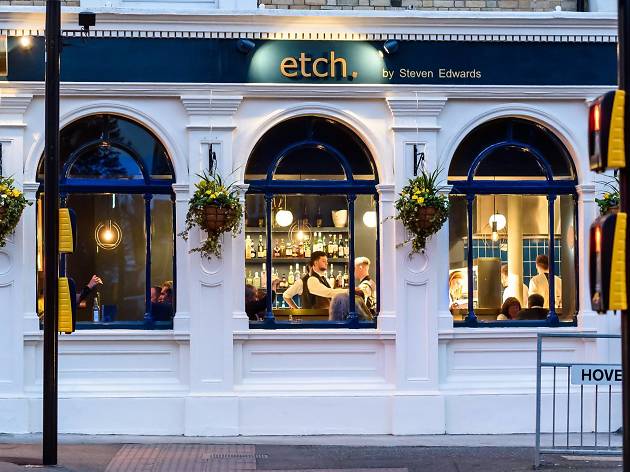 © Julia Claxton
Why go? Taste your way through up to nine courses at this Hove home-from-home for fine diners.
It's run by a former Master Chef: The Professionals winner, so it's no real surprise Etch is a fancy little spot. But the plates are arguably fancier than the nicely laid-back restaurant itself, which aims to move away from the stuffier feeling of traditional posh restaurants. Tasting menus change each month and reflect whatever is best at that time of year. High-end/blowout.
Photograph: Shutterstock
Why go? Indonesian-Malaysian food in an informal setting on the Hove seafront.
If you're headed for Hove and are looking for a fun place to dine, try the Bali Brasserie. The menu is a mixture of Indonesian and Malaysian traditions which, in turn, are influenced by a wide range of Asian cookery styles. Groups can book in advance to have the 'rijsttafel', an Indonesian 4-course meal made up of 15 dishes. Mid-range.
© Xavier D Buendia
Why go? Because at this charming, independant bistro, they really know how to jump-start your pallette.
Semolina does high-quality dining but keeps the experience nice and calm. You won't feel stressed out by an overly formal setting here, but you will get to enjoy the results of a carefully planned menu. Their trick is to keep the options limited, so that each dish gets the attention it deserves. The set lunch menu is an affordable way to sample the Semolina love. Mid-range/high-end.
Why go? Craft ale and burger joint for bottomless brunch or a carb-heaven dinner.
Very few things in life beat a proper burger with a proper beer to go with it. As is the case with the Stock Burger Co in Brighton. If fine-dining isn't you're thing, come here instead for a menu where every burger has a recommended beer. Or, book for bottomless brunch and get giggly on all the mimosas you can manage. Mid-range.
Why go? Multi-branch Indian street food vendor beloved by vegetarians.
Let's be honest: no trip to the seaside is complete without some fish and chips – it's a British staple. So why not take it up a flavoursome notch with Masala-battered fish 'n' chips? The Curry Leaf Café has three places in Brighton (the Lanes, Kemptown and a train station kiosk). All of them serve South Indian street food made, where possible, with produce from farms in the Brighton area. Mid-range.
Why go? Get to know the difference between natural, organic and biodynamic wine at this cool restaurant.
Impress a dinner date with a trip to Plateau, a modern Brighton restaurant that's all about the wines. Only they're wines you don't have to feel so bad about sucking down, because they're all natural, organic or biodynamic. Pair a glass or three with beautifully-presented small plates designed to be shared. High-end.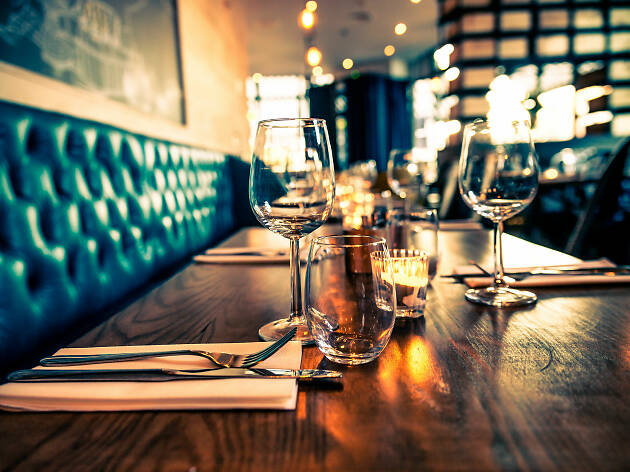 Photograph: Shutterstock
Why go? A classic Brighton restaurant with plenty of charm.
Brighton diners love The Gingerman, and it's easy to see why. This cooly decorated venue offers fixed-price menus (one, two or three courses) or a splash-out tasting one. The food is Britsh-influenced, with some gourmet flourishes. Ideal for pre-theatre dining. High-end.
Why go? To indulge in some retro glamour whilst devouring some especially delightful nibbles.
Afternoon tea is quite possibly the most decadent meal of the day (unless you count cocktail hour as a meal – hello, liquid calories). Bringing you all the fun of the lunchy-feast, Metrodeco swaps trendy or chic design for a throwback theme. Step inside and you'll be transported back to the 1930's, with wooden floors, plush furniture and stunning lighting. Our tip: get the afternoon tea that comes with a tipple (literally putting the G back into G&T). Oh and since it's Brighton, those with dietary requirement need not fret: Metrodeco even do gluten-free and vegan versions. Yum. Mid-range.
Why go? Kemptown restaurant specialising in steak and ribs.
Ok ok, so it's not one for those on a cruelty-free diet, but meat-lovers are in luck: The Old Bank in Kemptown marinates its pork baby back ribs for 24 hours before serving them to hungry diners. If the mere thought of that gets you salivating, this relaxed restaurant is the one for you. Along with ribs, they also reel in the customers with the promise of steaks and rotisserie chicken. Mid-range.
Discover Time Out Market: the best of the city under one roof