11 fun things to do in Bruges
The Belfry tower, the Basilica of the Holy Blood and the Torture Museum are only some of the many things to do in Bruges
Belgium boasts beautiful architecture, charming locals, great beer and delicious chocolate—and, thanks to the Eurotunnel, it's magnificently easy to get to the many things to do in Bruges. After all, Bruges (Brugge to the Belgians) is the country's crown jewel. While a relatively small city, it is packed with great restaurants, fascinating attractions, a variety of fun things to do and more charm and allure than many more popular European destinations. As Ralph Fiennes put it so eloquently in the Hollywood blockbuster In Bruges: "How's a fairytale town not somebody's f****** thing? How can all those canals and bridges and cobbled streets and those churches, all those beautiful f****** fairytale stuff, how can that not be somebody's f****** thing?" Agreed.
Done something on this list and loved it? Share it with the hashtag #TimeOutDoList and tag @TimeOutEverywhere. Find out more about how Time Out selects the very best things to do all over the world.
Best things to do in Bruges
What is it? At the heart of Bruges city centre – a Unesco World Heritage Site – stands the Belfort, a bell tower built in the fifteenth century.
Why go? This is Bruges' unmissable attraction – the Eiffel Tower or Empire State Building of the city if you will. Make the 366-step climb on the hour to hear the tower's incredible ensemble of bells ringing out their special tunes. One tip – only a select number of people are allowed to the climb up the belfry tower at one time so the queues can get pretty big. Avoid prime time slots or take some snacks and an episode of your favourite Netflix show for the wait.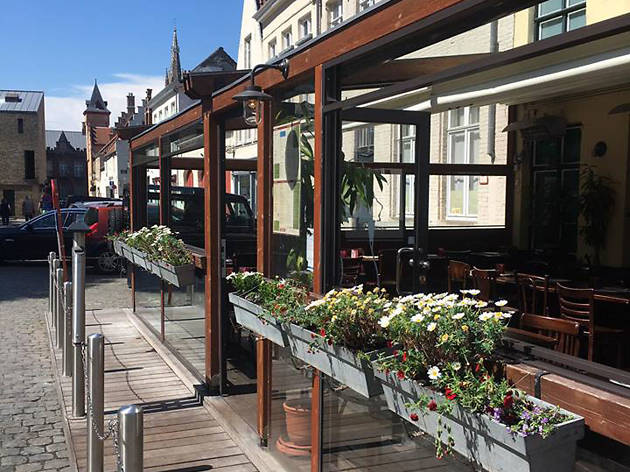 What is it? A popular spot with the locals, L'Estaminet is a charming and cosy restaurant with a warm and welcoming atmosphere. The restaurant is always busy and doesn't take reservations so be prepared for a short wait when you arrive.
Why go? The food here is well worth the wait – particularly if you go for the house speciality– the oven-baked spaghetti. While pasta might not be the dish of Belgium, this bustling tavern gives any Italian eatery a run for its money. The large terrace offers al fresco dining in the summer and in the winter, the cosy pub inside offers a snug retreat from the biting chill outside.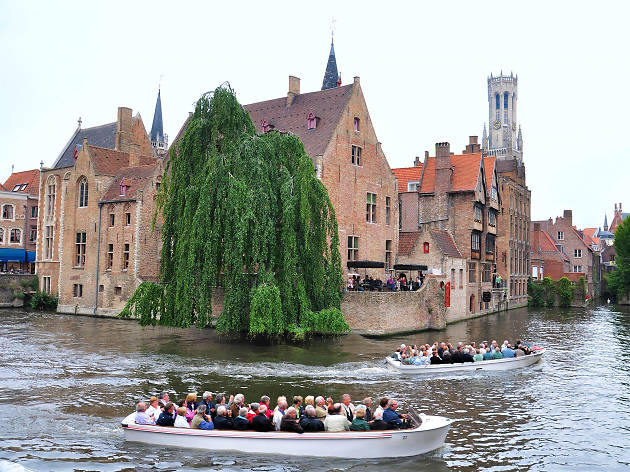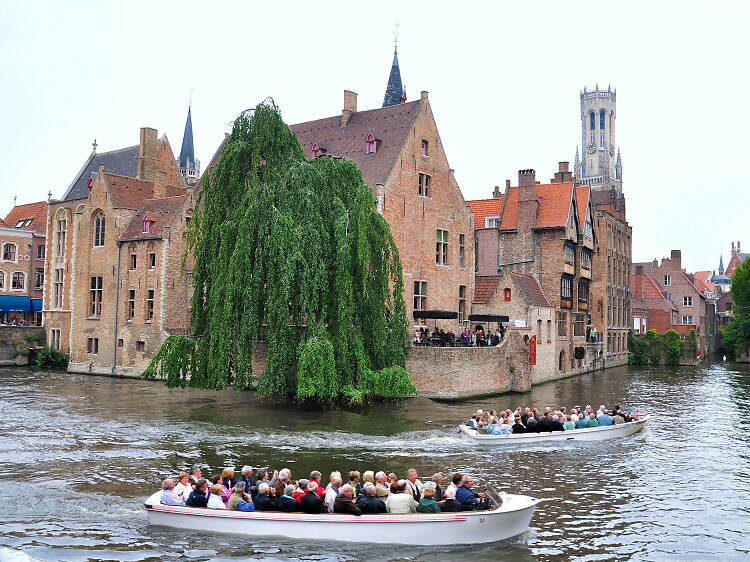 Photograph: Shutterstock
What is it? The best way to see the gothic city is by cruising its waterways by boat.
Why go? You can see the city by horse and carriage or by foot but the best way to see it's beautiful architecture is by water. Canals weave their way through the historic centre of Bruges and stretch off into the city beyond. Beautiful buildings stretch off in every direction with the rugged skylines reflecting in the water. Boats depart from jetties around the city throughout the day and evening – and the captains are all full of information, anecdotes and fun stories of the city's bloodline: the water.
What is it? A funky, quirky shop, bar and museum which is home to more types and brands of beer than even the proudest brewing connoisseur could imagine.
Why go? If not to peruse the room upon room of Belgian beers, chocolate and souvenirs, or to enjoy a drink in the 2be terrace bar (with one of the best views of the city) then you should visit for the photo opportunity outside: the beer wall. Quite literally a wall of beer.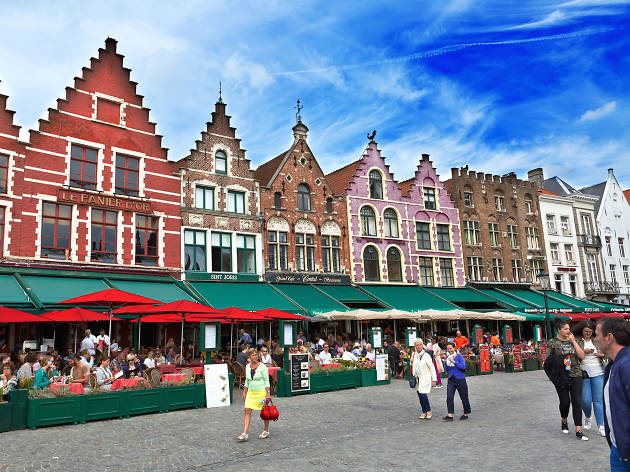 Photograph: Shutterstock
What is it? This market square has been holding a weekly market since 985. Head on a Wednesday for the regular market action, or pop into the guild houses converted into restaurants around the outside.
Why go? Every winter the square transforms into a winter wonderland for Christmas-lovers. Between November and January, it's home to the Christmas market featuring an ice rink and dozens of festive stalls.
Photograph: Carl DeAbreu Photography
6. The Lovers' Bridge and Lake of Love
What is it? The Lake of Love is an oasis of calm in the middle of Minnewater Park, a haven of peace and tranquillity with the picturesque and romantic Lover's Bridge at its heart.
Why go? This is a must-see spot if you're visiting this romantic city for an intimate weekend away. Rumour has it that if you cross the bridge with your partner and kiss, your love will last forever. (It's also the perfect spot for Instagram snaps.)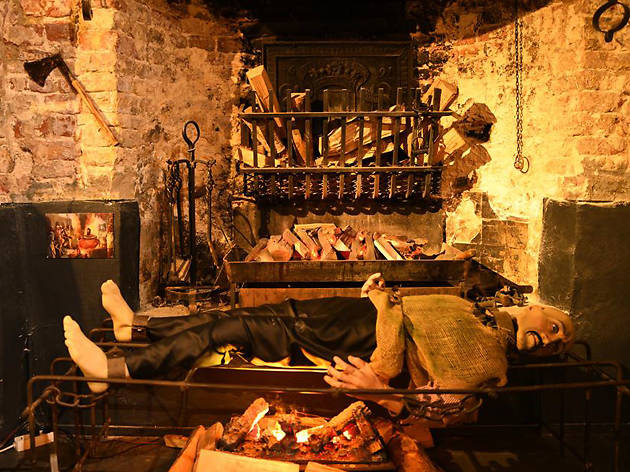 What is it? Set in one of the oldest prisons in Europe, the museum is a collection of instruments of torture from centuries gone by.
Why go? Fed up of gazing up at architectural points of interest and drinking beer (yeah right!)? Head to the Torture Museum for something very different. The museum explores the origins and significance of torture in society, with a series of pain-causing implements in chronological order. Since it's in an underground bunker, it's one to visit if the weather turns sour during your visit.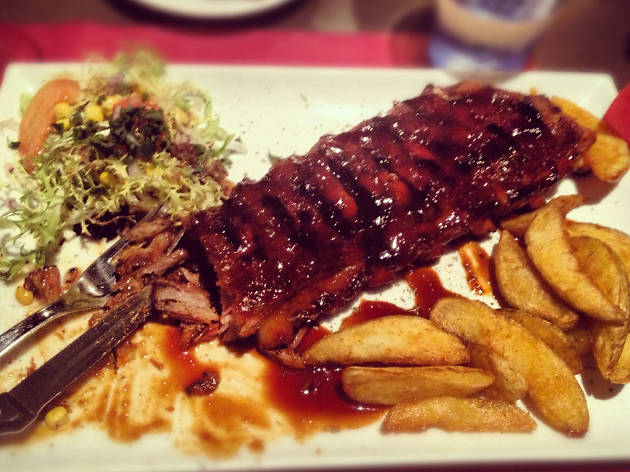 What is it? It does what it says on the tin: serves delectable, delicious ribs and great, local beer.
Why go? The tastiest ribs you've ever tried – smothered in a chocolate and beer sauce (it doesn't get much more Belgian than that!) The restaurant offers an 'all you can eat' menu with a great selection of beers so you may never leave. Although off the beaten track, this popular spot attracts lots of hungry diners so you'll have to book if you want a chance to sample the 'best ribs in Belgium'.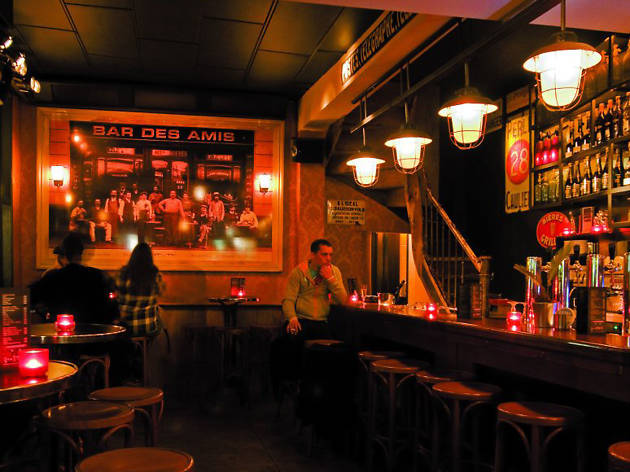 What is it? Planning a night out on the cobbles? Head over to Bar Des Amis (or 'Friends Bar') for a night of shots, songs and socializing.
Why go? Bar Des Amis is a hip night spot, just off the Markt, with all you need for a great night out (relatively) cheap drinks, loud music and a closing time somewhere in the early hours of the morning. What's more, anything goes in this bar. It's a great place for making memories or, perhaps, losing them!
Photograph: Willems Marc
10. Basilica of the Holy Blood
What is it? In short: a church with a piece of cloth inside.
Why go? You can't visit a historic, European city without visiting a church of some sort. The Basilica of the Holy Blood is a beautiful renaissance building consisting of two churches and is best known for a small phial inside said to contain a cloth with the blood of Jesus Christ on it.
What is it? Chocolate has to be one of Belgium's most famous exports. And in Bruges you have more choice then you could possibly imagine, but there's one chocolatier you shouldn't leave this city without visiting – Chocolatier Dumon.
Why go? Chocolatier Dumon is one of Belgium's most well-known brands of chocolate but the giant's tiny, charming shop just off the Markt is a delightfully, authentic building. Watch your head as you step down into this higgledy-piggledy shop filled with chocolates.