Think of Hungary, and you think of paprika, as fiery red as the top band of its national flag. Walk across Budapest, and it's hard to miss it: pretty packets of paprika beam bright crimson from market stalls garlanded with strings of spicy peppers while vendors and regulars banter in a language whose roots lie in Asia. It feels a world away from Europe.
And it sort of is. Paprika, like coffee, was brought here by the Ottomans in the 1600s. But it only rose from ornamental use to the dining table 200 years later, thanks to a flood, a canny entrepreneur and a Nobel Prize-winning scientist.
But first, what is Hungarian paprika? Put simply, it's the spice that results from grinding dried red peppers like the ones you see hanging in clusters across those market stalls and tourist shops. Hungarian paprika is generally not smoked like its Spanish counterpart, pimentón. It's used both for flavouring and colouring, especially but not exclusively in traditional Hungarian dishes like goulash and spicy fish soup. Eight grades range from the standard, sweet édesnemes to the strong erős, touching on the aromatic (rózsa) and the mild (csipősmentes).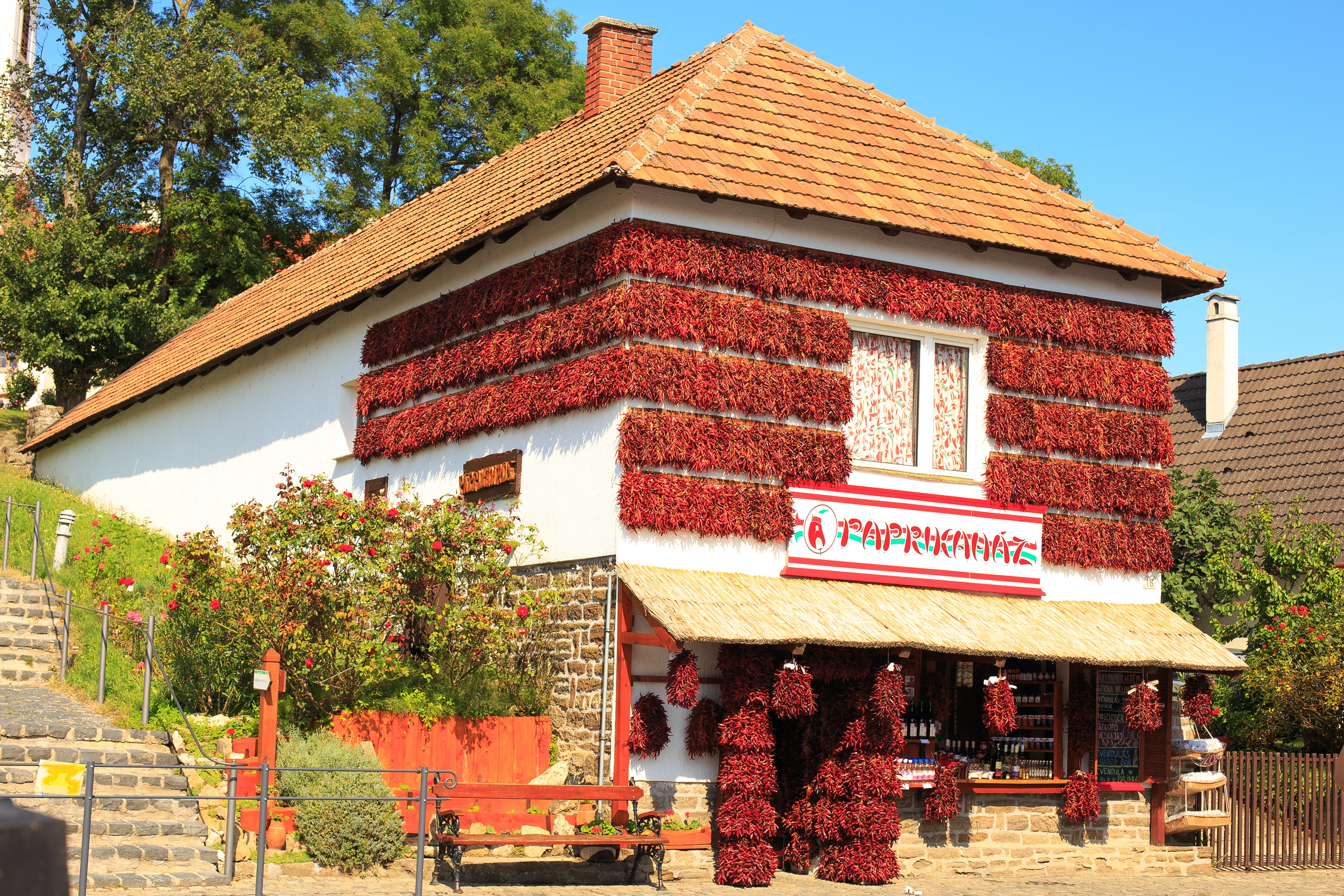 Hungary's paprika trade has traditionally centred on two main hubs: Kalocsa and Szeged, both in the hot Hungarian south, towards Serbia. If you fancy a spicy day trip from Budapest, there's a paprika museum in each. Kalocsa is smaller and trickier to reach from Budapest by public transport, but Szeged is swiftly reached from the capital by regular InterCity trains. And it isn't just about the hot stuff: Szeged is Hungary's third-largest city, with a thriving cultural scene and art nouveau architecture also drawing visitors.
According to local producer, writer and museum curator Anita Molnár, Szeged wasn't always Spice City. 'The growth of paprika in Szeged only came after the Great Flood of 1879 that destroyed the city,' she says. 'Emperor Franz Joseph came and promised that Szeged would be rebuilt better than before. When he returned four years later, he was taken to a paprika mill and presented with the finest rózsa variety. Paprika became a symbol of Szeged's revival. To coin a current phrase, it went viral.'
Across the vast Austro-Hungarian empire, recently interconnected by rail, paprika saw its fame spread by two men with ties to Szeged. Locally born János Kotányi was a marketing genius with Viennese connections who supplied the imperial court, then took this easily transportable powder to the Magyar communities of New York and beyond. Kotányi duly cornered the nostalgia market, tugging on Hungarian heartstrings with dainty red, white and green packages from the old country.
Then, in the 1930s, while working at the University of Szeged, biochemist Albert Szent-Györgyi used paprika to isolate Vitamin C: a discovery that was to earn him a Nobel Prize. Anita relates how paprika's newly famed medicinal properties helped increase sales: 'Exports of paprika to America more than doubled between 1930 and 1939.' And all the while, the spice was becoming synonymous with traditional Hungarian cuisine.
A 15-minute taxi from the centre of Szeged, Anita's Paprika Museum in Röszke traces paprika's growing popularity, alongside her own family's long involvement with the colourful fruit. When she took over the family paprika mill from her father, paprika production in the region was a fraction of what it had been before the fall of communism. 'Spicy paprika needs six months from sowing to selling,' she explains. 'Without a guaranteed income, farmers switched to quick-grow vegetables such as corn and carrots.'
Anita opened her museum fearing the loss of the local industry amid a flood of cheap inferior imports. And sales have held up: 'There's no goulash gathering or wedding party without paprika,' says Anita.
More recently, though, there's been another shift. In Budafok, in the south of Budapest, Olivér Kőszegi of Olchili sells mustards, relishes and cordials made from tropical pepper varieties. He's capitalising on the barbecue one-upmanship that has spread across the back gardens of Budapest, with US- and Mexican-style hot sauces replacing traditional paprika.
'It started as a hobby and now I'm selling thousands of bottles a month,' says Olivér, his market stall festooned with rosettes garnered at sundry Stateside chilli festivals. 'When I started on my seventeenth birthday in 2017, there were around 50 small-batch producers in Hungary. Now there are 250.' He's planning on taking on extra staff. Paprika may still be king, but Hungary's taste for spice keeps evolving.