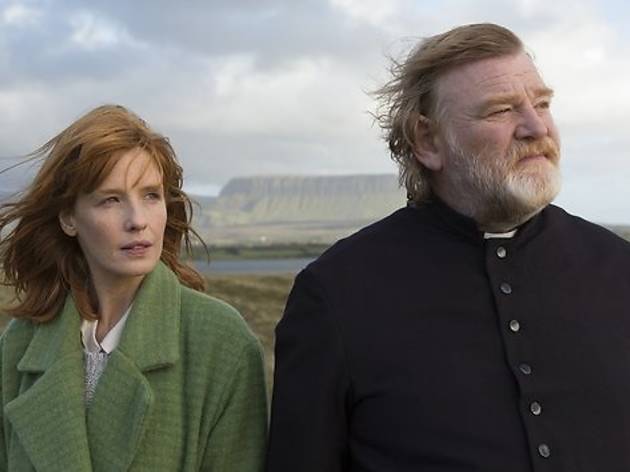 What do you tell a priest whom you plan to shoot point-blank between the eyes? "Say your prayers," of course. John Michael McDonagh's follow-up to 2011's The Guard is a wickedly funny and Tarantino-esque black comedy—all fatalism and gallows humor but with a beating heart and an inquiring mind beneath its tough-guy bluster.
The mighty Brendan Gleeson, a visibly weathered actor, plays Father James. In the confession box, a man tells him how he was raped by a priest at the age of seven. That cleric is now dead, so it's Father James who must pay. The mystery voice gives James seven days to put his affairs in order; the murder is set for next Sunday.
The film then becomes a sly, shaggy-dog mystery. McDonagh (whose brother, Martin, wrote and directed In Bruges) casts the best of Irish talent as the insane locals, a lineup of oddballs. Any one of them might be the would-be culprit: Is it the coke-snorting cynical local doctor (Aidan Gillen)? Or the intellectually challenged, racist butcher (Chris O'Dowd)?
You won't find as many guffaws as McDonagh had in The Guard, and Calvary has its flaws: Not all the characters tickle, and it's slipshod in places. McDonagh's brand of surreal, paint-it-black humor is an acquired taste, smuggling in bigger questions—e.g., why would God create a serial killer? That'll be a shade too dark for some. But everyone else can sit back and enjoy Gleeson's career-best turn, an authentic heart-and-soul performance.
Release details
| | |
| --- | --- |
| Rated: | R |
| Release date: | Friday August 1 2014 |
| Duration: | 100 mins |
Cast and crew
Director:
John Michael McDonagh
Screenwriter:
John Michael McDonagh
Cast:
Chris O'Dowd
Aidan Gillen
Brendan Gleeson
Kelly Reilly