Chicago African Diaspora Film Festival 2012
Facets' annual showcase includes films from around the globe.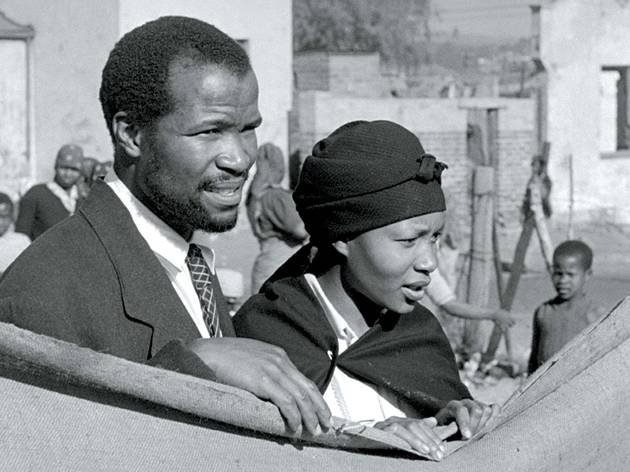 The annual African Diaspora Film Festival is as diverse and porous as the diaspora itself. This year's program is broad enough to include a classic of Surinamese cinema, a documentary on Jesse Owens and a historical film on African-American life in the 1840s. Facets will also reshow two movies that have had runs at the theater since 2011, both well-received by other TOC critics: The First Rasta (Tuesday 19) explores the origins of the Rastafari movement and its modern implications, and in Scheherazade, Tell Me a Story (also Tuesday 19), Egyptian director Yousry Nasrallah follows a woman television anchor's efforts to take on her country's patriarchy. (Set in contemporary Egypt, it's one of many films that don't quite fit the diaspora designation.)
The festival kicks off Friday 15 with first-time director Keith Miller's peculiar docu-fiction hybrid Welcome to Pine Hill. You'd need press notes to know the opening scene is modeled after the real-life meeting between the filmmaker and his star, Shannon Harper, when they argued in a Brooklyn street over custody of a lost dog. Miller, dispelled in his prejudices and discovering that this stranger "was and is a very unique person," struck up a friendship with Harper and cast him as an ex-dealer turned car-insurance claims agent who reevaluates his life after being diagnosed with a rare form of stomach cancer. There's a germ of an interesting idea here—a story of dying, told from the perspective of someone brought up in a neighborhood where people get killed every day, to the point where Harper's character says he never saw the point in putting up a lost-dog poster. But as an actor, Harper isn't seasoned enough to carry a film, and Miller's self-described "intuitive" process results in an amateurish structure and shooting style.
A more interesting—and essential—doc-narrative blend is Lionel Rogosin's Come Back, Africa (1960), one of two films showing Saturday 16 and June 21 to commemorate the 100th anniversary of the ANC. The pioneering nonfiction filmmaker convinced South African authorities he was making a travelogue and document of the country's music. While there's some of that, Rogosin used the opportunity to clandestinely chronicle life under apartheid. Most of the film follows a black man named Zachariah as he seeks to support his family with work outside of the mines in Johannesburg; he encounters racism, danger and bigotry-related firings at every turn. Those familiar with Rogosin's work will be prepared for the film's didacticism and declamatory style, but like his 1956 landmark On the Bowery, the movie is most fascinating as a time capsule and portrait of city life.
The outrage doc of the fest might be The Big Banana (Monday 18), withering enough to put the entire continent of Europe off potassium. Director Franck Bieleu crafts a top-down portrait of Cameroon's banana trade, which is corrupt and horrifying on nearly every level. Local officials are in bed with multinationals, lax trade rules with the EU create financial incentives for corporate interests to steal ever-more land, the growers are ill from pesticides, and locals live on the equivalent of 23 British pounds per month. The Latin and South American banana industries—the main source of bananas in the U.S.—don't sound much better.
The 10th Annual Chicago African Diaspora International Film Festival runs through June 21.