Chuck Norris vs Communism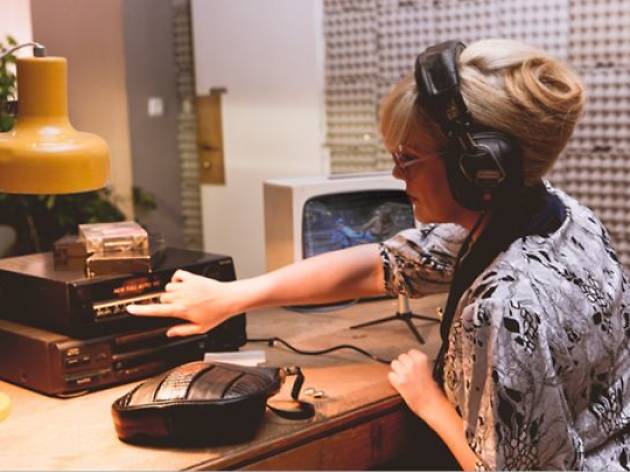 Time Out says
Once upon a time, Dirty Dancing was considered too erotic to be seen in Romania. The ban on the triple-X-rated Patrick Swayze classic was nothing personal, but rather a symptom of a restrictive Communist regime that strictly prohibited any kind of "imperialist" influence, culturally stagnating 20 million people in the process. During the brutal (and ultimately bloody) reign of Nicolae Ceausescu, which stretched from 1965 to 1989, an American film was as illegal in Bucharest as a brick of heroin in Manhattan. Meanwhile, VCRs cost as much as a new car. But as video technology crept across the country, Romanians in the capital city were being exposed to all manner of American entertainments. One man, "Colonel" Zamfir, was smuggling tapes in from a neighboring country, and one woman—a translator on the National Television's Censorship Committee named Irina Nistor—was secretly dubbing them into her native tongue. She even did the voices of the male actors like Chuck Norris.
Ilinca Calugareanu's Chuck Norris vs Communism is a genial and wide-eyed documentary about the clandestine collaboration between Nistor and Zamfir, who respectively dubbed and distributed more than 3,000 films between 1985 and 1989. For Romanians of the time, Nistor was quite literally the voice of freedom, introducing them to Rocky, the Terminator and everyone in between. Her freeform translations, which were crudely recorded over the corresponding English dialogue, served as the soundtrack for a better world. And the throngs of Romanians who illicitly gathered around the television to listen to Nistor were often more enamored with the Western food and fashions on display than they were the plights of the characters she voiced. Many of those viewers appear as talking heads in Calugareanu's film, warmly reminiscing on the wonders that Irina brought into their lives, and the perversely charming consistency with which she did it. One older woman recounts how a bootleg copy of Last Tango in Paris was the first movie she ever saw, which is a hell of a place to start.
Calugareanu correctly understands that nostalgia can't sustain her film for long, but Chuck Norris vs Communism struggles to fill the void. Much of the movie is devoted to dramatic recreations of Nistor's clandestine activities, Calugareanu depicting the unassuming government employees like they're in an '80s spy film themselves. But while those sequences are richly cinematic, the suspense they generate proves counterintuitive and overwhelms the connection between Nistor's work and the revolution it supposedly helped to stoke. It's clear that the action films she dubbed united a country better than communism ever could, and that Zamfir's business was allowed to prosper because even high-ranking government officials enjoyed the movies too much to rat on him. Yet Calugareanu overreaches by spuriously insisting that the bootlegs sparked Ceausescu's demise. Despite what her doc might tell you, it's hard to believe that communism fell because Chuck Norris pushed it.
Follow David Ehrlich on Twitter: @davidehrlich
Details
Release details
Cast and crew
Director:
Ilinca Calugareanu
Screenwriter:
Ilinca Calugareanu
Cast:
Ana Maria Moldovan
Valentin Oncu

Users say