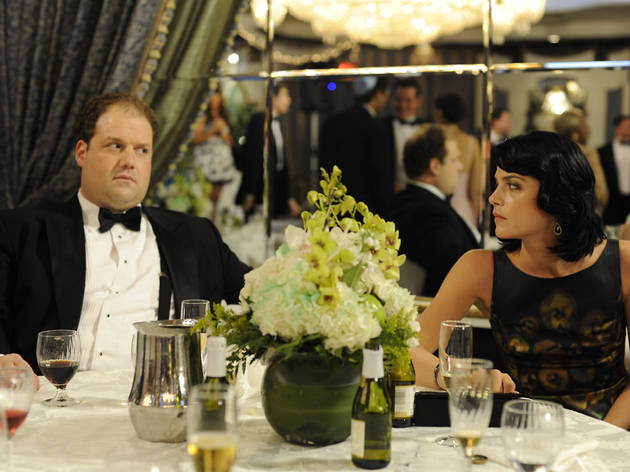 Time Out says
Another lovable schlub who learns life lessons via the help of a maturation-enabling hottie? Nope. Here's a corrective to that Apatovian narrative, with all the uplift peeled away. Midthirtyish Abe (Jordan Gelber) thinks he's awfully cute with his chirpy come-ons and sitcom-lite sense of humor. He hasn't taken a look in the mirror lately, which would reveal a gelatinous physique, an action-figure-strewn bedroom located in the suburban New Jersey home of his parents and an obnoxious sense of entitlement squandered in a state of laxity. Even as he receives mixed signals from depressive Miranda (Selma Blair, her raspy drollness at perfect pitch), another failure-to-launch case whom Abe preys on at a wedding, there's little doubt that his stagnant condition is critical.
The problem with this—one that director Todd Solondz (Happiness) has handled better in the past—is that it makes for a largely unlikable movie; even with Dark Horse's brief
running time, staying in Abe's company is a serious test of negative entertainment. Making up for the shortfall in heroic fashion, Solondz remains peerless with painfully acute details of banal Jewish life, from the Israel posters and novelty Hebrew-language bottle of Coke in Abe's domestic purgatory to his smothering parents (an unusually cast Christopher Walken and Mia Farrow), who offer endless games of backgammon and cutting remarks: "Sweetie, we'd written you off as a failure years ago," Farrow comforts. The movie strays too far into fantasy—Abe suffers mightily—but Solondz still has an ear and an eye for a specific hell in the real world.
Follow Joshua Rothkopf on Twitter: @joshrothkopf
Details
Release details
Release date:
Friday June 8 2012
Duration:
85 mins
Cast and crew
Director:
Todd Solondz
Cast:
Christopher Walken
Mia Farrow
Justin Bartha
Selma Blair

Users say