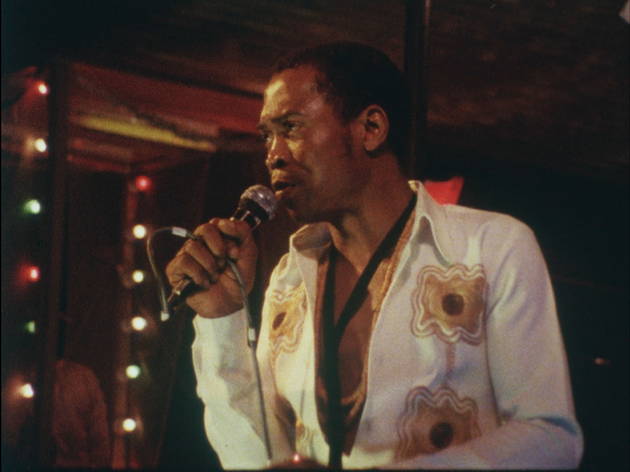 Outspoken Nigerian musician Fela Kuti led a vibrant life, one that filmmaker Alex Gibney lays out in too-plain fashion in his latest documentary. Props for the warts-and-all approach, though: You'll hear plenty about Kuti's pioneering achievements in Afrobeat, righteous salvos he launched against his home country's oppressive government, but also lots of unsavory stuff. The multi-instrumentalist's views of women might kindly be termed "Neanderthal," and his till-death denial of his HIV status is infuriating. Fela was a walking contradiction, and the film is best whenever Gibney shows his interviewees openly struggling with his legacy.
Choreographer-director Bill T. Jones is one of the most interesting testifiers in this regard. He's the creative mind behind the biographical Broadway musical Fela!, and Gibney gets plenty of fascinating behind-the-scenes footage of the stage production, as Jones talks his way through and around his subject's rough edges. Try as he might, he can't quite reconcile art and artist, and his frustration is palpable.
These scenes make you wish the rest of the movie had similar bite, but Gibney tends toward that dutiful doc style that mixes talking heads and archival clips into a flavorless stew—a bland complement to Fela's zesty on- and offstage presence. There's so little ardor in the filmmaking that you're thankful for the old-time footage of the entertainer, joint in hand, strutting onstage through one of his lengthy musical broadsides, some of which ran to 30 minutes. Though we only get abbreviated snippets of his performances, this virtuoso's charisma and ability to use music as a pulsating form of protest come through loud and clear.
Follow Keith Uhlich on Twitter: @keithuhlich
Release details
| | |
| --- | --- |
| Rated: | N/R |
| Release date: | Friday August 1 2014 |
| Duration: | 119 mins |