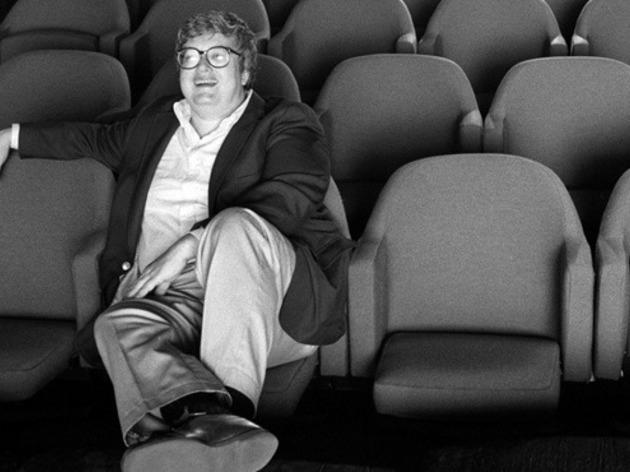 Unusually moving (not only to stray film critics in your crowd), director Steve James's keen profile of the late, great Roger Ebert works both as a compact appreciation of the reviewer's vast public impact, as well as an unflinching peek into a cancer patient's final months, fraught with pain, hope and constant treatment. It will be hard for some viewers to focus on Ebert's ravaged, flopping jaw; James is after the kind of warts-and-all portrait he delivered with his mighty Hoop Dreams. But the documentary gains immeasurably from these hospital scenes, Ebert straining under a suction pipe or in physical rehab, always rebounding with a wisecrack communicated via talk box or on paper. And when he loses his temper, that's important to see, too.
Ebert was a sparrer, a happy combatant, and the movies were always a springboard to a conversation. His life's work is well represented here, beginning with some gloriously geeky photos of the cherub-cheeked Illinois newsman, promoted to film critic in his mid-twenties after making tough calls on the editorial floor. James includes plenty of excerpts of Ebert's approachable prose (read by voice artist Stephen Stanton, doing an eerie approximation of the critic's famous patter). The documentary is smart to include dissenters—especially Chicago's revered alt-journalist Jonathan Rosenbaum—who rail, collegially, against thumbs-up reductionism. Life Itself is about a reviewer, but also a revolution: Working with Gene Siskel (a secret, cherished friend), Ebert turned his job into an egalitarian platform for millions of viewers and bloggers.
Still, the doc gains its universal impact in smaller, earthier revelations. Martin Scorsese comes close to tears speaking of Ebert's encouragement during a dark phase in his life. The city of Chicago, especially its late-night watering holes, becomes a window into the off-camera moments of a raconteur and showboat. The subject's alcoholism is addressed unflinchingly, as is the silver lining that emerged from his defeating drink: meeting future wife Chaz, who is never less than supportive. Best are the offhand remarks from a gallery of beautifully crude friends: This is the only film in which you'll be seated in the legendary Old Town Ale House to hear someone growl, "Fuck Pauline Kael."
What's missing? Very little. Still, anyone aware of Ebert's strident Democratic politics, his encouragement of the embattled Michael Moore or his frequent attacks on right-wing news sources will find that side absent (not that it should be front and center). If anything, Ebert suggested that critics could be—should be—citizens of the world, engaged and outraged. Fortunately, that message comes through, in a life of moviegoing and writing, and the attentions of an equally disciplined chronicler.
Follow Joshua Rothkopf on Twitter: @joshrothkopf
Release details
Rated:
R
Release date:
Friday July 4 2014
Duration:
115 mins
Cast and crew