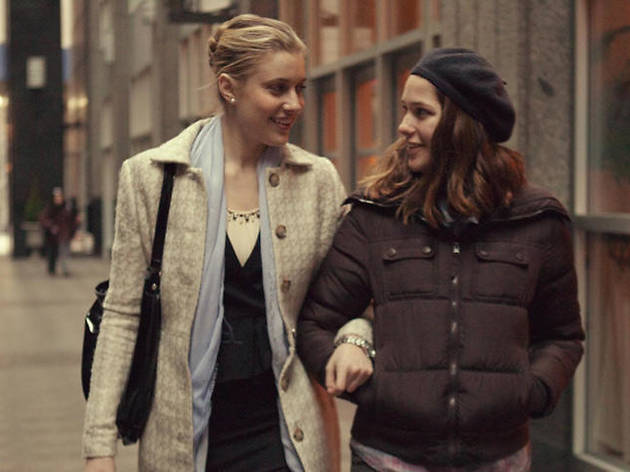 Time Out says
Noah Baumbach's return to the college comedy is a modern screwball masterpiece.
Noah Baumbach's films are consumed with the terror of becoming, his characters often clinging to the protective embrace of college like a life preserver in shark-infested waters. In the brilliant Mistress America, which begins on the first day of freshman year as Tracy (Lola Kirke) moves into her Barnard dorm, academia is a place where kids are so worried about what they should become that they hardly have time to be themselves.
Like Frances Ha on Adderall, Mistress America finds Baumbach working with a manic screwball energy that has more in common with Preston Sturges or Howard Hawks than it does any of his previous films. Things begin with a running start as Tracy crushes on the first boy she meets (Matthew Shear) and pines for acceptance to a pompous literary society, but it's not until Brooke (Greta Gerwig) enters the picture that the film takes flight. Tracy's mom is due to marry Brooke's dad, and so the two girls are forced into a manufactured but mutually beneficial sisterhood.
They're perfect foils: Tracy is paralyzed by the choices offered by her new life in the big city, and Brooke—a restauranteur-designer-musician–SoulCycle instructor who's sustained by the sheer inertia of her schemes—has seemingly made all of those choices at once. The siblings-to-be get into a whirlwind of misadventure, and Tracy starts writing a story about Brooke (called "Mistress America"). Eventually the film drops its anchor at a Connecticut mansion, setting the stage for one of the great comic set pieces this side of Billy Wilder.
Mistress America steamrolls through its mesmerizingly dense running time with such joyous violence that its themes only bubble up to the surface in retrospect, the heart of the movie identified like the dental records of a body that's been burned beyond all recognition. This is the second script that Baumbach has cowritten with Gerwig (his creative and romantic partner), their collaboration adding an extra wrinkle to the film's obsession with what we borrow from the people around us. A giddy treatise against the need for outside validation, Mistress America nimbly vivisects how we define ourselves in an age when Twitter allows people to broadcast their achievements so widely that every cell phone doubles as an EKG machine for our self-worth. How great it is, then, to see that these women ultimately belong only to themselves.
Follow David Ehrlich on Twitter: @davidehrlich
Details
Release details
Rated:
R
Release date:
Friday August 14 2015
Duration:
84 mins
Cast and crew
Director:
Noah Baumbach
Screenwriter:
Noah Baumbach, Greta Gerwig
Cast:
Greta Gerwig
Matthew Shear