Onion City Experimental Film and Video Festival 2012
Chicago's premier avant-garde film festival continues to expand—even as it scales back to three days.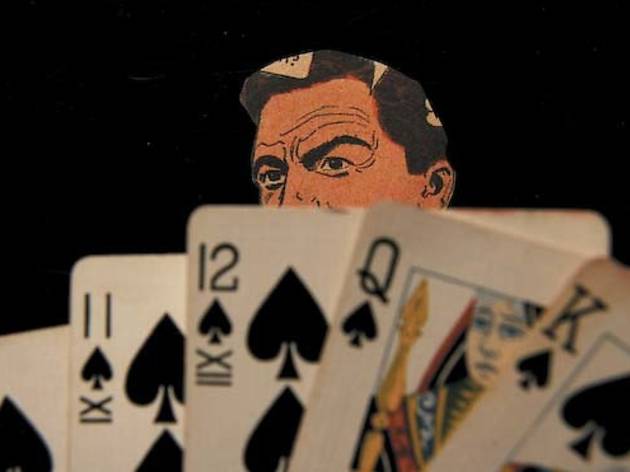 Fear not, avant-garde enthusiasts: Onion City may be a day shorter this year, but it's also twice as large. Chicago's annual experimental-cinema jamboree has relocated its main venue from the single screen of Andersonville's Chicago Filmmakers to a pair of auditoriums at downtown Columbia College. Two screens means double the offerings, as curator (and occasional TOC contributor) Patrick Friel has lined up a whopping 12 programs of nonnarrative film and video work. As usual, new efforts from local talent like Jake Barningham share schedule space with movies by veterans like the late Raúl Ruiz, whose unearthed 1963 debut "La Maleta," recut by the filmmaker in 2010, screens as part of the fest's opening-night program (Thursday 21 at the Siskel). The short is more an amusing curiosity than a lost masterpiece.
The big get here may be Ken Jacobs's "Seeking the Monkey King" (Saturday 23), which attempts to cram the polemical outrage of the filmmaker's 6.5-hour Star Spangled to Death into 40 abstract minutes. Jacobs's camera tilts and swirls around a jagged, glistening heap of metallic foil—manipulated to resemble a CGI hellfire or some churning primordial soup—while a thunderous score from J.G. Thirlwell amps up the end-of-days melodrama. Periodically, this mesmerizing maelstrom halts to accommodate onscreen text laying out a laundry list of laments, as Jacobs rails against corporate greed, the lingering legacy of slavery and the failures of the Obama administration. The overall effect is akin to toggling between an apocalyptic screen saver and an especially pissy blog post. Still, there's no denying the film's bracing anger or its hypnotic formal pleasures.
The Pettifogger (Friday 22 and Saturday 23) is Lewis Klahr's longest stand-alone work, and it feels it. What's at once maddening and thrilling about the artist's collage films, which cut and paste old magazine art into playful reveries of desire and memory, is the way they possess just enough semblance of narrative to keep you chasing potential plot strands. Doing that here yields only frustration, as there's little to connect to in Klahr's repetitive, hour-long, vaguely noirish succession of car rides, card games and late-night rendezvous. The filmmaker fares better going short; see "L.A." (paired with the feature) and opening-night contribution "Well Then There Now."
Over in the Drifting and Lingering shorts program (Friday 22), Ben Rivers peers inside a now-closed factory, documenting its final workdays, with "Sack Barrow." Between this and his recent CUFF title Two Years at Sea, Rivers is establishing himself as one of the most promising experimental documentarians. His healthiest competition here is Matt McCormick, whose stunningly shot "Future So Bright"—a haunting travelogue of abandoned buildings in the American Southwest—screens as part of the Site Specific shorts program (Saturday 23).
For conceptual ingenuity, look to Robert Todd's "Dangerous Light" (opening night, Thursday 21). The Onion City alum has spliced together the lightsaber battles from all three Star Wars prequels. By obscuring everything around the glowing weapons—the actors wielding them, the gaudy backdrops—he's created an expressionistic pageant of colors, revealing glimmers of artistry in the hollowest of Hollywood products. It's a triumph of addition by subtraction—a good way to describe a festival that's packing more films into fewer days.
The Onion City Experimental Film and Video Festival runs Thursday 21 through Saturday 23.