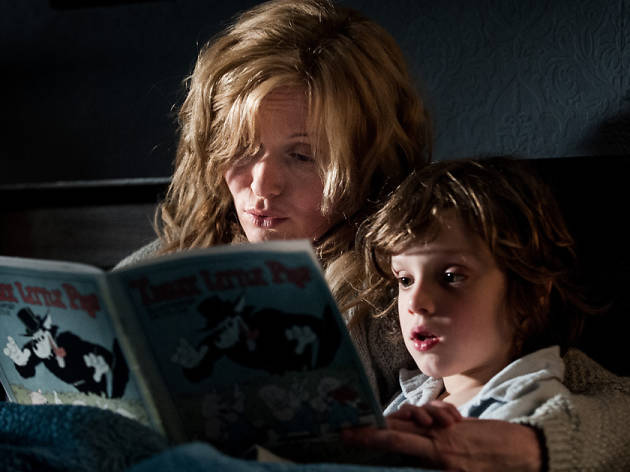 Time Out says
Who would bring a children's book called Mister Babadook, rife with illustrations of toothy terrors peering around bedroom doors, into their home? The answer to that is left deliciously vague in this slow-building, expertly unsettling horror film, but it's probably safe to assume that it wasn't the broken Australian family at the heart of the story. Amelia (Essie Davis), a tired-looking caregiver working in a nursing home, grapples with single motherhood in the wake of a car accident that killed her husband while he was driving her to the maternity ward. Samuel (Noah Wiseman), the surviving child, now six, is stuck in his shrill phase, has a hyperactive imagination and is obsessed with building weapons. These are precisely the wrong people to be reading dark bedtime stories, yet mysteriously, there's the book on the shelf.
And there goes your peaceful night's sleep. Maybe the better question is: Who thinks up a film like The Babadook? Actor turned debuting feature director Jennifer Kent has the narrative chutzpah to show her entire hand in the pop-up story and then make us squirm as foretold events come true. Even more impressively, Kent (expanding richly on her 2005 short, "Monster") doesn't shy away from Amelia's off-putting mental state, an internal battle between parental love and palpable resentment. (Young Sam will always be a reminder of her marital loss.) The Babadook is female-centric in ways that other horror movies, while often dominated by tough "final girls," rarely are. It's a tale in which the real terror might have already happened; parents should brace themselves.
On purely formal grounds (the ones on which the genre lives or dies), Kent is a natural. She favors crisp compositions and unfussy editing, transforming the banal house itself into a subtle, shadowy threat. You're not going to be sprung out of your seat by an overzealous sound designer, and when the beast shows up (a wild creation of puppetry, stop-motion animation and suggestive noises), it's possible to be equally as riveted by Davis's mouse-turned-lioness performance, tearing into the territory of Cate Blanchett. How Kent will follow up such a commanding first film is uncertain, but if her goal is to help steer horror toward a rigorous, nondigital realm for serious artists (a welcome trend seen in last summer's The Conjuring), her work is already done.
Follow Joshua Rothkopf on Twitter: @joshrothkopf
Details
Release details
Rated:
N/R
Release date:
Friday November 28 2014
Duration:
93 mins
Cast and crew
Director:
Jennifer Kent
Screenwriter:
Jennifer Kent
Cast:
Noah Wiseman
Essie Davis
Daniel Henshall

Users say