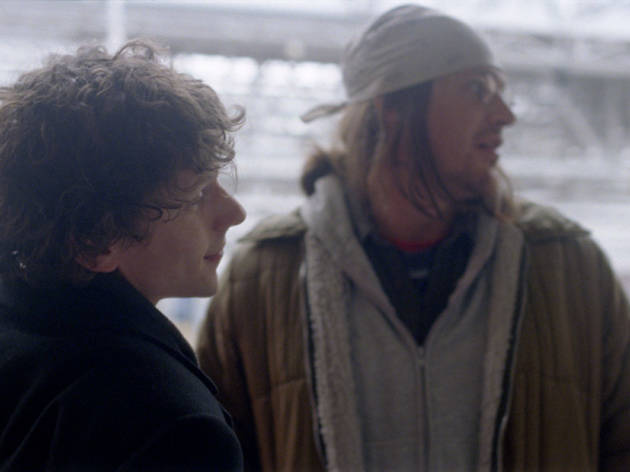 Time Out says
Like the black monolith in 2001, late novelist David Foster Wallace's Infinite Jest casts a long shadow over the chatty, sharply observed The End of the Tour. The door-stopping 1996 book inspires several running gags: It's more than a thousand pages long, so it must be brilliant. It weighs in at over three pounds and stacks dangerously high. It makes women swoon, alienating them from their jealous writer boyfriends.
Paradoxically, though, director James Ponsoldt's brainy comedy is built on the slenderest of spines—an extended interview made up of weaves and dodges—yet still manages to contain a blizzard of heartbreaking insights into loneliness, fame and ambition. Rolling Stone's David Lipsky (Jesse Eisenberg) spent five days with the quirky Wallace (Jason Segel), recording their back-and-forth over car rides, late-night junk-food feasts and speaking engagements. That real-life conversation resulted in Lipsky's 2010 tragedy-tinged memoir Although of Course You End Up Becoming Yourself, but in the hands of Pulitzer-winning adapting screenwriter Donald Margulies, it becomes a spiky cinematic two-hander that rewards those who lean in.
Eisenberg is fully within his neurotic element as Lipsky, skulking through NYC's literary hang KGB Bar, lunging at his doubtful editor for the Wallace gig and arriving in the author's snowy Illinois looking like a wet cat. Ponsoldt structures the film out of Lipsky's lingering reaction shots and you can see a riot of emotions on Eisenberg's face as the red light of his tape recorder glows: awe, obsequity, mystification, curiosity.
But it's Segel, stepping up his game mightily, who turns The End of the Tour into a feast of subtle fragility. Bedecked in Wallace's signature head bandana and loose-limbed slovenliness, Segel is totally persuasive as a troubled brainiac, socking over Wallace's uneven flow of verbiage and melting ever so slightly in the heat of a fanboy-interrogator. "This is nice," he tells Lipsky with a wary smile, adding, "This is not real." A former journalist himself and a shrewd analyst of pop-culture fakeness, Wallace is too aware of the packaging that's got to happen when Lipsky hits the keys, and their honeymoon phase comes to an abrupt halt.
The End of the Tour doesn't require you to love—or even to know—Wallace's work (thank God). Rather, it teases out the distinctly modern subject of celebrity profile-writing, a rare one for the movies, detouring into avenues of attraction and envy. Wallace's suicide hangs over the film, but Segel wisely downplays the dysfunction, turning the giant into a dude who doesn't like city slickers hitting on his blond fans. He's not exactly approachable, but understandable. There's a misstep here in not exploring why the finished piece never made Rolling Stone, yet onscreen, that wrong's been righted. It was too much of a story—it always is.
Follow Joshua Rothkopf on Twitter: @joshrothkopf
Details
Release details
Cast and crew
Director:
James Ponsoldt
Screenwriter:
Donald Margulies
Cast:
Jesse Eisenberg
Jason Segel
Anna Chlumsky
Joan Cusack

Users say