Toronto International Film Festival 2011 | Wrap-up
William Friedkin and Terence Davies revitalized their filmmaking at Toronto.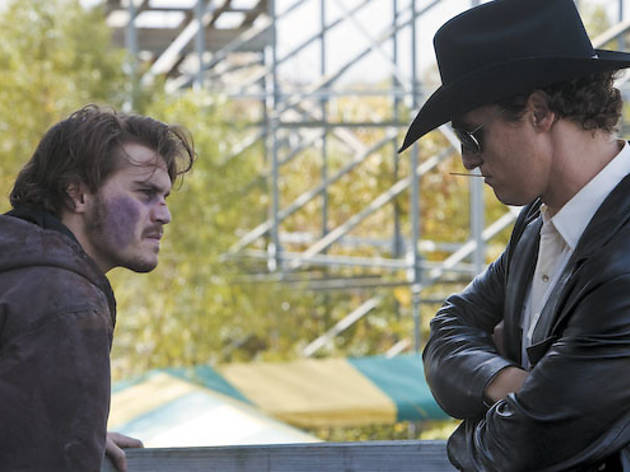 TORONTO—Everything old was new again at this year's Toronto International Film Festival, where filmmakers vied daily to offer the boldest take on a period piece. Toronto favorite son David Cronenberg divided critics with his Freud-Jung smackdown A Dangerous Method, while Andrea Arnold won raves for her vérité-style (if one-note) Wuthering Heights. Ralph Fiennes brought Shakespeare's Coriolanus into a modern context with mixed results, while Roland Emmerich's Anonymous goofily made the case for the Earl of Oxford's authorship.
The most elegant blast from the past was Terence Davies's adultery drama The Deep Blue Sea, which takes a middling Terence Rattigan play and uses it as a pretext for breathtakingly old-fashioned filmmaking. The material, in which Rachel Weisz is torn between a young RAF pilot and her older judge husband, dovetails well with the Distant Voices, Still Lives director's career concerns: Catholic guilt, reconciling practicality with physical passion, the pleasures of classical artistry. Chicago's Music Box Films plans a release late this year or early next.
Davies's film was a world premiere, but TIFF retains a reputation as the "festival of festivals," culling the best titles of the calendar year. If I were to rank my favorites from all the movies showing (not just new titles), many of my top picks—Sean Durkin's opening-in-October Martha Marcy May Marlene, Asghar Farhadi's astonishing family-lies parable A Separation, Gerardo Naranjo's impressively sustained exploitation flick Miss Bala—would be films that already played at Sundance, Berlin or Cannes.
Still, fall brought a bumper crop of its own. Killer Joe, William Friedkin's second collaboration with Tracy Letts (after Bug), provided the most bracing shot of genre filmmaking. Pushing Texas clichés to the point of dark comedy, Letts's adaptation of his Chicago-premiered play—about a family plotting to knock off Ma for the insurance money—hits numerous sweet spots, thanks largely to its cast (Matthew McConaughey plays the titular hit man) and Friedkin's affinity for excess.
A red state also went under the microscope in Nick Broomfield's Sarah Palin—You Betcha!, a lightweight exposé that somehow manages to be nearly as irritating as this summer's pro-Palin doc, The Undefeated. Bobcat Goldthwait's God Bless America sends up Kardashian Kulture, blithely unconcerned with the fact that it has only one joke. Satire was hardly limited to our own shores: George Clooney's well-acted if dated The Ides of March, starring Ryan Gosling as an operative who loses his illusions about campaign etiquette, proved remarkably similar to an Argentine film, The Student, which portrays the double-dealing involved in the election of a university dean as a microcosm of its country's politics.
Werner Herzog goes to Texas in the death-penalty disquisition Into the Abyss, a documentary that's not so much muckraking as memorial: The filmmaker chooses a case where guilt is not in question and instead ponders the loss on both sides. Still, Herzog couldn't compete with the scale of Paradise Lost 3: Purgatory, which finds documentarians Joe Berlinger and Bruce Sinofsky returning to Arkansas to look at new evidence in the case of the West Memphis Three, released from prison four days after the film was completed. Despite the first half's attempts to recap parts one and two, the movie really shouldn't be seen on its own; it's mainly notable for the way the directors' relationship with the material has evolved over time. (They're not sleuthing anymore, now that real experts have been drawn to the case.) The film will play differently with a new ending, set to premiere at the New York Film Festival next month prior to the movie's bow on HBO in January.
Apropos of long-in-the-works projects: Whit Stillman, MIA as a director since 1998's The Last Days of Disco, surfaced with the peculiar college comedy Damsels in Distress. His rhythm is bizarrely off, but the movie is still very funny, with much credit due to Greta Gerwig's eccentric line readings in the lead and a few choice running gags. (The best line comes courtesy of a frat boy, taken aback when told he has blue eyes: "I'm not going around checking out what color eyes I have.") Francis Ford Coppola pulled off something similarly exasperating-yet-unique in Twixt, which applies innovative digital imagery to a ghost story that might not have passed muster at the Corman factory of Coppola's youth.
Cronenberg, meanwhile, retreated from the pleasure principle with his deceptively conventional A Dangerous Method, in which Jung (Michael Fassbender, also great in Steve McQueen's dramatically facile if formally riveting Shame) attempts to intellectualize his tumble with Russian beauty Sabina Spielrein (Keira Knightley). Full of weird, distancing touches (Knightley's accent is as much of an alienation effect as Ed Harris's in A History of Violence), it builds to not one but two celebrated spanking scenes.
With films this good, anyone would be slap-happy.