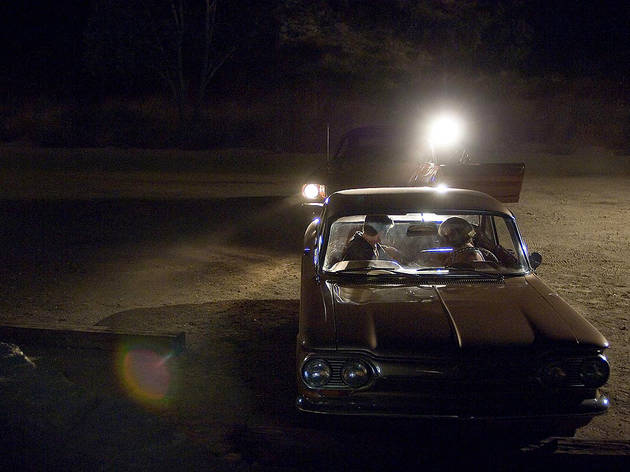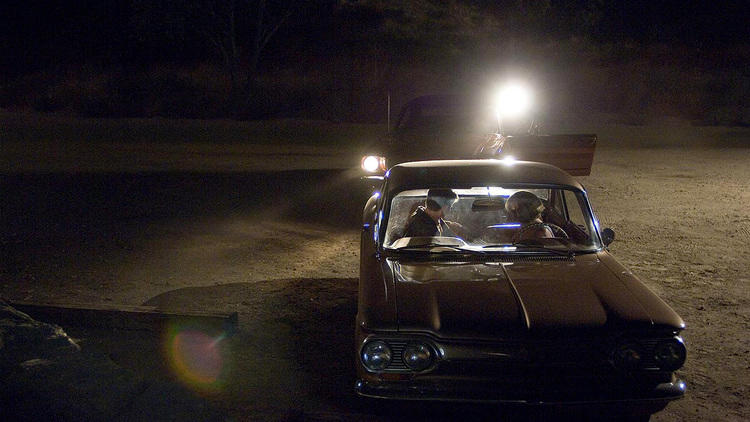 Time Out says
Let those Hannibals and Jigsaws play in the slop all they want. Bracingly out of step with today's death flicks—yet impossibly current as a mirror image of our own spooked society—Zodiac is that rarest of pleasures, a modern American masterpiece. Ever since The Silence of the Lambs, we've gorged ourselves on cannibals' leftovers: so many brilliantly deranged minds, so few decent recipes. Now comes a harsher truth—or something awfully close to one. No Hollywood crime picture has delved so deeply into the dead-end minutiae of case files, journalistic burnout and the desperate need for closure. Zodiac throbs with frenetic obsession, the despair of good men made crazy by their prey. It's the first movie about a serial killer that feels like it was written by one.
To my knowledge, Robert Graysmith, the author of the source material (tautly adapted by James Vanderbilt), is not a serial killer. Rather, he was an op-ed cartoonist for the San Francisco Chronicle. Despite that skill set, Graysmith found himself pursuing the real-life Zodiac killer, who terrorized the Bay Area from August 1969 through most of the '70s, after the best minds had melted into mush. (The case also found its way into popular culture via 1971's Dirty Harry.) In the calculus of modern casting, this means Graysmith is played by Jake Gyllenhaal, still earnest as a puppy but here perfectly so.
Written in a slanted, disquieting longhand with cryptic symbols, the killer's letters to the Chronicle threatened schoolchildren; they also persuasively took credit for several unsolved stabbings and shootings. Brilliantly, the movie launches us into a disturbingly familiar metropolis on the edge of panic, the camera floating high over the unbuilt Transamerica Pyramid's foundation, drifting through a night air saturated with talk-radio tension. Who is this Zodiac? Certainly his messages aren't "very Christian," one woman tartly comments. Already, we've seen the murderer's gruesome handiwork at a lovers' lane, but never his face. (In a Scorsese-worthy bit of pop-music scoring, only Donovan's creepy "Hurdy Gurdy Man" lends him any kind of identity.) When he sneaks up on a canoodling couple one sunny afternoon—black-clad and hooded, with his signature target symbol on his chest—he may just be some geek playing dress-up. For a brief moment, it's merely Halloween.
When did David Fincher develop a sense of humor? His Seven, still the gold standard of torture porn, barely contains a single joke. Now the director leaps into an entirely new category—that of Fritz Lang and Billy Wilder—by dropping his atmospheric gloom and going for a crisp, bright cynicism. And suddenly, he's also an ace shaper of performances: Zodiac's dynamite first hour sustains no fewer than four of them. Gyllenhaal's curious Graysmith tags along with saucy star reporter Paul Avery, played by Robert Downey Jr. (Can we finally declare this actor's comeback officially complete? The way he peers over Gyllenhaal's shoulder during his code-breaking and inquires, "How does one...do that?" puts him in an all-star snark league last occupied by George Sanders.)
Even better is Mark Ruffalo as San Fran's real-life supercop Dave Toschi, a legend in his own time and the model for Steve McQueen's Bullitt. Bright-eyed and shaggy-haired, Ruffalo will never be an action hero. But that makes his flamboyant, quick-witted interpretation all the more winning. Paired with his stiff shirt of a partner, Bill Armstrong (Edwards), Toschi works the facts while the newshounds wrestle the codes. Many cop thrillers can succeed on these simple cat-and-mouse machinations alone; few have felt this zanily unhinged. The journos receive bits of a bloody shirt in the mail; the police escort a hammy legal lion (Brian Cox) to his exclusive call-in interview with the Zodiac on live TV. The city slips into collective madness.
But breathtakingly, the film is just getting started. We skip ahead: cafeterias, trailer parks, a full four years into the kind of switcheroo rarely seen in studio movies. Our heroes are ruined by exhaustion, competition, incrimination, drugs. Can Graysmith's red-hatchback amateur sleuthing truly represent the only hope left? This is the ultimate triumph of Zodiac's gripping last act, cementing its status as a new classic. Perversely, it seems to be about what happens to us when we don't become Dirty Harrys. Corrective and at the same time deeply tragic, Zodiac tells us to forget about the hurdy-gurdy man, but knows we sometimes can't—or won't until it's too late. He gets inside us.
Zodiac opens Fri 2.
Details
Release details
Rated:
R
Release date:
Friday March 2 2007
Duration:
160 mins
Cast and crew
Director:
David Fincher
Screenwriter:
James Vanderbilt
Cast:
Robert Downey Jr
Jake Gyllenhaal
Elias Coteas
Mark Ruffalo
Anthony Edwards
Brian Cox

Users say