K.Flay is rap's great white, female hope | Interview
Straight outta Wilmette, K.Flay raps about her anxieties and boredom. She might be the voice of her generation.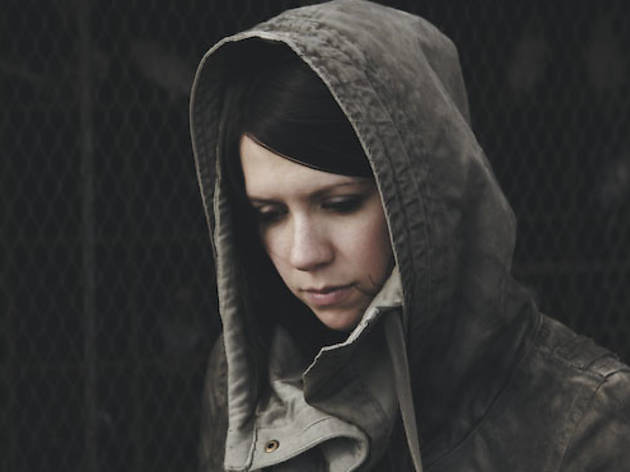 When Kristine Flaherty was a senior at Stanford University, she became obsessed with Liz Phair. The psych and sociology major listened to nothing but Exile in Guyville for six months. She called it her bible. Later Flaherty learned she and Phair both attended New Trier High School in Wilmette. "When I found out," the 26-year-old tells me over the phone from her home in the San Francisco Bay Area, "I was weirded out."
Two decades ago, Phair caught flak for coming from the well-to-do northern suburbs of Chicago. Critics questioned her artistic credibility. And unlike Flaherty, she was singing, not rapping. You can count the number of notable white, female rappers on one hand. The previous decade gave us Lady Sovereign, Doomtree's Dessa and Nothern State. More recently, Kreayshawn has stormed the Internet with her press-on nails and put-upon swagger. And that about sums it up.
There are no questions of credibility surrounding "K.Flay" Flaherty. She humbly rationalizes it: "It's pretty hard to be mean to a girl who's alone onstage, trying to manage her computer and keyboard." But that's never stopped people before. Her lack of haters says a lot about how much has changed in 20 years, about how pervasive hip-hop has become, but mostly about how unknockably genuine K.Flay is. On her mix-tapes, like last year's I Stopped Caring in '96, and her self-released EPs, like the just released Eyes Shut, she frankly admits she has "less sex than a mathlete" and devotes a large portion of her verses to climbing up the walls, detailing her anxieties and scars. She speaks of her nervous breakdowns, her Xanax, her depression and the death of her father when she was 14.
"Bled to death in the bathroom," she says in her slightly raspy, slightly sing-songy voice in "Danger Starts," over a chilly Warpaint sample. "Dad, did you fade out easily? Were you sad to be leaving me, or just sick of life?" It's gutting.
In conversation, K.Flay is bubbly and charming, even after driving for hours through a freak Northern California snowstorm after a gig in Oregon. "I've always had a duck personality," she says. "Calm above water, feet going crazy below." Like many twentysomethings, she wears what is lying on her bedroom floor. Her style is an antistyle—tattered jeans, flannel and hair that looks six weeks removed from its last scissors and 26 hours from its last shampoo.
Her rap career began as a dorm-room dare. She was arguing with a friend that popular hip-hop had become a formula of common vernacular, and that someone completely divorced from that world, like her, could easily make a convincing rap song. She recorded a track to prove her point. Her friends were impressed, if not a little stunned, and egged her on to do more. From there she was performing campus house parties, and soon connected with the Bay Area's eclectic rap scene.
Growing up, Flaherty was hardly a hip-hop head. She listened to hits on the radio and the occasional OutKast album. "I went in reverse with this whole thing. People I've toured with were kids who consumed as much hip-hop as they could. I didn't do that until I started rapping," she says. "My songs are a mix of my own, weird raised-by-wolves perspective and civilization." On her website, she posts videos of book reviews. She started singing on her tracks because, well, there was nobody else around to do it. All good rappers are spokespersons, and K.Flay embodies the common dread and behavior of Millennials. K.Flay has signed to a major label, though her publicist asks I not say which. She is clicking with audiences not because she is a novelty. "At first I tried to be clever and funny and focus on wordplay," she says. "It's evolved into something deeply personal."
K.Flay hits Subterranean Friday 10.