FAQs - Time Out Market Chicago
Find everything you need to know about Time Out Market Chicago including location, opening hours and parking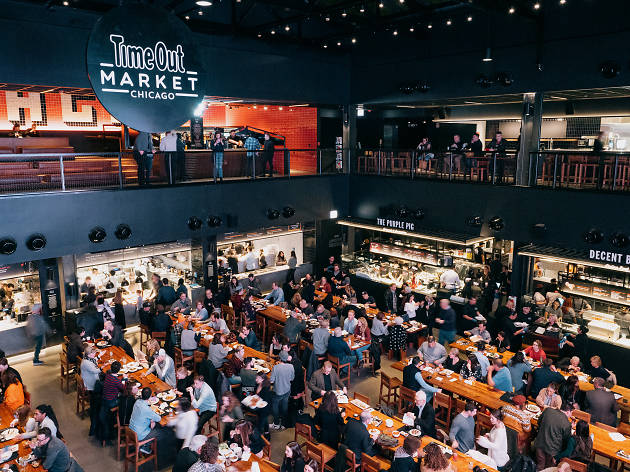 Do you accept reservations?
No. Time Out Market has a casual approach with its communal seating. You're welcome to take a seat at our communal tables anytime you'd like.
What are the market opening hours?
Monday: 8am*–11pm
Tuesday: 8am*–11pm
Wednesday: 8am*–11pm
Thursday: 8am*-11pm
Friday: 8am*–12am
Saturday: 8am*–12am
Sunday: 8am*–10pm
*Please note that not all eateries are open for breakfast. Please see below to find out which eateries serve breakfast from 8am.
Note: regular hours on Christmas Eve, closed on Christmas Day
Are you open for breakfast?
Lost Larson is open for breakfast from 8am Monday through Friday. Saturdays and Sundays, beginning at 9am, both FARE and Lost Larson offer breakfast menus. All other eateries open at 11am throughout the week.
Is Wi-Fi available?
Yes. You can sign in to free Wi-Fi at the market.
Do you offer vegan and/or gluten-free options?
Yes, but food sensitivities and allergies should be discussed with the chefs and staff at the market while ordering.
Do you allow pets?
Time Out Market Chicago will allow service animals only.
Is parking available?
Valet parking is available from 11am to 11pm ($17 up to four hours). We also offer validated self-parking weekdays at 323 N Ada St, a six-block walk from the market ($4 up to two hours, $7 up to 4 hours). Additionally for evenings and weekends, self-parking is available at 1K Fulton ($13 for up to 12 hours).
What is the closest CTA Station?
The Morgan Station, which services Pink and Green Line trains, is located two blocks away from Time Out Market Chicago. The Halsted bus (8) also stops at Fulton Market, depositing riders three blocks away from the Market.
Are there ATMs on the premises?
No, Time Out Market Chicago does not have an ATM, however there are banks nearby: Wintrust Bank (801 W Fulton Market), South Central Bank (323 N Carpenter St) and MB Financial (800 W.Madison).
Do you accept cash?
We accept cash at our bars but not at our eateries. As an alternative to using your credit or debit card at the eateries, you can purchase a Time Out Market Card, which is pre-loaded and can be topped up at the market. You can always use your credit and debit cards at our bars and eateries.
What is a Time Out Market Card?
The Time Out Market Card can be treated as currency at Time Out Market Chicago. You'll use it in place of cash and refill it as needed. For more information, please see the Time Out Market Card's terms of service here.
Where are you located?
Find us at 916 West Fulton Market, at the corner of Fulton Market and Sangamon Street. We have two entrances on the Fulton Market side of the building.
How many eateries does the market have?
There are 18 eateries with some of Chicago's top chefs and restaurateurs inside Time Out Market Chicago. Additionally, there are three bars, a first-floor outdoor seating area (Spring 2020) and a rooftop terrace with sweeping city views. We also house a demonstration kitchen on the second floor that will feature rising star chefs, specialty dinners and community events.
Is the rooftop open year-round?
Weather permitting, yes!
Is the Market available for private events:
The third floor and select sections of the second floor are available for private events. Please contact infochicago@timeoutmarket.com for more information.