Lake Geneva, WI
The sun seems to shine a little brighter in this nearby resort town.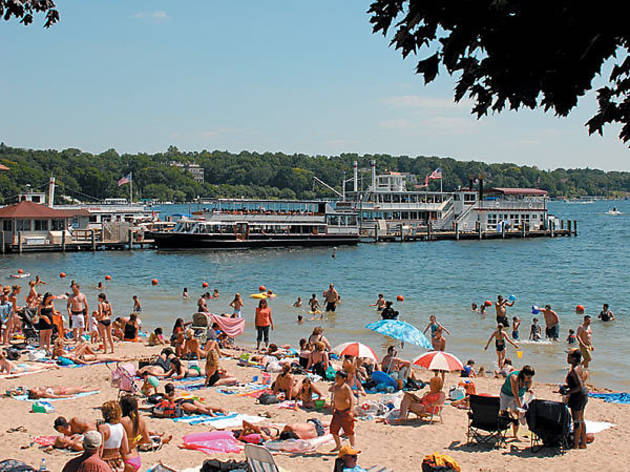 When I roll into this resort town early on a Saturday afternoon in late June, it hits me like an ice-cold gulp of lemonade: summertime. Sundress-clad, ice-cream-cone-holding tourists pepper Main Street. The smell of grilled burgers and sunblock wafts through my open car window. And as Lake Geneva comes into view, so do the sunbathers dotting the shores and the boats sailing its dancing, blue waters.
If, like me, your first order of business is to get some grub after that two-hour drive up from Chicago, plenty of casual options abound—get a pie at the Original Chicago Pizza Co. (150 Center St, 262-248-8544), where thin, pan and stuffed 'zas are all made with the same dough and the same rich and spicy tomato sauce—and wash it down with a pint of Spotted Cow ale. Or seat yourself at a table next to the lake-view window at the kitschy, nautical-themed Habor Side Cafe (100 Broad St, 262-248-3835) and dig into a BLT with a hand-dipped milkshake for dessert.
Walk it off by browsing the resort-y shops on Broad Street, selling beach essentials like Havaiana flip-flops and sarongs. Or head to Main Street and bob to the Grateful Dead tunes playing at Clear Water Outdoor (744 W Main St, 262-348-2420) while you check out the impressive selection of fashion-forward outdoor wear and gear; don't leave without digging through the bargain bins in the basement. Or, bring home foodie souvenirs and specialty beers from Global Gourmet (738 W Main St, 262-248-3222)—samples of practically every sauce and salsa lining the shelves are on offer if you're hungry for a second lunch.
For some historical context on the town, head directly to the water. Lake Geneva has been a resort community since just after the Civil War, when wealthy Chicago families discovered the area and began building summer homes here. Today, beautiful estates still ring the lake. Most of the shoreline estates are on private roads and can only be viewed from the water or on foot via the 21-mile walking path that circles the lake. Lake Geneva Cruise Line (804 Wrigley Dr, 262-581-4106) offers a variety of tours: one-hour lake trips, dinner cruises, Champagne brunches and a chance to board one of the last remaining mail boats in the country (tours are $21 and up, kids $10 and up). A special three-and-a-half-hour tour makes a stop at Black Point, a summer home built in 1888 that has one of the most intact collections of Victorian furniture in the Midwest.
If you'd rather tackle the lake waters on your own, you can rent WaveRunners, Jet Skis and sailboats at LeatherLips Watersports in town (151 Wrigley Dr, 262-248-4142). Looking for land-based adventures? Two miles south of the main drag sits Big Foot Beach State Park (1550 S Lake Shore Dr). The 271 acres offer wooded campsites, a beach, picnic areas and 5.5 miles of short, beginner-friendly hiking trails through forests and open meadows.
You deserve a rest after all that running around. Get thee to your lodging and put your feet up. Accommodations run the gamut from the large Grand Geneva Resort (7036 State Road 50, 262-248-8811, rooms start at $259 a night)—a.k.a. Wedding Central—to more intimate bed and breakfasts. I opted for the charming, 33-room French Country Inn (W4190 W End Rd, 262-245-5220, rooms start at $155 a night), situated about 10 minutes outside of town on Lake Como. With small fishing boats and some scattered piers, Como isn't nearly as buzzing as Geneva Lake, and the inn's fenced-off pool nestled within the parking lot isn't hopping, either. But I loved my room's back deck and the inn's patio—just feet from the shoreline, they're both perfect, breezy spots for reading. And—bonus—if you're in the mood for a fancy dinner (think fresh fish and locally raised chicken and lamb), look no further than the hotel's Kirsch's Restaurant, the most upscale option for miles.
Another popular place to stay is the Abbey Resort (269 Fontana Blvd, 800-709-1323, rooms start at $198 a night) on the northern shore of Lake Geneva in the nearby town of Fontana, which lures guests with its own marina and the newly renovated AVANI Spa complete with saunas, whirlpools, steam rooms and a comfy pre-treatment lounging area with a fireplace. The services are top-notch: It felt like my massage therapist, Sandy, rubbed soothing fairy dust onto my tired muscles—not such a surprise once I discovered she works her magic on Bears players when she's not de-knotting resort guests.
Even if you don't stay overnight or book a spa treatment, do try to make your way to Burnin' Down the Docks, a weekly Sunday afternoon event at the Abbey's Waterfront restaurant at the marina through summer. Under a picture-perfect blue sky, I listened to live blues, while playing cornhole and gobbling down $2 small plates of delicious BBQ (pork sliders, chicken wings, ribs, etc.) and sipping $2 beers. Like everything else in Lake Geneva, it's chill and fun—exactly what you'd dream up when imagining a perfect summer weekend.
THE TAB

One night, two people
Gas $20
+Hotel $165
+Meals $80
TOTAL $265

Travel time 2hr drive

For more information, visit lakegenevawi.com