The highlight: Vietnam
Searching for a hidden waterfall on Vietnam's Phu Quoc Island.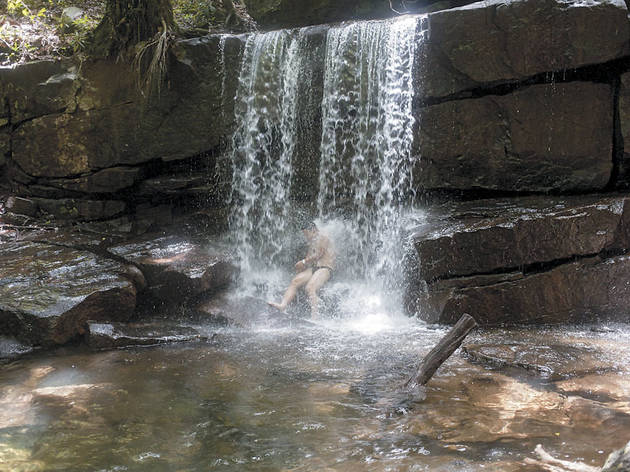 1/7
Photograph: Martha Williams
Suoi Tranh waterfall, Phu Quoc Island, Vietnam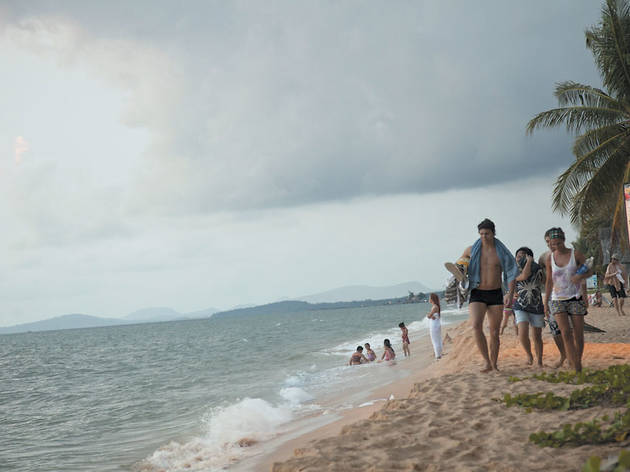 2/7
Photograph: Martha Williams
Long Beach on Phu Quoc Island, Vietman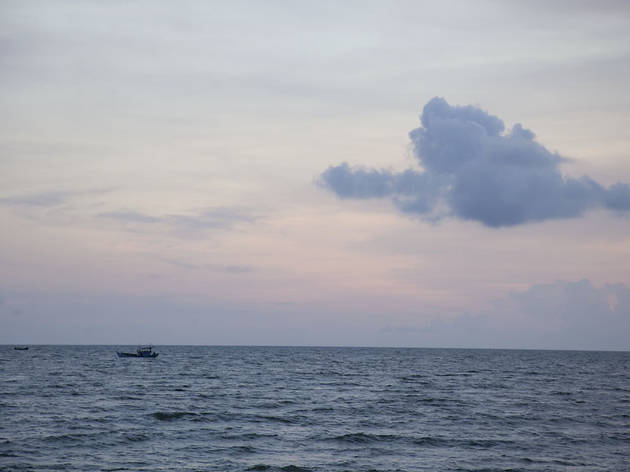 3/7
Photograph: Martha Williams
Long Beach on Phu Quoc Island, Vietman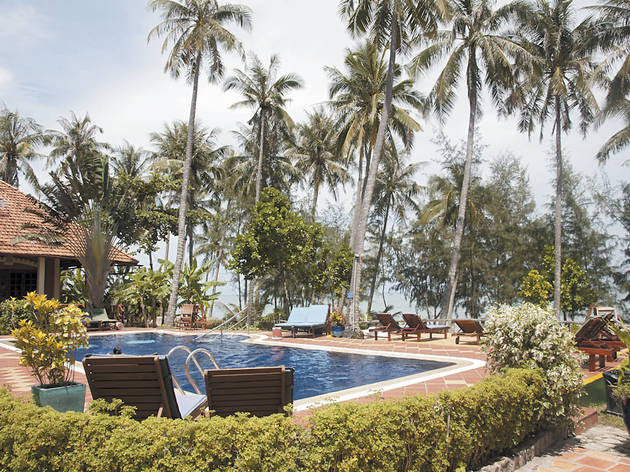 4/7
Photograph: Martha Williams
Cassia Cottages on Phu Quoc Island, Vietnam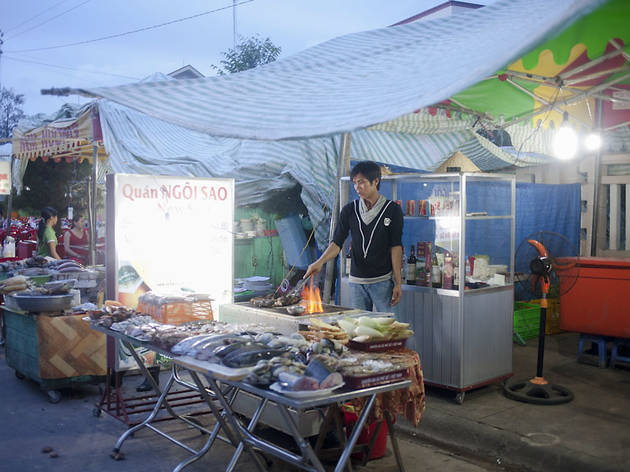 5/7
Photograph: Martha Williams
Night market on Phu Quoc Island, Vietnam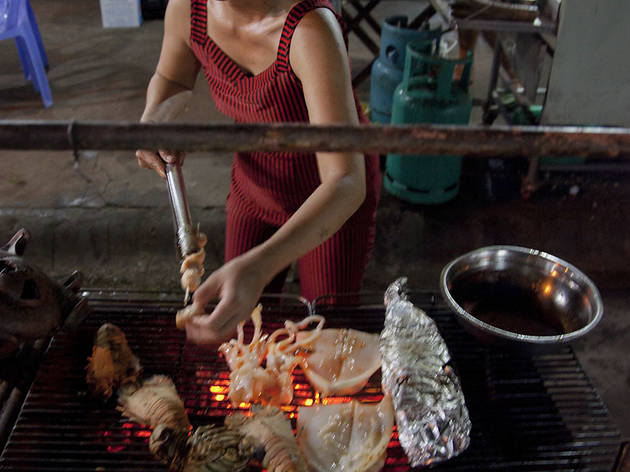 6/7
Photograph: Martha Williams
Night market on Phu Quoc Island, Vietnam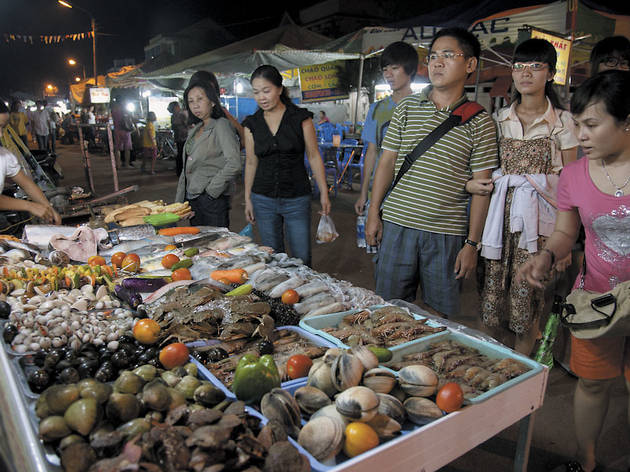 7/7
Photograph: Martha Williams
Night market on Phu Quoc Island, Vietnam
Families, piled four to a single motorbike and all wearing surgical masks, kick up dust as they zip past my husband and me on an unmarked red clay road on Phu Quoc Island, Vietnam. The sun is singeing our skin, and we're lost. We're beginning to question our resolve: Why, when surrounded by pristine saltwater beaches, are we traveling by motorbike, trying to find the isolated rock pools and waterfalls of Suoi Tranh?
Phu Quoc is a 352-square-mile, heart-shaped island southwest of mainland Vietnam in the Gulf of Thailand. With endless undeveloped beaches that draw just 280,000 tourists a year, the island still has the feel of a hidden gem, but it won't for long. In April, the government released plans to market Phu Quoc as an eco-tourism site, with the goal of bringing in 2 million visitors a year by 2020.
When we arrived in late May for our honeymoon, decompressing on a desolate beach for a week sounded like exactly what we needed. But by day two, my adventure-seeking husband was in cahoots with the concierge at our hotel, who drew us a crude map to the Suoi Tranh falls and set us up with these bikes.
After a 60-second driving lesson, the two-wheelers are now our trusty steeds as we navigate, making more than a few wrong turns. A helpful native points to our map and then back from where we had come. Somehow, we had missed a large sign to the falls. We drive down a windy road and pay a small entry and parking fee. To the sound of rushing water, we amble along a well-worn jungle path for 15 minutes. Along the way, we spy a Vietnamese family preparing for a picnic by pitching a mosquito net. Thank God we packed the bug spray.
The path ends in a shady spot where we dip into cool, natural pools formed by the boulders. A 12-foot-high waterfall tumbles into several more large pools below. We work our way down to make room for a Vietnamese couple. He's wearing a tiny Speedo, while the woman covers up with an oversize T-shirt and shorts (a common sight in South Vietnam, where female swimming attire is modest). The man releases Tarzan screams as he's pounded by the falls, and we can't help but giggle.
On our walk back through the jungle, a rainstorm sweeps in without warning. We wait out the deluge under a food stand's awning at the park entrance, snacking on chuoi chien (fried banana), speckled quail eggs and boiled yucca with garlic. We talk to the Speedo man, who is vacationing from Ho Chi Minh City, about Phu Quoc's increasing popularity among Vietnamese mainlanders—a flight here is only one hour and can be as cheap as $33. After the storm clears, we hop back on our motorbikes. Hopefully, we won't get lost on the way back to the hotel—but on second thought, getting lost in the heat would make jumping into the ocean that much more refreshing.
---
PLAN IT
More to do
Where to eat
Don't be deterred by the ramshackle stands. The best "restaurant" on the island is the night market, where mini eateries set up to offer fishermen's fresh catches.
Where to swim
Swim, snorkel or walk the length of Truong beach. The aptly named (truong means "long") stretch of sand is situated on the west side of Phu Quoc, and is the longest beach on the island.
Where to stay
Named for a type of cinnamon tree that once grew in the region, the beachfront Cassia Cottage resort ($85–$185/night) is nestled amid gardens and reflecting pools.
GET THERE Flights from Chicago to Ho Chi Minh City (with a connection in Tokyo) on American Airlines run $887–$1,388 for early winter; flights from Ho Chi Minh City to Phu Quoc on Vietnam Airlines are $33–$81. Motorbike rental is $3 for one hour or $11 for one day (eight hours) at Cassia Cottage.