Travel to Glacier National Park
Go whitewater rafting, take a hike or kick back and relax in northwest Montana—just four hours by plane from Chicago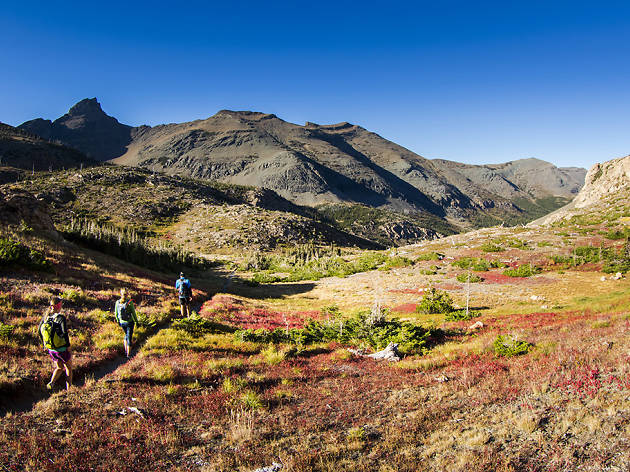 RECOMMENDED: The best things to do in Glacier National Park
Adventure awaits at northwest Montana's Glacier National Park, whether you want to take it to the extreme with whitewater rafting, go easy on horseback or hike steadily through the wilderness.
It's easier than ever to reach Big Sky Country—O'Hare recently began offering a direct four-hour United flight into Kalispell, and the county seat of Flathead County is a great base for exploring Glacier National Park. Grab dinner at the intimate but relaxed Hop's Downtown Grill (121 Main St, Kalispell, MT; 406-755-7687), where pours of regional brews are generous, and you'll also be hard-pressed to find options as enticing as the juicy yak burger anywhere else.
Keep it local with an after-dinner dunkel at Kalispell Brewing Company (412 Main St, Kalispell, MT;406-756-2739,kalispellbrewing.com). Or, for an authentic bar experience, look no further than the peanut-strewn Moose's Saloon, a local institution since the '50s with patrons' scribblings carved into every inch of the tables and walls. At the end of the day, rest your weary head at the Kalispell Grand Hotel (100 Main St, Kalispell, MT; 406-755-8100, kalispellgrand.com), built circa 1912.
In the morning, refuel with a cup of joe from Montana Coffee Traders. You'll find the 30-plus-year-old roaster in Kalispell as well as adorable neighboring communities like Columbia Falls and Whitefish—the latter of which is another hotspot, with stops like Great Northern Brewery (2 Central Ave #1, Whitefish, 406-863-1000, greatnorthernbrewing.com) and Whitefish Mountain Ski Resort (1015 Glades Drive, Whitefish, MT; 877-754-3474, skiwhitefish.com).
The biggest problem you'll have at Glacier is deciding what to do next. If you have some time between hikes (the national park itself has more than 700 miles of trails), you can tackle the rapids at Great Northern Whitewater Raft and Resort (12127 HWY 2 E,West Glacier, MT; 800.735.7897, greatnorthernresort.com). Or hop on a horse and see the Montana countryside from a different perspective with Swan Mountain Outfitters (Glacier National Park West Entrance, West Glacier, MT; 877-888-5557,swanmountainoutfitters.com).
When you're not out adventuring, you can easily learn a thing or two about the area. Stop by Hockaday Museum of Art (302 2nd Ave E, Kalispell, MT; 406.755.5268, hockadaymuseum.org) in the turn-of-the-century Carnegie Library Building. The museum hosts everything from a popular permanent Glacier Park exhibit to paintings from local women across the generations. For more history, call about a tour of the close-by Conrad Mansion (330 Woodland Ave, Kalispell, MT; 406-755-2166, conradmansion.com).
If the sun's out, a Red Bus Tour on Going-to-the-Sun Road is nothing short of jaw-dropping. The 50-mile scenic highway is open to vehicle traffic from June to October. In spring, bicyclists travel the road, and in winter, avid outdoorspeople traverse the two-lane on cross-country skis or snowshoes. The road spans the width of Glacier National Park, crossing the Continental Divide and climbing more than 6,500 feet. Walking it, skiing it or even just hanging out of that bus window snapping photos, seeing that mammoth park and the sun bright on the ice around you is a rare treat.