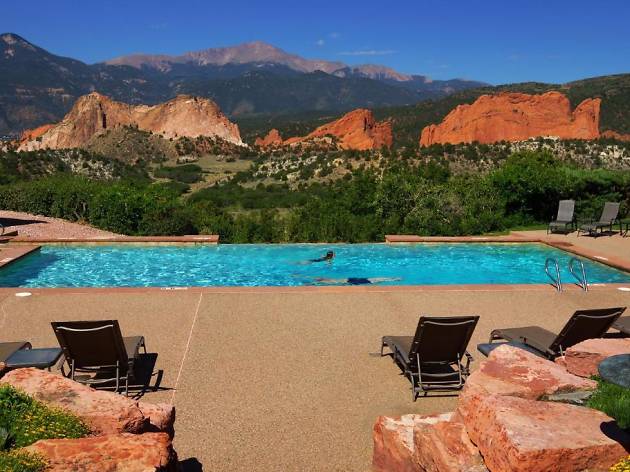 The 10 best hotels in Colorado Springs
From a five-star luxury resort to a laid-back lodge for bicycle lovers, here are the best hotels in Colorado Springs.
Outdoor access, striking mountain views, and historic character dominate the hotel scene in Colorado Springs. The Pikes Peak region in particular, anchored by Colorado Springs, is renowned for its majestic mountain views, western mining lore, and endless recreation opportunities. So it's no surprise that the city and its neighboring hamlets offer a plethora of lodging options for the streams of outdoor enthusiasts and history buffs that flock to this picturesque gateway city on Colorado's Front Range. And sure, you could stay in any hotel and find yourself a trail to hike or a historic building to ogle. But why not book a place where you're immersed in the very essence of the rugged former mining region and its resident grande dame, Pikes Peak?
Our pick of the best accommodation in the area range shares is an ever-present reverence for the stunning Rocky Mountain landscape and rich heritage of the region. So book a hotel suite, lodge room, or cottage. Walk out your door. And breathe the fresh mountain air you came to enjoy.
By Julie Dugdale
Best hotels in Colorado Springs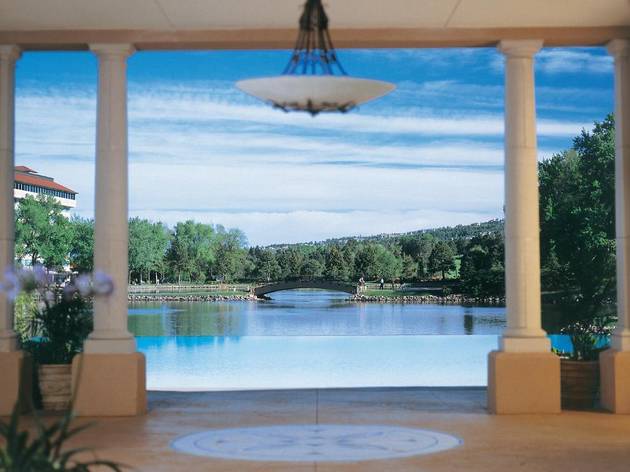 Booking.com
The Broadmoor isn't just a hotel; it's a timeless institution. The five-star, five-diamond resort – the longest-running consecutive winner of both designations – sprawls across 3,000 acres at the base of Cheyenne Mountain, and it wants for nothing…seriously, nothing. From classic rooms to cottages and brownstones, there's accommodation here to suit everyone. And there's more: beautiful grounds encompass 20 world-class award-winning restaurants, lounges, and casual eateries; a championship golf course; outdoor, indoor, and heated pools; 26 boutiques and shops; six tennis courts; a five-star spa and fitness center; access to adventures like ziplining and hiking the legendary Seven Falls…as Nike might say, just do it.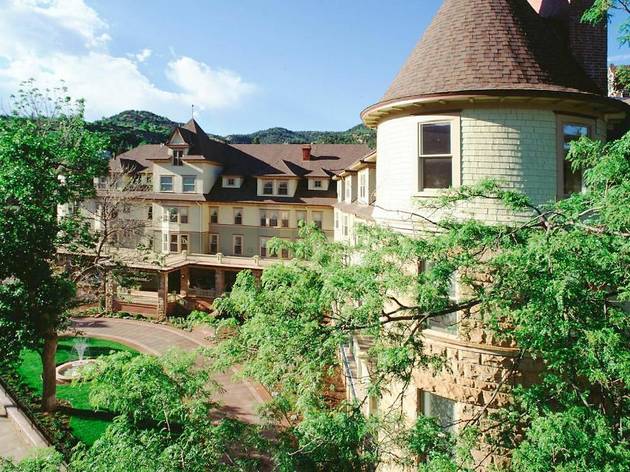 Booking.com
2. The Cliff House at Pikes Peak
This historic inn just west of Colorado Springs in charming Manitou Springs sits at the base of the legendary Pikes Peak (where Katharine Lee Bates was inspired by the famous 'purple mountain majesties' to write "America The Beautiful.") Each of its 54 guest rooms boast Victorian-style furnishings but up the guest appeal with modern extras like two-person spa tubs, steam showers, and cozy gas fireplaces. The storied past of the Cliff House adds an indescribable ambience: Built in 1873 as a gold rush-era stagecoach stop, the building weathered floods and fires to become the much-loved inn it is today.
Booking.com
3. Garden of the Gods Collection
Visitors flock from all over the globe to see the Colorado Springs' iconic national natural landmark, Garden of the Gods…and at this lavish retreat, you can take in the red rock splendor right from your own room, suite, or cottage (the latter perfect for a couples getaway). From the dramatic views of the spires, towers, and cliffs to the sweeping 27-hole Kissing Camels Golf Course – all framed by the snow-capped Pikes Peak ­– the scenery and luxury are both unrivaled.
Booking.com
Just outside the Springs, this rustic-contemporary lodge blends Victorian charm with modern luxury in the wilderness setting of Green Mountain Falls. Intimate and secluded, the Lodge, built in 1889, offers two suites and four Carriage House rooms, all adorned with original artwork from American artists – a sign of the owner's passion for art and a tribute to the town's annual Green Box Arts Festival. Once you've settled in, nab a rocking chair on the wraparound porch or an Adirondack at the fire pit, note the original woodwork and detailing of the lodge, and soak up the natural beauty around you.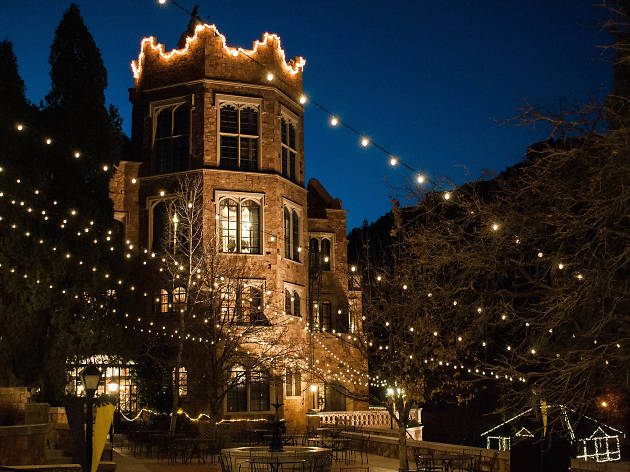 Sleep in a fairytale when you book a room in this English Tudor-style castle, originally built in 1871 by General William Jackson Palmer, who founded Colorado Springs. Perched on a lush 700-acre estate just north of Garden of the Gods (seriously….just north; you can bike a paved path that connects the two), the castle houses rooms that are richly decorated in period furnishings, but you can also stay in a more simple lodge room on the property. Don't miss high tea in the Castle Music Room (book ahead).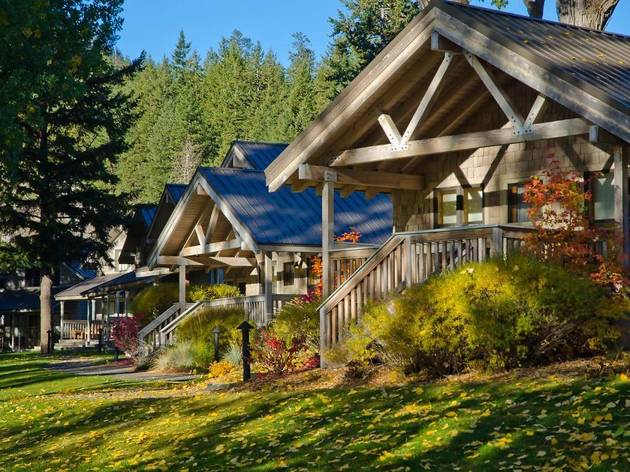 Booking.com
Calling all yogis – or, really, anyone in need of a little TLC for the soul: tucked away in the hills but in walking distance of artsy Manitou Springs – just a few minutes from Colorado Springs –SunMountain is a holistic wellness-inspired bed-and-breakfast. Comfy rooms are located in two historic houses built in the early 1900s and surrounded by gardens, farms, and serene walking and meditation trails. The on-property SunWater Spa corrals the healing mineral waters of nearby Seven Minute Spring into eight cedar soaking pools (your stay includes a two-hour soak) to melt your worries away.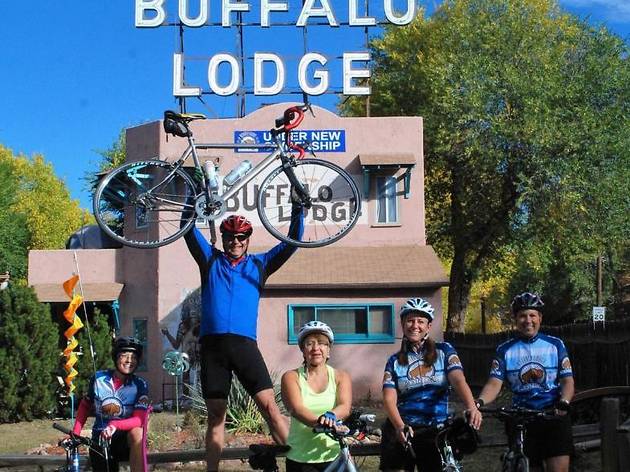 Booking.com
7. Buffalo Lodge Bicycle Resort
The city's first bicycle-themed hotel was opened in 2016 by a local cycling enthusiast, who chose this 1930s motor lodge for its location and ground-level rooms – perfect for pedaling right up and hanging your bike on the wall. Little by little the space is being transformed, with super-cool industrial-chic bike-themed decor and amenities that are spot on for cyclists, from a bike-washing station to a community patio to kick back with a cold one after your ride. Located between Garden of the Gods, Old Colorado City, and Red Rock Canyon Open Space, it's a perfect base for seeing the sights on two wheels.
Booking.com
Tucked among the taverns, shops, and cafes of Old Colorado City – a historic district that was the original capital city of Colorado Territory in 1859 – this boutique three-story bed-and-breakfast has all the character of the site's original occupants (the city hall, a fire station, and a jail), and all the modern luxuries of an inn built well over a century later. (We're looking at you, Tesla supercharging station.) Book the Colorado Columbine room for a ski- and fishing-lodge vibe, or the Old Town Cactus room for a Wild West cowboy motif.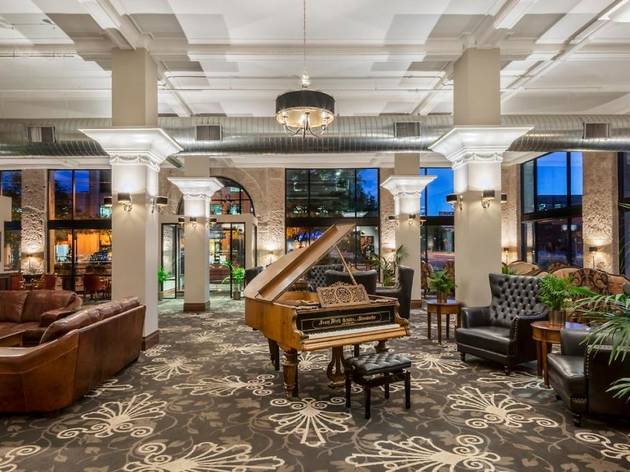 Booking.com
Built in 1902 as a stock exchange for the area's mining companies, this elegant granite behemoth evokes a bygone era of Gilded-Age opulence, right in the heart of downtown Colorado Springs. Victorian-style details like plush sofas and an historic grand piano in the lobby add to the old-world ambience, while period relics such as the old bank vaults have been repurposed to house the steam saunas in the hotel spa. Relax by an Italian marble fireplace in the lobby and order a cocktail from the bar while you plan the next day's adventures.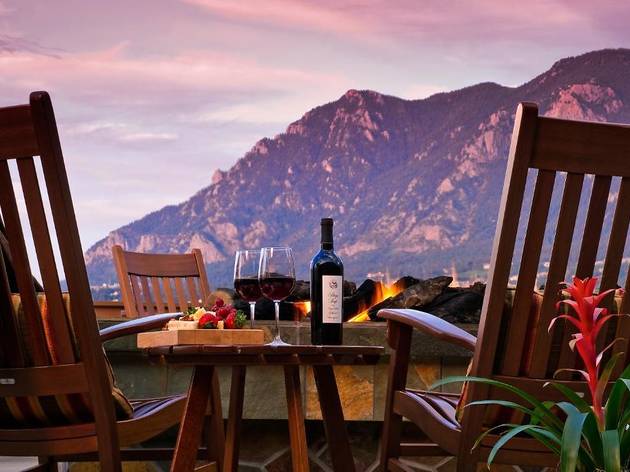 Booking.com
10. Cheyenne Mountain Resort
'Beach' isn't often a term you hear in Colorado, but guests here can put their toes in the sand, make sandcastles, or even join a game of beach volleyball on the shores of the resort's private 35-acre lake – not to mention rent a kayak or stand-up paddleboard to cool off on the lake. Before retreating to one of the eight residential lodges at the end of the day, grab a seat around the Mountain View Terrace fire pit to watch the sun go down over the Rockies.