Time Out editors Chris and Kate meet halfway in Denver
Two very different friends share the ultimate weekend in the Mile-High City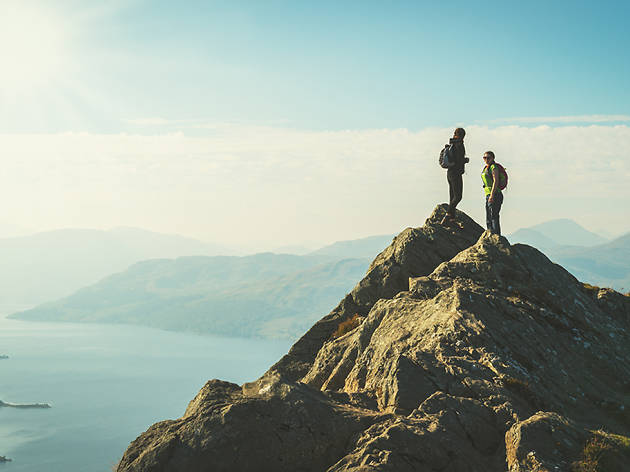 You're here. They're there. What if you meet halfway?
He loves late nights, dark clubs and indie films. She loves healthy eats, her yoga mat and the great outdoors. For one weekend in November they decided to meet each other halfway. Time Out New York nightlife editor Chris Tarantino and Time Out LA editor Kate Wertheimer spent the weekend in Denver—a hip and high-up halfway point between their coastal metropolises—sharing an apartment and an itinerary of 10 great eats, activities and adventures of their choosing. True to form, Chris's picks included nightclubbing at Milk and a morning driving exotic cars, while Kate put an early-morning rock climb on the agenda. What happened when these two opposites met each other halfway? Read Chris and Kate's stories to find out.
Want to do what Kate and Chris did and meet halfway? Book an Airbnb using PayPal and get $50 off your stay of $200 or more by visiting paypal.com/meethalfway.
Offer Terms: Book an Airbnb using PayPal and get $50 off your stay of $200 or more. Offer valid for U.S. residents only. Bookings must be made within the offer period on eligible bookings. Must have a valid Airbnb and Paypal account, use the coupon code at checkout, and use PayPal as the sole method of payment. Limit one code per person. Restrictions apply. Learn more and get the coupon code at paypal.com/meethalfway.
Meet Halfway Top 10
1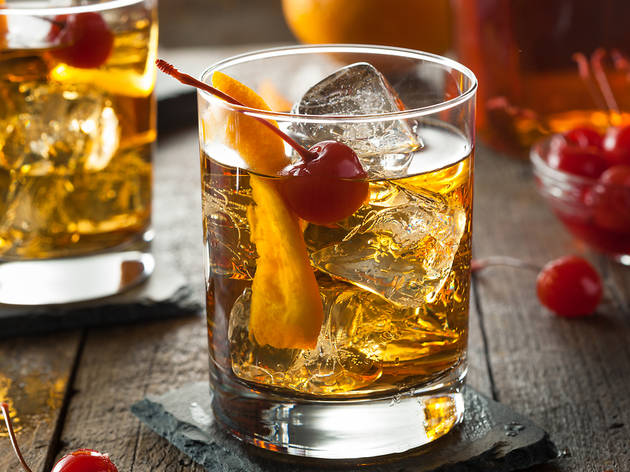 Photograph: Shutterstock
This Prohibition-era speakeasy was voted one of the best bars in the world. So, yeah, we definitely had to check out Williams & Graham to see what all the fuss was about. The food turned out to be just as delicious as the unique drinks, though they were a little strict with their door policy. I arrived early, and when I went to greet Kate outside, we had to wait in line again to get back through their "secret" revolving bookcase door!—Chris Tarantino
2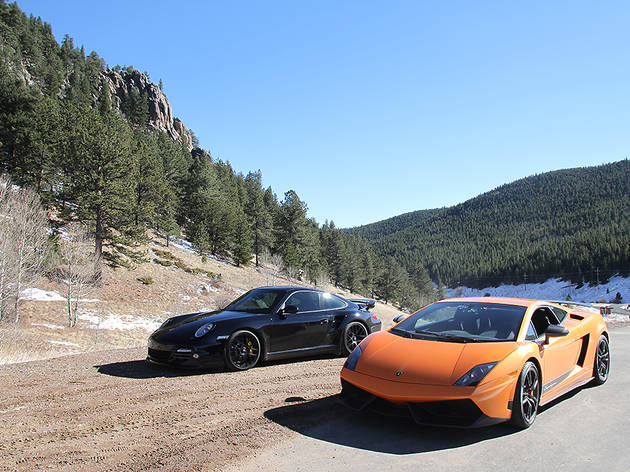 Hit the Rockies like a millionaire
Exploring the natural wonders of our great country is high on everyone's list. But even higher is our love of fast cars. So what better than combining those two things for a drive through the Rockies in obscenely expensive sports cars from the good people at Oxotic Supercar Driving Experience? The toughest choice was whether to take the Lamborghini or McLaren and what to wear for our "pre-tour photoshoot." (Spoiler: My American flag speedo.)—Chris Tarantino
3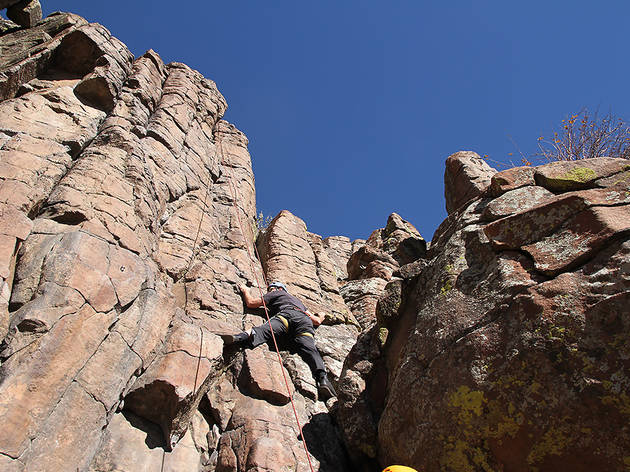 I'm so envious of climbers that live in Denver and have such gorgeous rocks to play on so close to the city. Add sunny weather and spectacular views, and I couldn't pass up the opportunity to have a scramble. It's also fun to take friends who've never been before—I was excited to see how Chris would fare!—Kate Wertheimer
4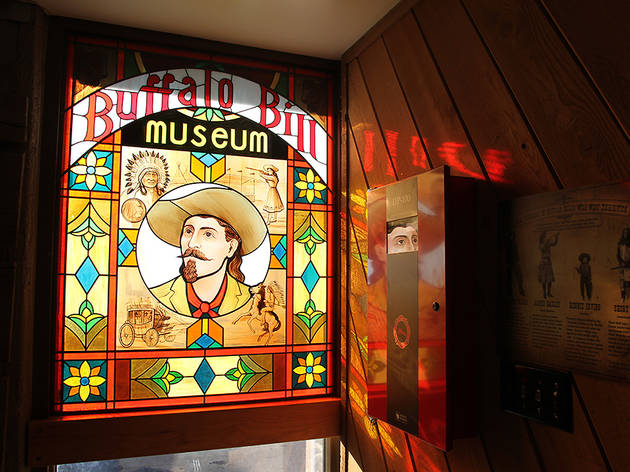 Pay our respects to Buffalo Bill
When I heard western badass Buffalo Bill was buried just outside of Denver alongside his very own museum, I knew we had to check it out. I absolutely love the wild history of the American West, and Buffalo Bill is responsible for a huge part of that history. (Also, what a babe, am I right?) —Kate Wertheimer
5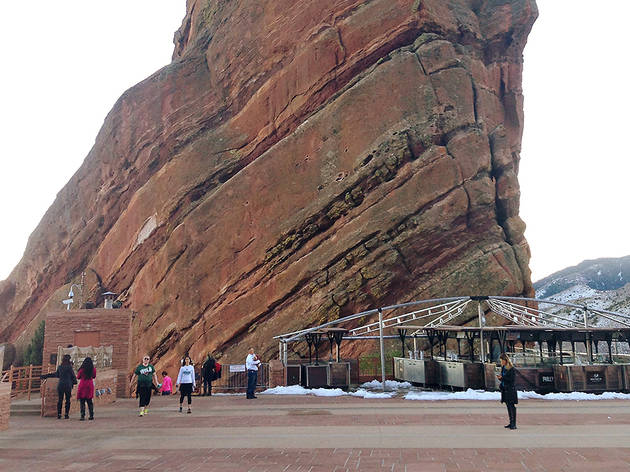 By far one of the most famous and iconic live music venues in the country, Red Rocks Amphitheater was something I'd always wanted to experience for myself, up close and personal. Unfortunately, it's too cold there for shows in November, but I was able to get Kate there by playing up their "natural charm" and, reluctantly, promising that I would take a hike there with her. It was definitely worth it.—Chris Tarantino
Show more
Kate's experience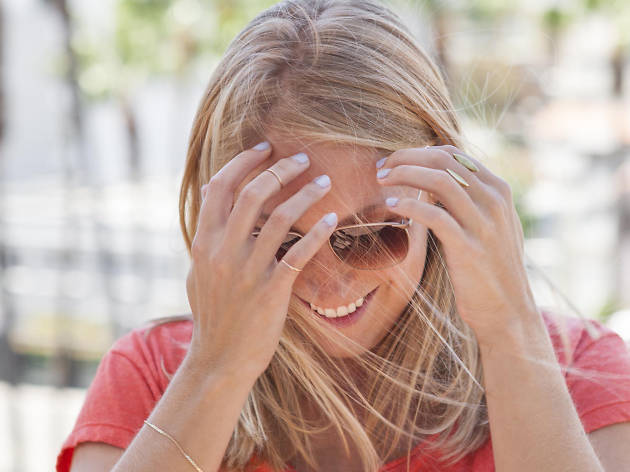 Photograph: Jakob N. Layman
Kate is the editor of both Time Out Los Angeles and Time Out San Francisco. Her wanderlust is (mostly) satisfied by the sparkling sprawl of these two cities, and though she often makes a break for the woods or the desert, coming home to LA or the Bay is her favorite part of every trip. Follow her on Instagram @kate_em_up.
What an incredible weekend. Chris and I met for the first time on Thursday night in the bookshelf-lined lobby of Williams & Graham, which we'd heard was one of the best cocktail bars in the country. He's 6'7, so he was hard to miss! I'm not a huge fan of waiting in line for a drink, but once we got inside the service was friendly and the cocktails were fresh and inventive. We called it a night on the early side so we lounge a bit in our Airbnb, a modern, 4-story apartment with rooftop access and great views of Downtown.
Friday morning, we made our way to the town of Golden to meet up with Eric and Alex of Oxotic Supercar Driving Experience; Chris was dying to drive a Lambo through the mountains, and I was happy to oblige. We took out a Porsche 911 Turbo and a Lamborghini Superleggera—I know nothing about cars, so to me they were "the cute black one" and "the sexy orange one"—for a jaunt through the hills, stopping for photo ops and to switch cars halfway through. I actually enjoyed the drive way more than I thought I would—gunning a Porsche down a straight stretch of mountain road is prrretty, pretty satisfying. We headed back to Denver hungry and squeezed into the bar at Uncle Ramen, a local spot serving pork buns and rich bowls of broth along with sake cocktails, of which we had many while befriending the staff, leading the entire restaurant in a singalong and closing the place down.
Chris is definitely a night owl, so I wasn't sure how he'd do waking up at 7:30am—especially knowing that we were headed into the mountains to rock climb—but he was a great sport. We met up with our Denver Adventures guide, Stefan, and hiked a 20-minute approach to North Table Mountain, which embarrassingly kicked my butt due to the high altitude. The rock outside of Denver is mostly volcanic, which is different than what I'm used to scrambling on and made for a fun challenge; I was proud of myself for making it up a few tough routes, but was ten times as proud of Chris, who'd never been on a wall before but pushed himself and worked past the fear everyone feels on their first climb. It was so awesome to watch! Afterward, we made our way up the mountain to Buffalo Bill's grave and museum. We weren't sure what to expect, but the views were spectacular (part of the reason he requested to be buried there) and the museum was equal parts kitschy and informative. I loved seeing Bill's old performance outfits and black and white photos of him and his fellow dreamy Bills (Wild Bill Hickok, Pawnee Bill). They even have a lock of his hair! It was also fascinating to learn how ahead of his time he was, preaching (and practicing) equal rights for women and performers of all races in his shows. After paying our respects to Bill, we drove to Red Rocks Amphitheatre to take a look around—the place is just as spectacular as everyone says.
After a bit of a rest back at the Airbnb, we made our way to Sushi Den, a Japanese restaurant that's been at the top of the Denver dining scene for over 30 years. The service was incredible and everything we ordered was insanely good and super fresh. After dinner, we moseyed over to the Grizzly Rose for a bit of beer and a glimpse at the cowboy side of the city. There was bull riding and line dancing (and cute gents) galore—I could have stayed all night, but Chris was anxious to get to the club. Clubs are definitely not my thing, but he'd been so great on the rocks earlier that morning that I finished my beer, said farewell to the cowboys and steeled myself for a Night at the Roxbury situation. But as it turns out, this particular club was awesome!? They played a bunch of '80s deep cuts, and the crowd was super diverse. I haven't danced that much in years.
We got a late start on Sunday, recovering from our night out. We did a quick tour of the Source, Denver's first food hall complete with a butcher shop, brewery, florist, art gallery and fine dining restaurant; then grabbed coffee at Bellwether, a whiskey and coffee bar that doubles as a clothing shop. For lunch, we dined at Linger, the former Olinger Mortuary (established in 1908 and the brief resting place of Buffalo Bill—full circle!) that was recently transformed into an "eatuary" complete with Harold & Maude murals and an airstream trailer bar on the roof under the building's historic neon sign. We'd heard the food was, ahem, to die for, and it didn't disappoint. We knew we wanted to check out the Stranahan's whiskey distillery before we left town, so we tagged along on the last tour of the day, learning about the company's aged oak barrels, small-batch specials and unique labeling system. Then Chris, gentleman that he is, drove me to the airport where we said a pretty emotional goodbye—you bond pretty quickly when you're thrown together for 72 hours of out-of-the-box adventuring!
Chris's experience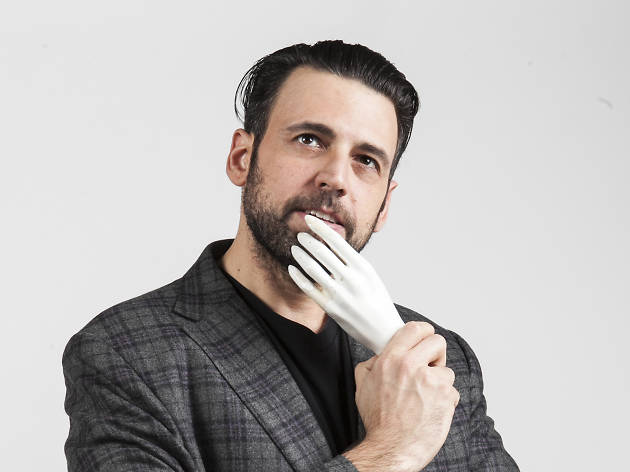 Chris is the Nightlife Editor at Time Out New York. He's a music guy, DJ and film fan. If you were looking for the Fort Worth photographer and celebrity photo retoucher Chris Tarantino and/or the former Long Island gym owner and convicted armed robber Chris Tarantino, please move along. This is not the Tarantino you are looking for. Follow him on Twitter at @MrTarantino.
The kind of adventure that my new (best?) friend Kate and I had was beyond my wildest expectations and, to be quite honest, contained very little actual compromise at all once we arrived in our "middle." Luckily, within minutes of meeting Kate, I knew things were going to go just fine. We'd both picked some phenomenal, and phenomenally interesting activities (not including rock climbing), that I was really looking forward to, and Kate seemed like a more than willing partner for the adventure.
I arrived first on Thursday night and checked us into our lovely 4-story Airbnb townhouse while Kate picked up our rental car and met me at the Prohibition-era speakeasy Williams & Graham, with a Batman-style revolving bookcase entrance. Once inside, we enjoyed some craft cocktails and snacks and commented that the only "middle-meeting" we anticipated would be due to Kate being an extreme morning person and me, well, not. Turns out we were 100% right (more on that later).
We were up bright and early (to me at least) to head to Oxotic in Golden, CO to drive some $300,000 luxury cars on a two-and-a-half-hour tour through the Rockies. I started with the "Lambo" (or Lamborghini Superleggera to the layperson) and Kate started in the Porsche 911 Turbo with us swapping halfway through the journey. This was definitely my favorite and by far most bucket list-worthy activity. that night, we had an amazing, extended meal at Uncle Ramen where we befriended the entire staff, who we hung out with until they politely asked us to leave so that they could finally clean.
After a night of high altitude and low sleep count, I was even less excited for rock climbing than I normally would have been. I had no idea what to wear for this kind of thing and couldn't have brought worse attire for it. The tight black jeans and Western-pattern shirts that suited me so well the night before now seemed completely ridiculous. With neither of us having much of an idea of what the weather would be like, we brought as many layers as we could. Kate perfectly looked the part of a seasoned climber, while my look approximated more of a formerly-stylish homeless man, trying to keep warm in a new climate. This made me even less happy than being awake and/or outdoors at 8am and/or finding out that this would be a five-hour excursion including an hourlong hike. Oy. I had some problems in the beginning but eventually got so mad at the rock itself for besting me before I was six feet off the ground, that I finally climbed almost all the way to the top of whatever minor Widow's Peak we were on just to show it who was boss.
Everything was a breeze after that with an amazing visit to the Buffalo Bill museum and grave, where both Kate and I learned quite a bit about the man himself, followed by a picnic and tour of Red Rocks amphitheater, a brief stop at the Grizzly Rose for some good ol' boy line dancing and a stop at an amazing Clockwork Orange-inspired club called Milk for DJ Tower's 18-year-old dark synthwave party, Outrun. It was a blast and I know Kate had a way better time than she ever thought she would, and definitely didn't bruise any body parts on the way down like I had earlier.
On Sunday we gave ourselves a well-deserved break with breakfast cocktails at the hip downtown former-mortuary/current brunch spot, Linger "Eatuary," whose food was amazing. We then moved on to a tour of the lovely Stranahan's Whiskey Distillery. Like any vacation, it alternately seemed way too short and like we jammed in more activities than humanly possible in barely 72 hours. I don't see myself getting to take another one-of-a-kind trip like this again in my lifetime and couldn't imagine a better "pardner" than Kate even if I do. The planets were definitely aligned for us to have an incredible high-altitude, Rocky Mountain, middle-meeting adventure I won't be forgetting anytime soon!
Check out photos from their trip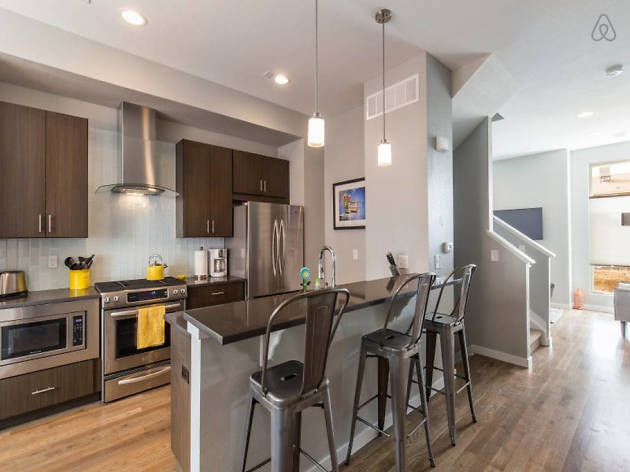 Home sweet home for the weekend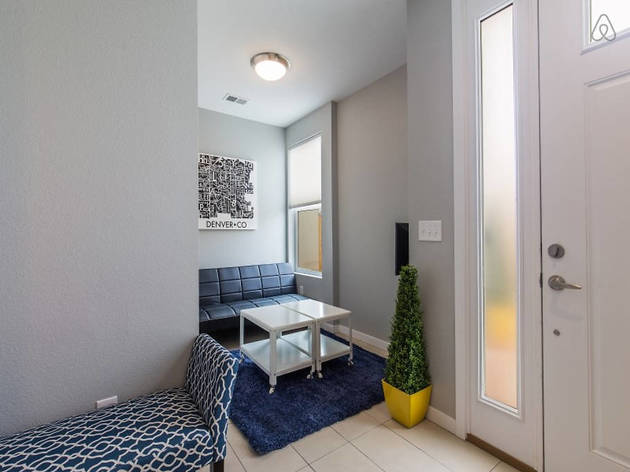 The adorable first floor mini living room
The second story living room, where lots of lounging happened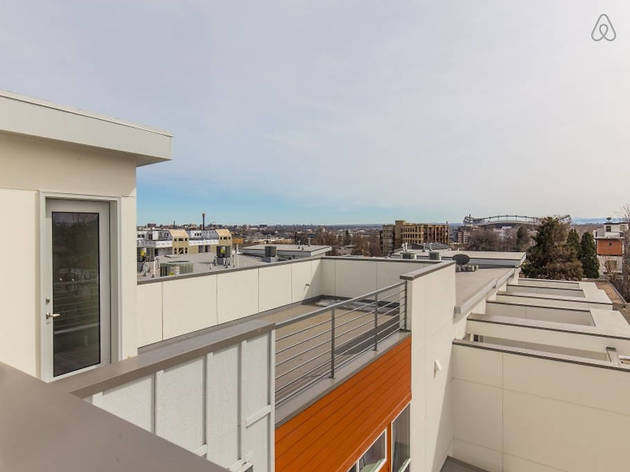 Views for days from the rooftop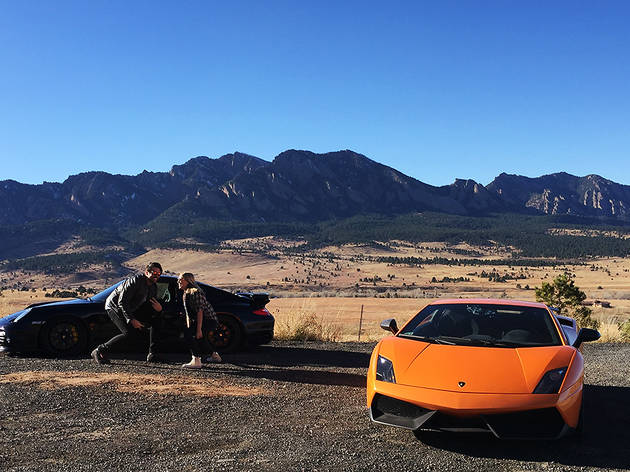 Obligatory photo op with the cars we'll never be able to afford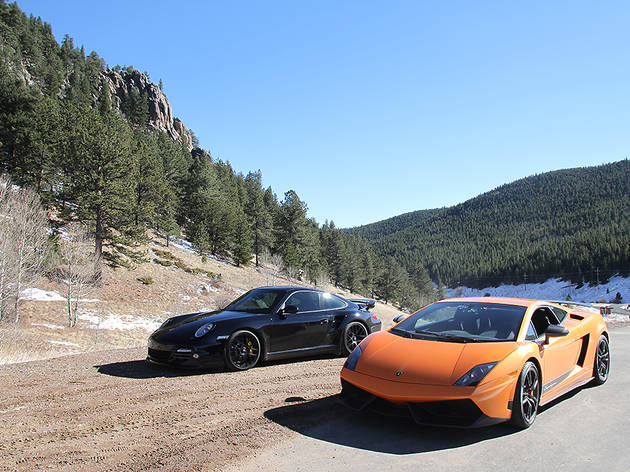 Oh, these old things? Just how we get from point A to point B in Denver.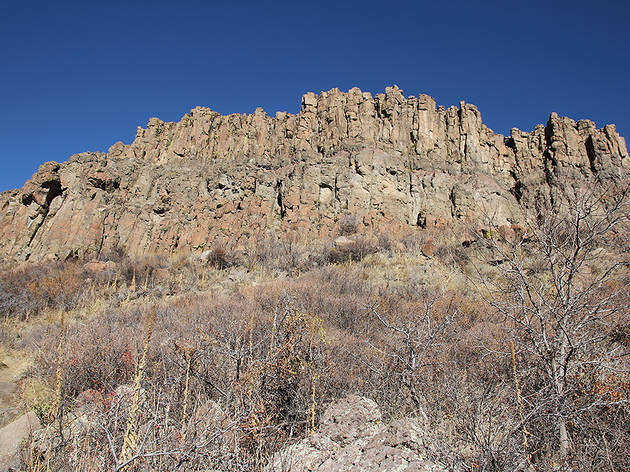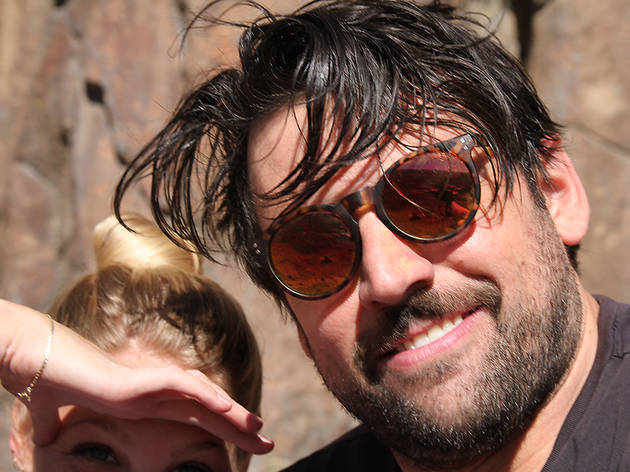 Chris is really good at selfies…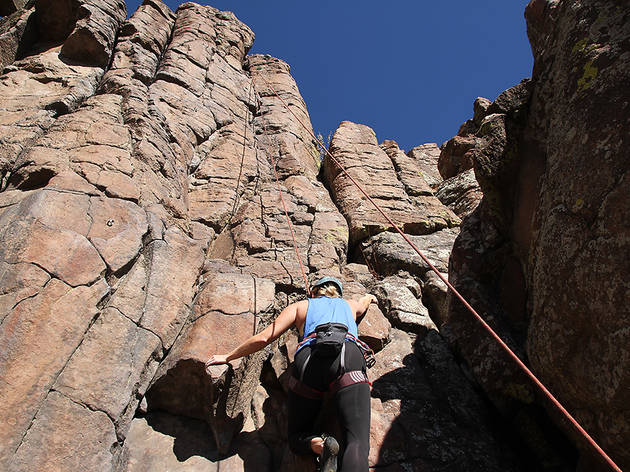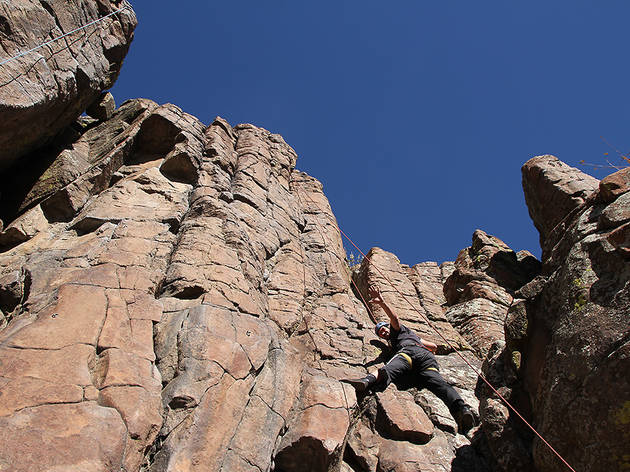 Chris killing it on his first climb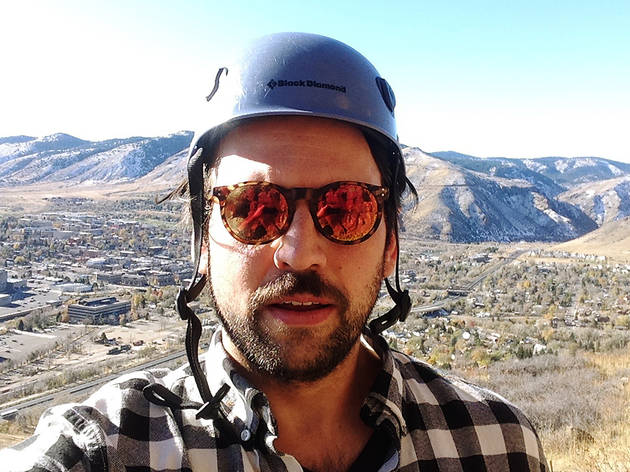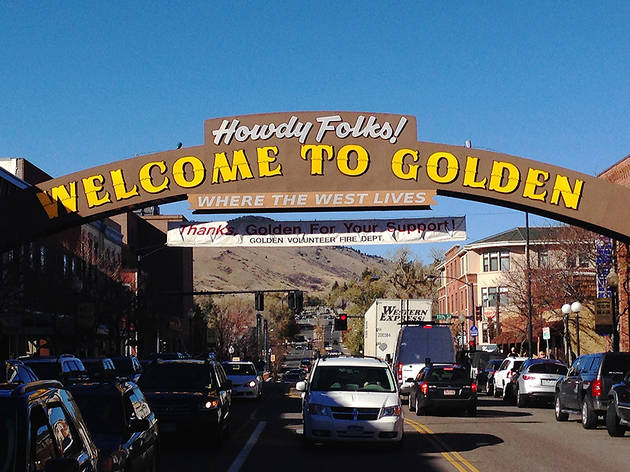 Welcome to Golden, home of the most delicious sandwiches we've ever eaten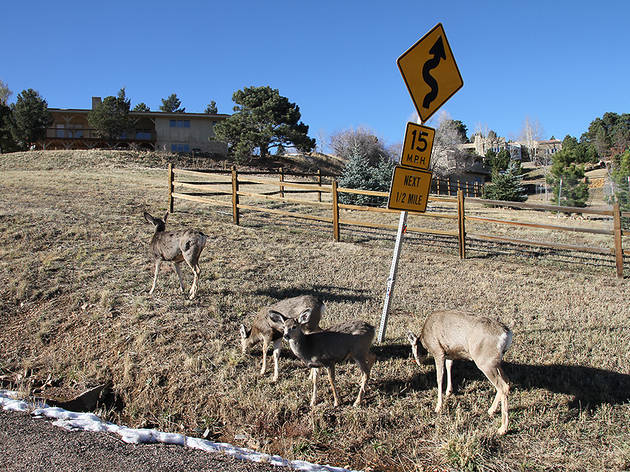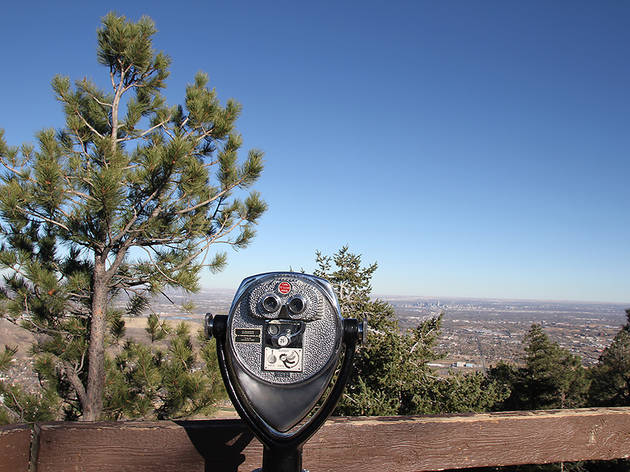 Epic views of Denver from the Buffalo Bill Museum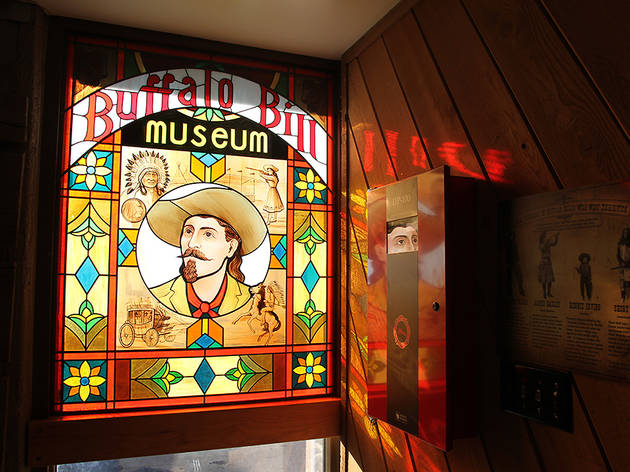 We took about 100 pictures of this gorgeous stained glass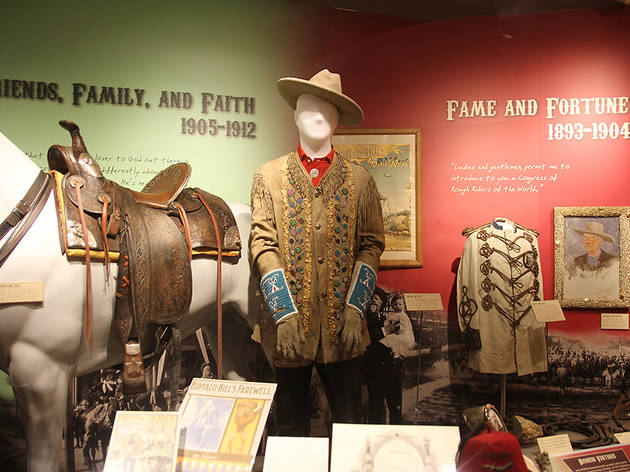 Buffalo Bill's actual outfits, embroidered by hand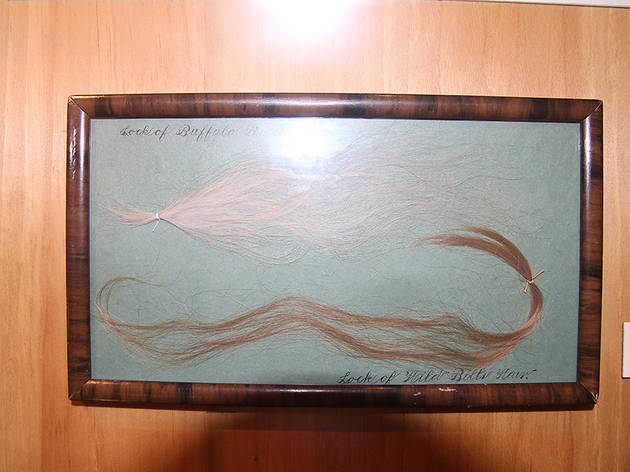 Locks of hair from Buffalo Bill and Wild Bill Hikock (Kate lost her mind over this)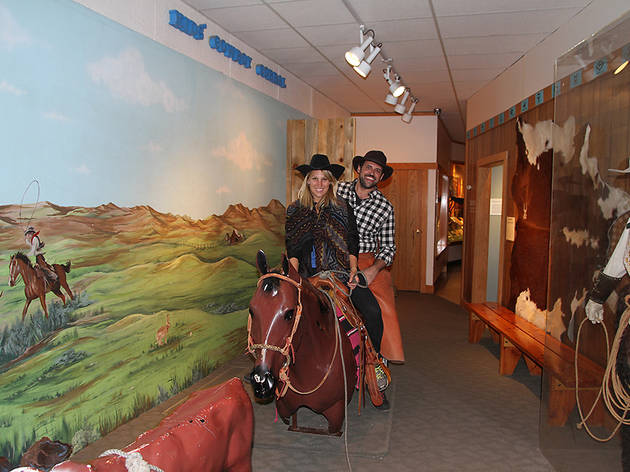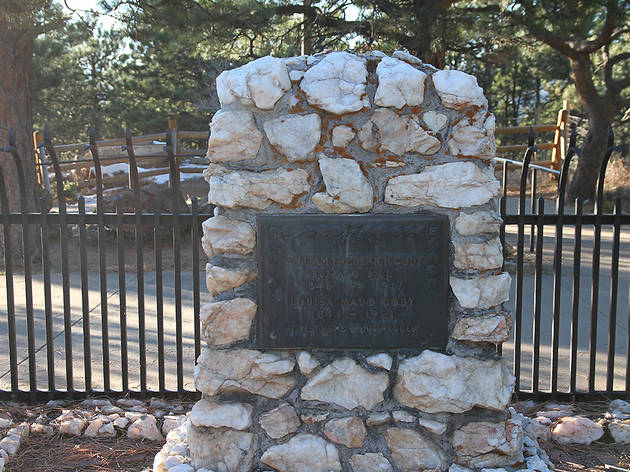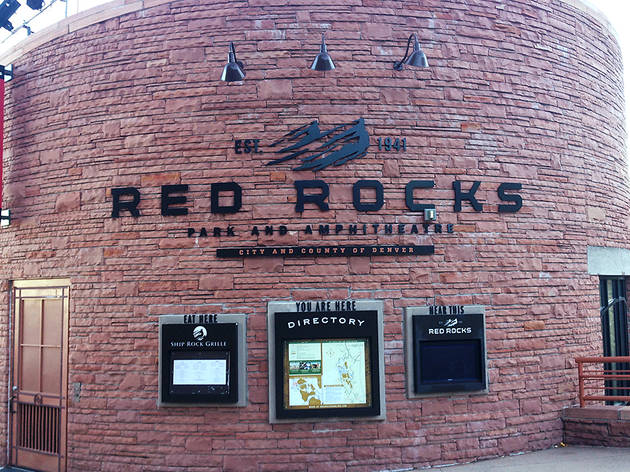 So glad we got to see this place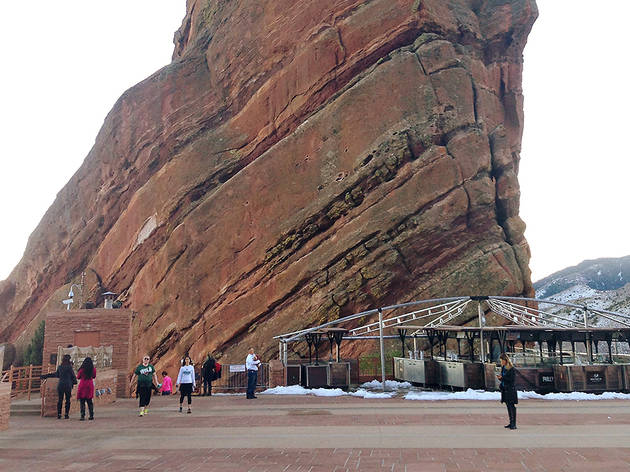 Imagine the acoustics bouncing off that thing!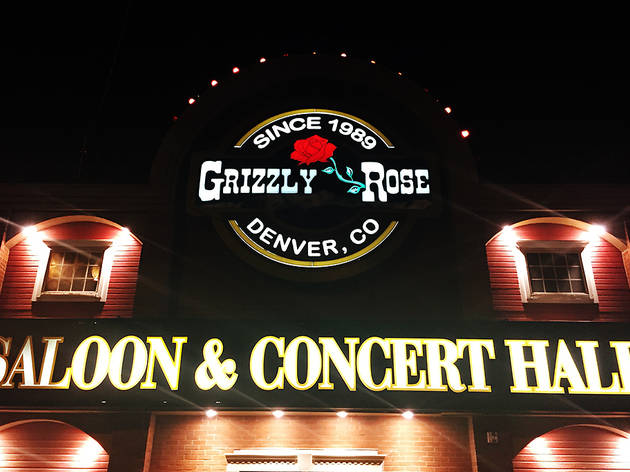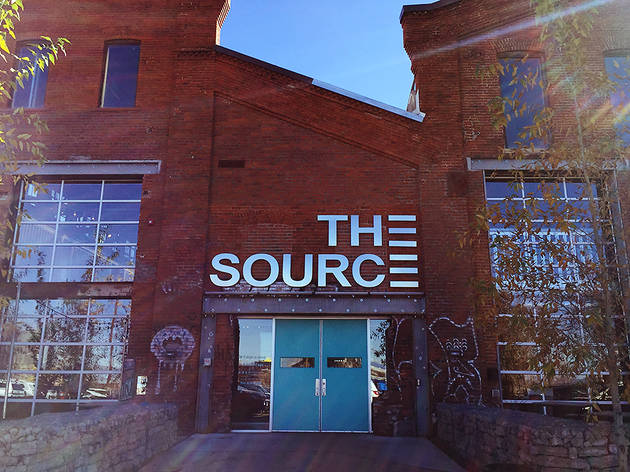 This place had a brewery, butcher, florist, art gallery, taco shop and more all under one big roof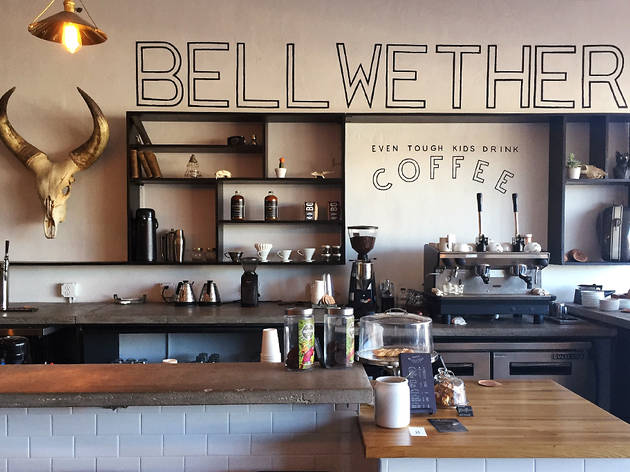 Trendiest coffee shop in the city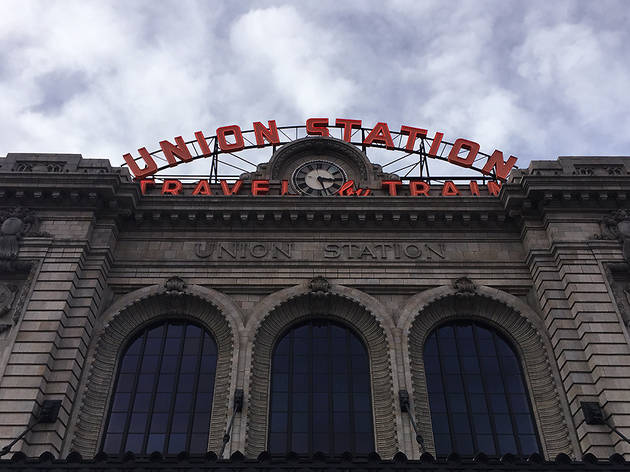 This beautiful building just got a major makeover inside, complete with gleaming shuffleboard tables to play at while waiting for your train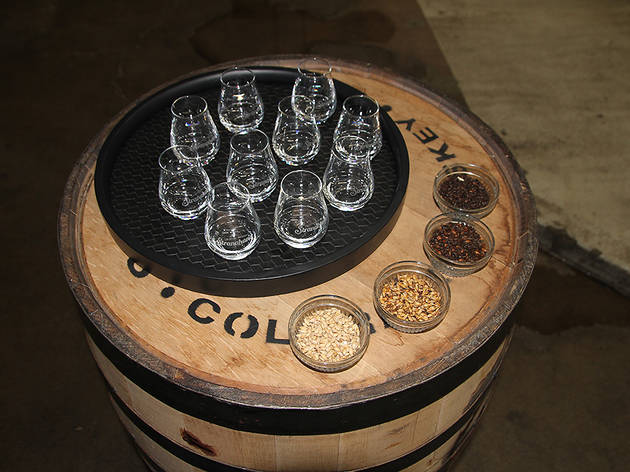 Tasting glasses and toasted barley at the Stranahan's distillery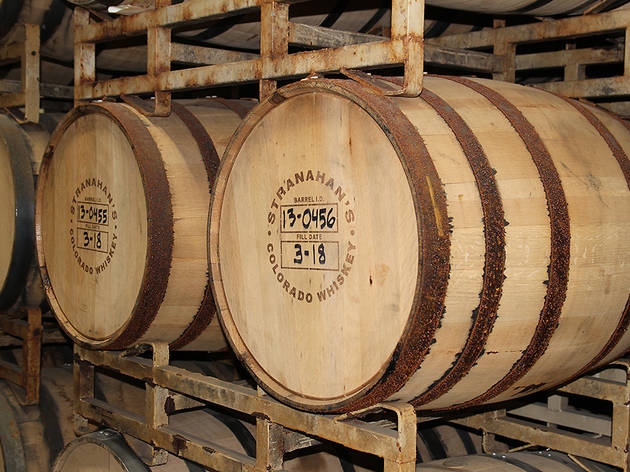 White oak barrels full of booze aging in the warehouse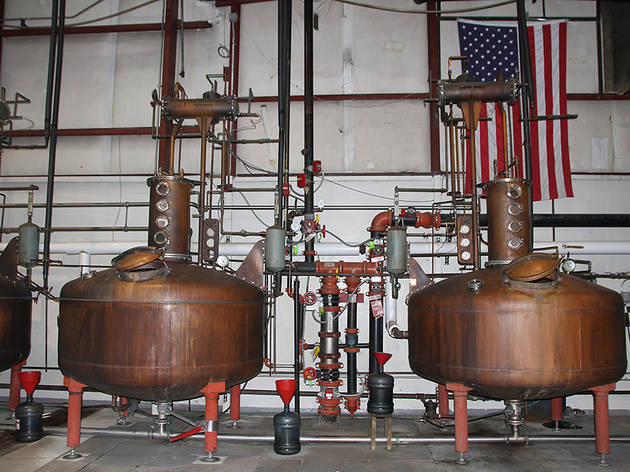 Check out those sexy stills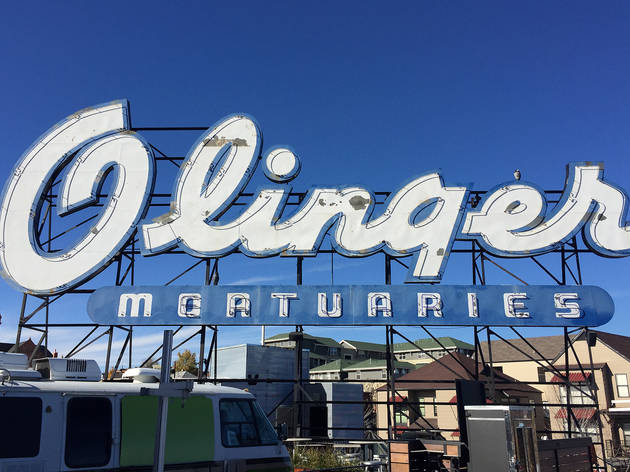 People are dying to get in here—glad we made it before we split town!