Heads up! We're working hard to be accurate – but these are unusual times, so please always check before heading out.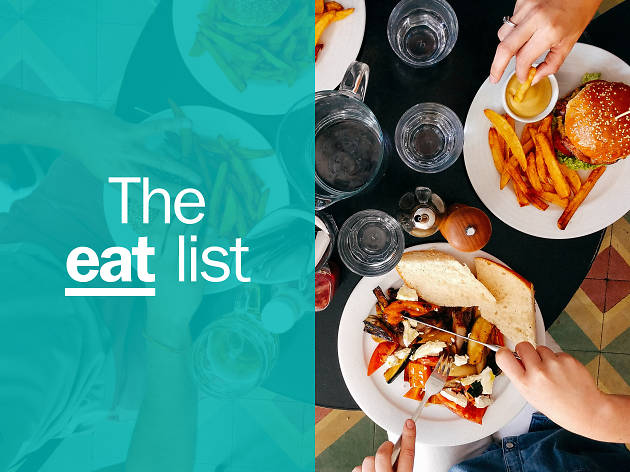 The 20 best restaurants in Denver
Get a taste of the best restaurants Denver has to offer, from stylish hangouts to fine dining spots and marketplaces
Denver locals have the work-hard-play-hard lifestyle nailed – and it's that philosophy which shines through in the explosion of restaurants, things to do, cafes and food hall collectives. Plus, the ongoing revitalization of downtown's perimeter neighborhoods like Lower Highland (LoHi) and River North (RiNo) continues to attract ambitious new culinary projects, which in turn pushes longtime pioneers to strengthen their commitments to patrons.

The result is a city chock-full of restaurants that work tirelessly to perfect the seasonal and farm-to-table ethos that Colorado is known for. It makes for a culinary scene that's delightfully playful, for both visionary chefs and exploratory diners. From nationally recognized fine-dining staples to sexy rooftop it-crowd destinations to mega-trendy shipping containers-turned-marketplace-foodie stalls and hip brunch spots, eating out here has never been more delicious. Here's our pick of the best restaurants in Denver.
Best restaurants in Denver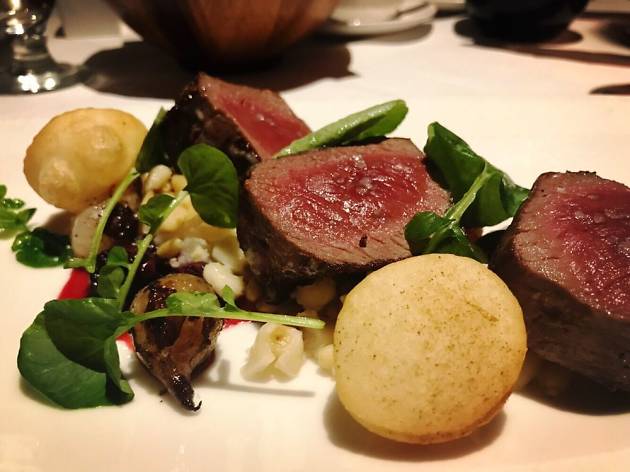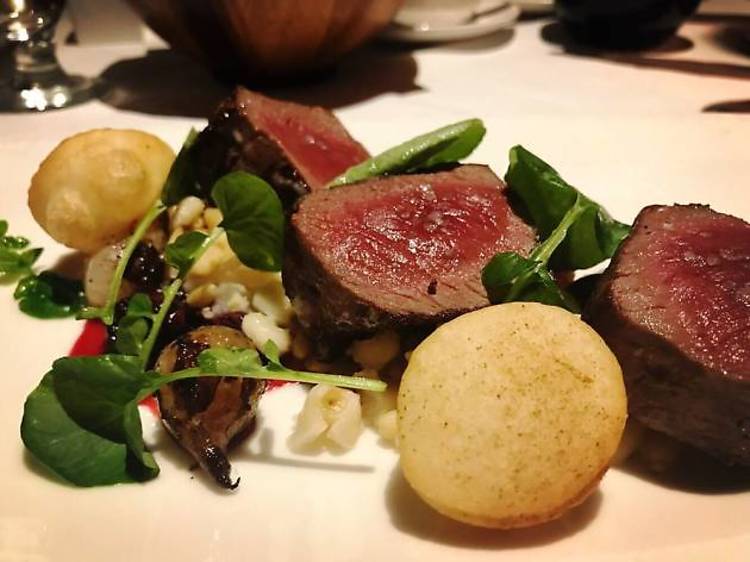 Photograph: Courtesy Yelp/Jennifer Z.
What is it? White tablecloths, twinkling lights, thoughtful wine pairings and French sophistication in Governor's Park, all at the hands of Frank Bonanno—arguably the top chef-restaurateur in the city.
Why go? For a special occasion that warrants Burgundian escargot, Tarte Flambée, beef Wellington and pheasant breast. The menu changes monthly at the chefs' discretion, but thankfully, the butter-poached lobster mac-n-cheese—an indulgent bite of beurre-blanc heaven and "Food Network Challenge" winner—is a staple.
Price? Blowout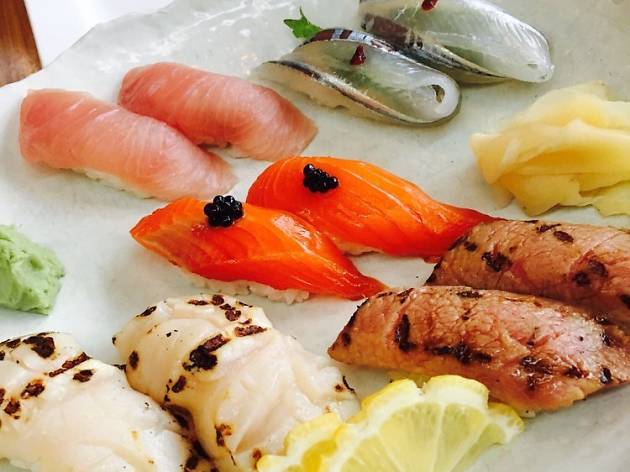 Photograph: Courtesy Yelp/Denver G.
2. Sushi Den & Izakaya Den
What is it? The sushi at these sister spots, occupying swanky digs right next door to each other on bustling Old South Pearl Street in Platt Park, is so fresh you'll swear you're in Japan.
Why go? You'd be right, kinda, about that Japan feeling; the Kizaki brothers, who own the two and set the sushi standard in Denver, have another brother in Japan who sources the catch from one of the biggest fish markets. That sashimi on your plate? Swimming off the coast of Japan less than 24 hours ago.
Price? Pricey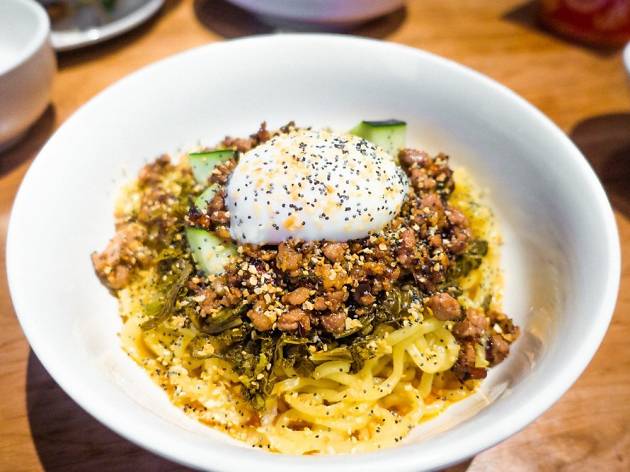 Photograph: Courtesy Yelp/Laura Y.
What is it? A daring, stylish take on regional Chinese cuisine in River North (RiNo) that challenges its throngs of diners to explore the unexpected.
Why go? Take everything you know about Chinese food and toss it—this ain't no stomping ground for General Tsao. We're talking bone-marrow fried rice; salt-crusted bass with lemongrass and black vinegar, sweet-and-sour pork loin with green tomatoes and Palisade cherries, and cocktails that are too much fun. Yes, there will be a wait.
Price? Pricey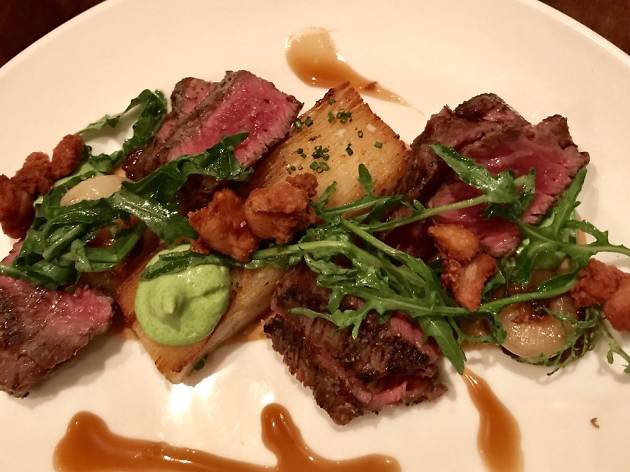 Photograph: Courtesy Yelp/Stephanie H.
What is it? One of Denver's most lauded chefs, Alex Seidel, opened this seasonally-inspired "elevated comfort food" neighborhood restaurant just over 10 years ago, and it remains a coveted upscale favorite today.
Why go? Eating at Fruition is the purest form of culinary pleasure. With ingredients and cheeses sourced right from Seidel's own farm, dishes are flavorful and unpretentious in true farm-to-fork fashion, from heirloom tomatoes with burrata, melon, and basil to red snapper with Colorado grits, squash succotash, and grape tomato vinaigrette.
Price? Pricey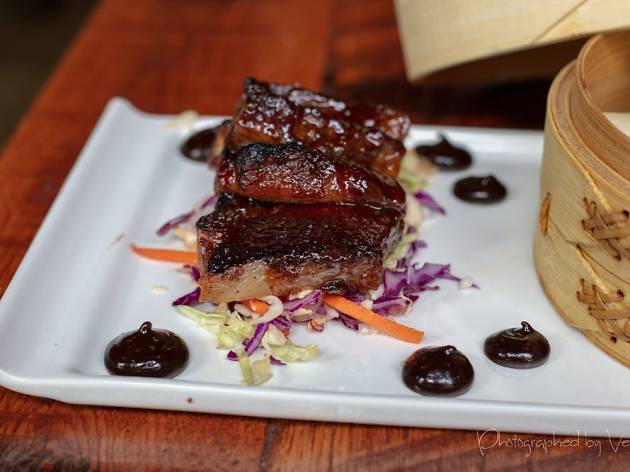 Photograph: Courtesy Yelp/Mona W.
What is it? This airy, contemporary, pan-Asian hotspot in Lower Downtown (LoDo) is a favorite for power lunches and grown-up nights out, with beautifully executed small and sharable plates that hit both southeast Asian and Coloradan notes flawlessly.
Why go? Soup dumplings, soup dumplings, soup dumplings. The brothy French onion filling surrounded by perfect little pouches that burst in your mouth are what made this place a perennial favorite. Those, and the coconut-y kaya toast. And the lemongrass-glazed pork ribs…
Price? Pricey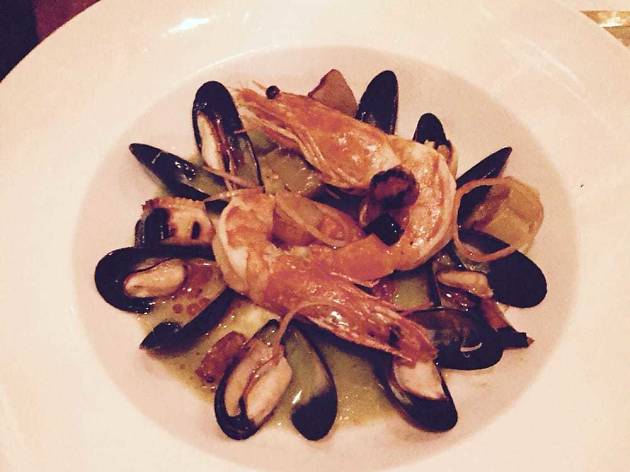 Photograph: Courtesy Yelp/Kat M.
What is it? Set in the middle of Denver's thriving South Broadway corridor is an urban treasure with a romantic log cabin-esque feel and a seasonal rustic-American menu.
Why go? It's like dining in a secret garden or enchanted forest. For real: There's actually an aspen grove inside the restaurant, which makes sampling a plate of housemade turtle dumplings and rabbit ragu (yep, it's called The Tortoise and The Hare) all the more special.
Price? Pricey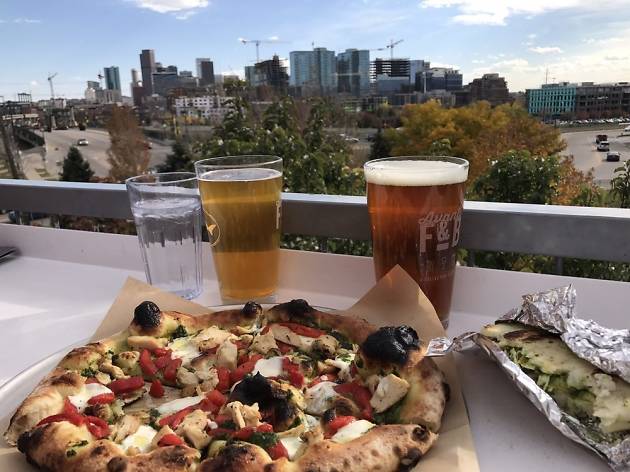 Photograph: Courtesy Yelp/Amanda H.
7. Avanti F&B: A Collective Eatery
What is it? Seven rotating eateries housed in modified shipping containers surround community-style tables in Lower Highland (LoHi)'s industrial-chic food hall that includes two bars, an airy lounge, and a killer rooftop patio.
Why go? The casual bites are big on taste, easy on the wallet, and perfect for groups (young professionals, rejoice!). Arepa? Burger? Poké bowl? Handmade pasta? Wood-fired pizza? Take a lap, put your order in, grab your buzzer, and snag a seat upstairs with a view of the city skyline.
Price? Bargain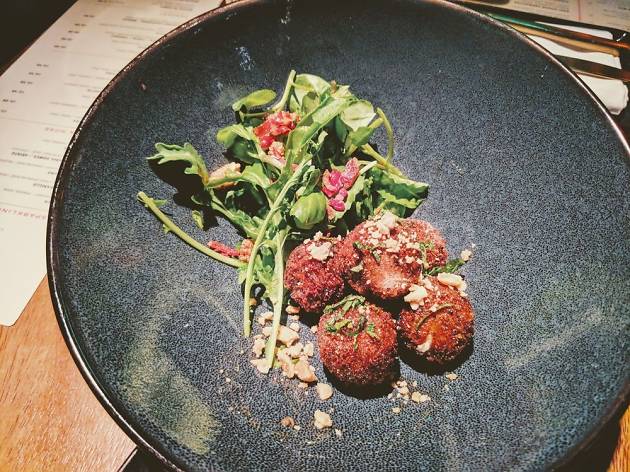 Photograph: Courtesy Yelp/Christopher V.
What is it? From the same visionary (Justin Cucci) behind neighborhood all-stars Linger and Root Down, El Five burst onto the Lower Highland (LoHi) scene in 2017 with an unbeatable fifth-floor skyline views, provocative décor, and a bold Mediterranean tapas menu.
Why go? El Five is where you go to see and be seen, to experiment with the mélange of shareable flavors (choose from traditional, new school, and Middle Eastern tapas), and to soak up the energy and exuberance of the always-happening it-spot.
Price? Pricey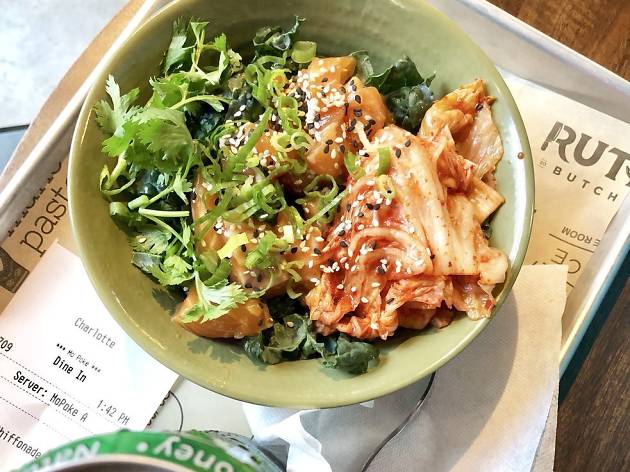 Photograph: Courtesy Yelp/Claire C.
What is it? Helmed by Frank Bonanno, one of Denver's most beloved and talented chef-restaurateurs, this sleek 16-venue food hall anchors the revitalized Dairy Block in Lower Downtown (LoDo), which was once the home of the Windsor Dairy circa 1920.
Why go? For the steamed bao. And the lobster rolls. And the fresh chopped greens. And the gelato. And the decadent bakery. And the artisan pasta bowls. And the local craft brews. And the hot (spicy fried) chicken. And the crepes. And…need we go on?
Price? Average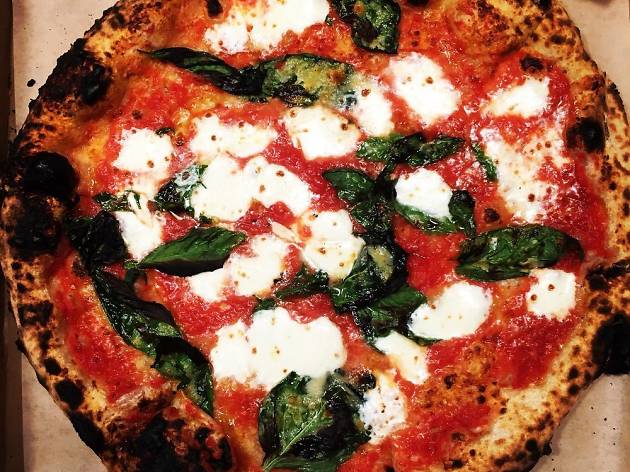 Photograph: Courtesy Yelp/Tyler N.
What is it? This trendy 640-square-foot nook in River North (RiNo) has been likened to a shoebox; in actuality, it's a revamped shipping container (true to the neighborhood vibe) that serves woodfired pizzas, oysters, and soft-serve gelato.
Why go? File this place under: So-random-it-works. The pizza is perfection (order the clam); the oysters are crave-worthy; and the cocktails are hip (try the "Messed Up" Negroni, which sparkles with prosecco). If weather permits, sit outside in the courtyard. Bonus: two happy hours, including 10pm-midnight.
Price? Average
Photograph: Courtesy Yelp/Alice G.
What is it? Acorn anchors The Source—an epicurean marketplace in the revamped 1880s Foundry building in River North (RiNo)—with eclectic New American oak-fired cuisine.
Why go? Not to get all cliché, but there's a little something for everyone in the small plate lineup, from the exotic (Moroccan monkfish) to the unexpected (wood oven roasted clams) to the elevated comfort food (pork rinds with caper and almond muhammara). The large plates serve 2; mix and match for a true culinary adventure.
Price? Pricey
Photograph: Courtesy Yelp/Jason G.
What is it? City Park's tiny husband-and-wife-run eatery, featuring a four-person chef's counter and just 16 seats, is effortlessly warm and elegant without being fussy, dishing up succulent bites like roast quail over miso cucumber and trio of duck with udon noodles.
Why go? Fancy yourself in a quaint bistro in Paris? Or perhaps at an intimate dinner party? This is your place—the kind of place you want to go on a chilly evening for gracious conversation and a soulful dining experience.
Price? Pricey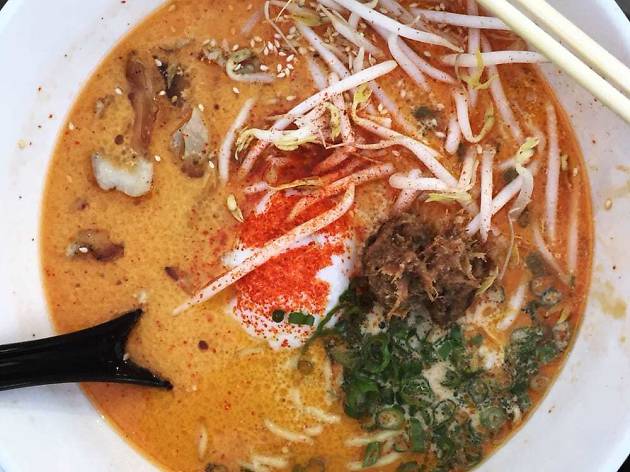 Photograph: Courtesy Yelp/Nida K.
What is it? This sleek-yet-casual noodle shop in Lower Highland (LoHi) has held fast and hard to its ramen throne since opening in 2012, reigning so supreme that it became the precursor to the wildly popular Chinese-influenced Hop Alley.
Why go? Uncle does a well-curated selection of small plates (think roasted broccolini and chilled tofu) and buns (try the soft shell crab), but when you go (plan for a hefty wait), you get the rich, brothy ramen—the spicy chicken, the duck, the pork belly. Every time.
Price? Average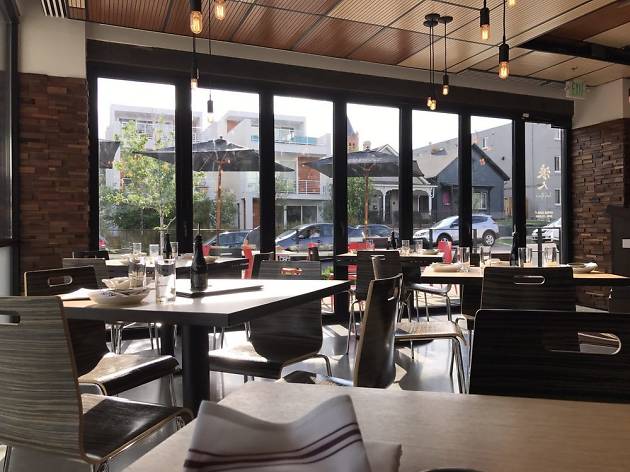 Photograph: Courtesy Yelp/Lily S.
What is it? A sleek Japanese experience—think innovative takes on small plates and a deep list of Japanese whiskeys— in trendy Lower Highland (LoHi).
Why go? For the "omakase"—aka, chef's choice. Park yourself at the intimate sushi bar and let the chef plate you up a feast. It's worth it: He learned much of his omakase craft—and it is a beautiful, colorful, thoughtful craft—from his time under Denver's sushi royalty at Sushi Den.
Price? Pricey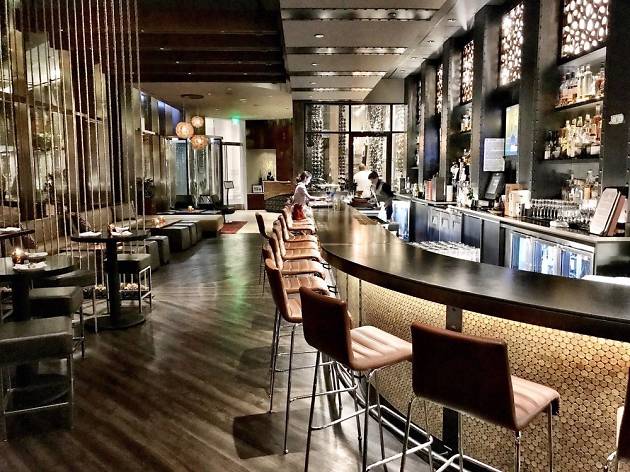 Photograph: Courtesy Yelp/Paul M.
What is it? This downtown steakhouse, courtesy of renowned restaurateur and chef-about-town Troy Guard, eschews the stilted dark-leather ambiance of its same-old counterparts in favor of an inviting light-and-glass vibe.
Why go? With subtle modern twists on classic steakhouse fare, like chipotle-lime smashed potatoes and Wagyu bone marrow with oxtail marmalade, the menu is refreshing—but the steaks really are the star of the show. Splurge on the filet mignon flight for true decadence of the prime, Angus, and grass-fed variety.
Price? Blowout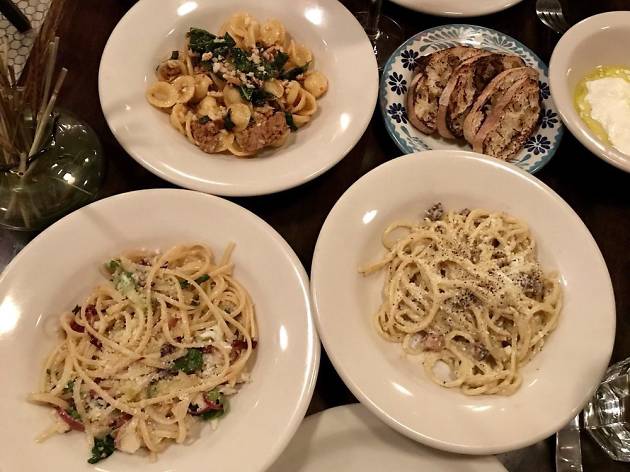 Photograph: Courtesy Yelp/Debbie P.
What is it? Combining the stunning regional flavors of Rome and southern Italy, this Uptown eatery has the ultimate comfort food. Warm, inviting and cosy – there's a reason that this eatery is named the Italian word for blanket.
Why go? If you've got romance on the horizon, then this is the perfect spot for a date night. Clink your glasses over the just-right Spaghetti Cacio e Pepe or the spicy Pollo allo Diavolo, and finish off with some delicious gelato. Nice touch: All the pasta dishes come in small plate or entrée sizes.
Price? Average
Photograph: Courtesy Yelp/Oanh M.
What is it? Executed by the same decorated team behind Boulder's legendary Frasca, this more approachable spinoff showcases Italian cuisine with a wider focus in an inviting space overlooking the tracks at Union Station.
Why go? Casual but exemplary service, an exciting location, and a versatile vibe make this eatery appealing to the everyman. Fireplace lounge cocktails? Check. Seating by the open kitchen? Check. Chef's table dining? Check. It's the perfect place to tuck into a plate of handmade lobster tagliatelle or rabbit leg tortelloni.
Price? Pricey
Photograph: Courtesy Yelp/Sean W.
18. Concourse Restaurant Moderne
What is it? From the same culinary mastermind behind LoDo darling ChoLon, this stylish eatery, with its new-takes-on-the-classics menu, is a modern design-ode to the former Stapleton Airport, which was once located here.
Why go? With its aviation-inspired décor (the undulating walnut ceiling is super sexy), the space is fun without being overdone. More important, the cuisine—think: beet salad with arugula sorbet, and bacon-and-octopus risotto balls with tomato butter—is one part familiar, one part twist. The perfect combo.
Price? Pricey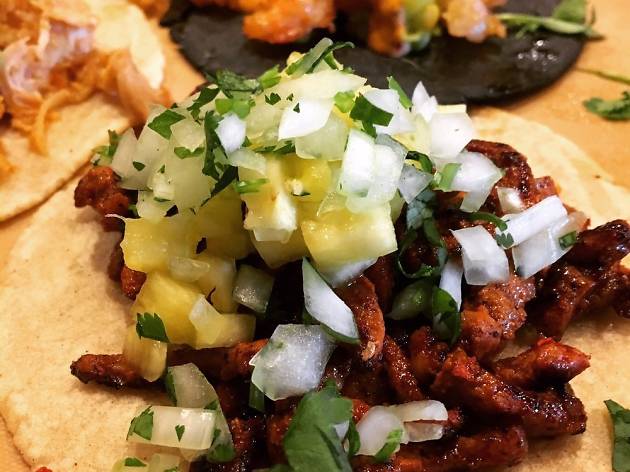 Photograph: Courtesy Yelp/Taylor S.
19. Machete Tequila + Tacos
What is it? An absolutely buzzing street taco joint that dishes up the very tastiest of Mexican food. Proof that just because it's not made of bricks and mortar doesn't mean it's not worth stopping by for a bite. And if you like Mexican food, you're in luck – Denver plays host to three Machete Tequila + Tacos locations. Pick from Cherry Creek, Union Station, and Colfax by City Park.
Why go? The housemade tortillas are a pretty good reason—try the Langosta, Al Pastor, and, for vegans, the Betabel. And if you need more convincing: tequila, tequila, tequila—reportedly the biggest selection in Denver and an eye-opening marg menu.
Price? Bargain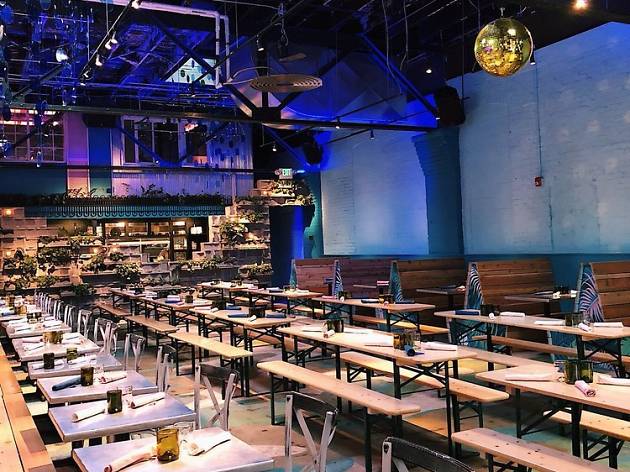 Photograph: Courtesy Yelp/Megan R.
20. Bang Up To The Elephant
What is it? A lively, bright spot in Capitol Hill, this Caribbean beach shack–themed eatery opened in early 2018 with 6,000 square feet devoted to "Calypso" fare, inspired by African, Indian, South American, European, and Chinese flavors.
Why go? The proprietors went out on a limb, and it worked; it's different, fun, and just quirky enough. Transport yourself to island time and order the Mofongo (fried and smothered plantains and potatoes) and Bake & Shark sandwich (crispy fried spiny dogfish).
Price? Average
Discover Time Out Market: the best of the city under one roof
Planning a trip to Denver?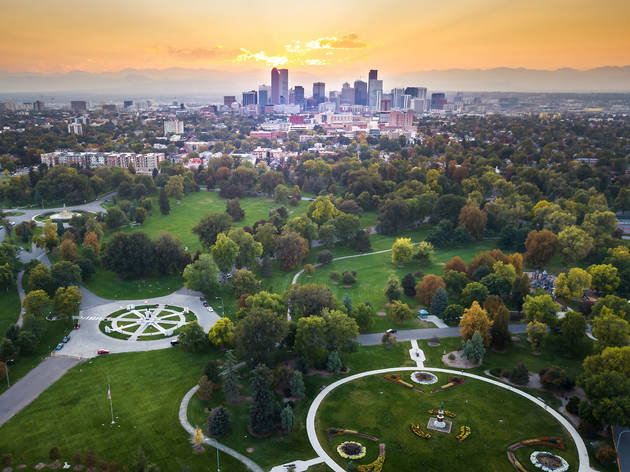 To make the most of your time in this city combining Rocky Mountain majesty and urban dynamism, you have to know all the best things to do in Denver. From renowned music venues and unique museums to craft-booze crawls, top-notch restaurants and outdoor adventures, there's no shortage of awesome things to do.