Public transportation in Düsseldorf
Make your way through the city with our guide to public transit in Düsseldorf, replete with trusty tips and ticket info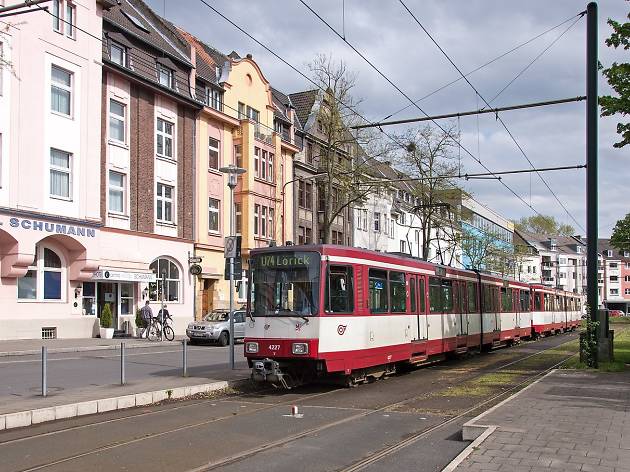 Düsseldorf is one of the easiest cities to get around without a car; it may be easier for visitors to the city to do without one, as parking and traffic can take a lot of fun out of your time in the city. If you're in need of wheels and are keen to rent a small car by the minute, there's a car-sharing service, Car2Go, with vehicles scattered around the city which you can access via an app. Still, traveling by car means you'll miss out on some of the city's prettiest sights, like the Rhine River Promenade, built atop the tunnel where the B1 (a busy thoroughfare) runs along the river's embankment.
Perhaps the most convenient way to take it all in is by bike—a favorite means of transportation here, even in rain and snow. If you're going further afield, Düsseldorf has an extensive network of trains, trams and buses that are all run by the Rhein Bahn, making it inexpensive and convenient to get wherever you're going in the city. Grab a Düsseldorf Card on your first day and enjoy unlimited travel on the buses, trams and trains run by Rhein Bahn within the city limits. To get to the city from the international airport, you can take a high-speed ICE train run by the Deutsche Bahn one stop or the slower regional S-Bahn S11, both of which will get you to the main train station in minutes.
Public transport options in Düsseldorf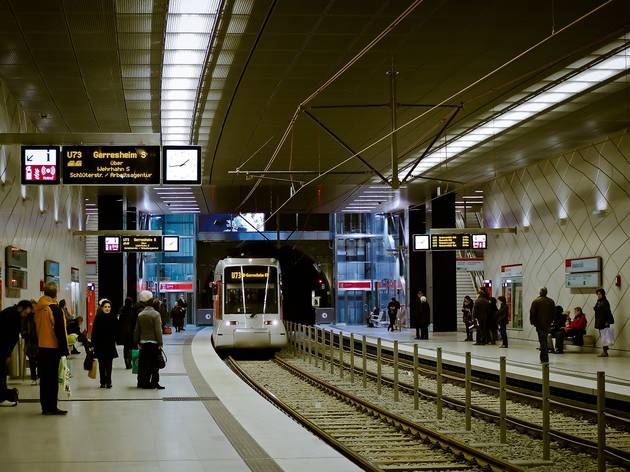 Getting around Düsseldorf's central areas is easy thanks to an extensive underground network. Although the U in U-Bahn does not stand for underground, most of the trains that are part of the U fleet run beneath the street. It's easy to find a subway station by looking for the giant signs besides the entries—most often a white U on a lit-up blue background. The U-Bahn will easily get you to destinations like Koenigsallee or the Heinrich-Heine Allee, where the shopping and pedestrian areas are. For most people, a VRR ticket for Zone A will get you where you're going for 2.70 Euros (adult) or 1.60 Euros (ages 6-15), and even allow you to transfer to a tram or bus. Kids under six ride for free. If you have a shorter journey—less than four stops—you can get a Kurzstrecke Ticket for 1.60 Euros. And if you're traveling frequently, consider buying a 4-er ticket or strip of 10 journeys for reduced prices. A day pass for one will set you back 7 Euros, and you can buy a pass for up to five people for 20.20 Euros. Just be warned in advance: if you don't want to use the convenient mobile tickets (called Handy tickets), you'll need to bring coins for the ticket machines on the trains or risk a hefty fine for riding without a ticket.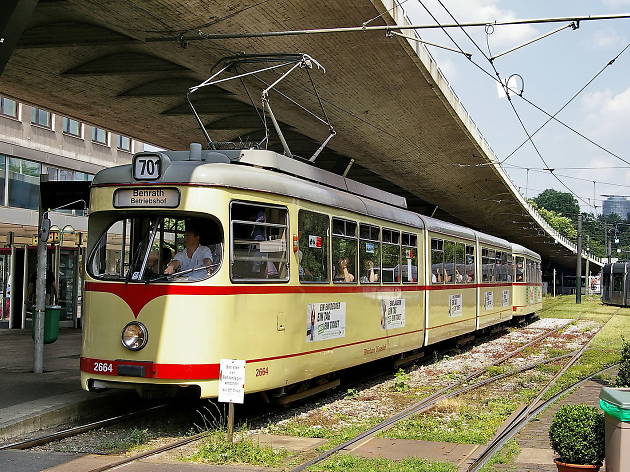 Photograph: Courtesy CC/Wikimedia Commons/
Ticketed by the same agency as the U-Bahn, streetcars run through the city center and neighboring districts directly on the roads, alleviating congestion on the underground as they snake through the more residential neighborhoods. You'll recognize the trams by their numbers: 701 through 709. While some tram stops have shelters that signify where to stand, others do not, so you'll have to look for a sign—most often marked with an H—to tell you where to wait for the tram if there is no designated platform. Prices are the same as on the bus and U-Bahn and you can transfer with ease between the three modes of transportation.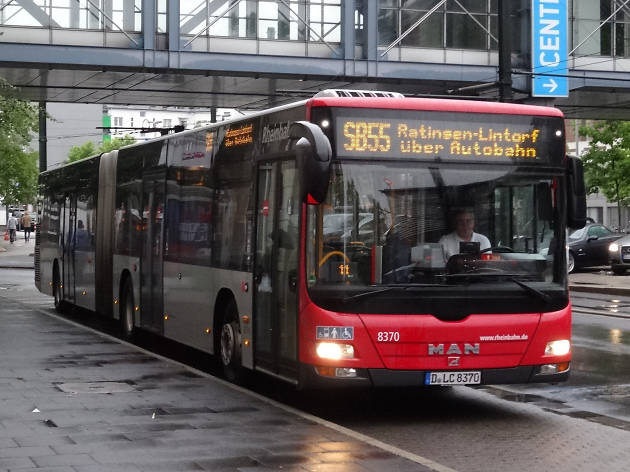 Photograph: Courtesy CC/Flickr/harry_nl
Unless you live in Düsseldorf, chances are you won't have much use for the buses. While the network is extensive, bus lines are laid out as a complement to the faster trams and U-Bahns. Those with disabilities or difficulty walking will appreciate not having to go far to get to the nearest bus stop, and those who are staying in the outskirts and far suburbs of the city will be grateful for the buses that reach into the far corners of the region. Run by the same VRR network that operates the tram and U-Bahn, the bus is a good option for getting between trams or U-Bahns that run on neighboring lines, and you can transfer to them using the same ticket. But be sure to plan in advance, as some buses are commuter-only and service ends early in the evening or is sporadic on weekends.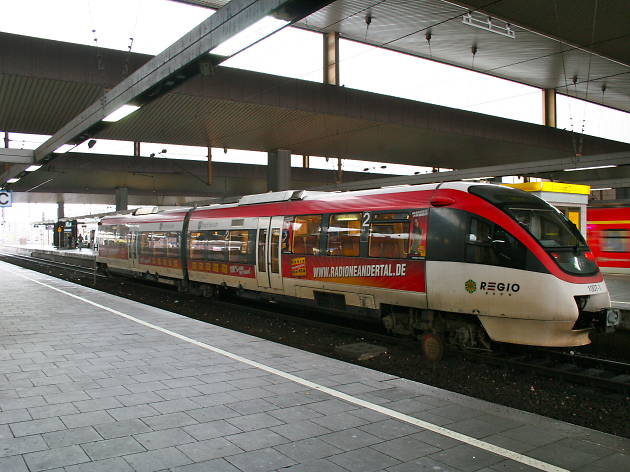 Photograph: Courtesy CC/Flickr/Andrey Belenko
The S-Bahn is what many English speakers would refer to as the suburban train, as it travels longer distances and at faster speeds than the underground. These trains run on rail lines and cross counties so are the better option for a regional visit or a fast change between neighborhoods—say Flingern to Bilk. They're also a good bet if you're headed further afield, like south to Cologne, or crossing the river to Neuss and want to avoid using the expensive high-speed ICE trains. Although technically covered by the standard Rhein Bahn ticket within the city limits, before boarding, you'll need to verify what zone your destination is in and purchase the right ticket according to prices set by the VRR organization. Like the U-Bahn, kids under 6 are free and from 6-15, prices are reduced. If you're in town for a concert or trade fair, you might also check to see if your ticket is a Kombiticket—giving you a free ride on any of the public transportation run by Rhein Bahn to help combat congestion.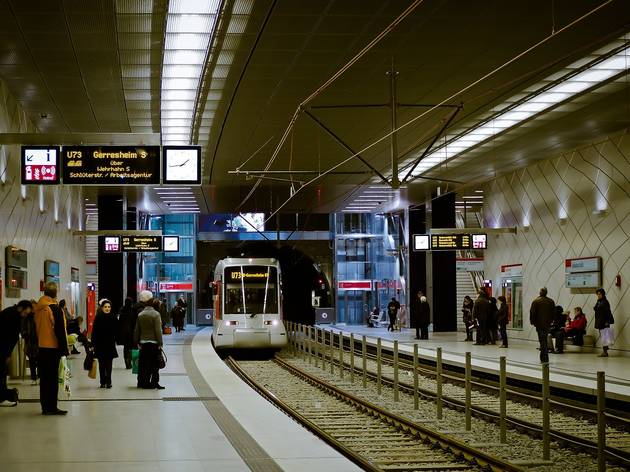 Late-night bus and subway service is a relatively new thing, but for travelers and partygoers the added bus and tram lines that run on Friday and Saturday nights is a godsend. Whereas most public transportation halts shortly after midnight, these options carry on from 1am to 4am to bring people from the party areas to the main train station and elsewhere. Lines NE1 and NE8 offer an hourly connection to the main train station, where Regional and S-Bahn trains can be met. Other lines that run either on an hourly or half-hourly schedule are the U74, U75, U79, NE1, NE2, NE3, NE7 and NE8. While Düsseldorf is a safe city, there is also the option to have the driver phone a taxi to meet you at your destination and ensure you make the last stretch of your journey home.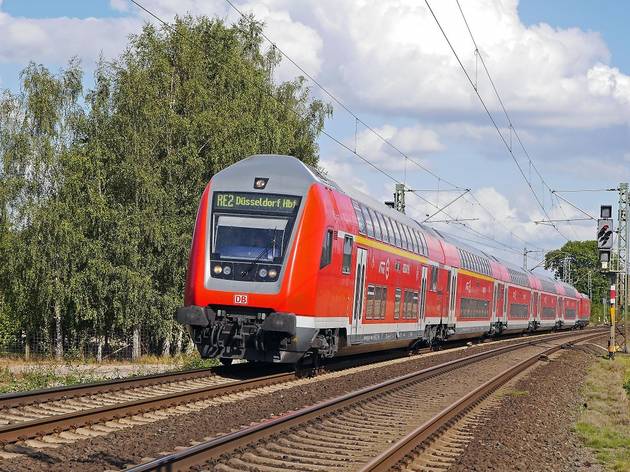 Germany is known for its extensive rail networks and with the German Rail service, Deutsche Bahn, you can get in and out of Düsseldorf relatively easily. There are Regional Express and RB trains that will take you to nearby suburbs and cities like Cologne, Neuss or Essen. Catch these trains at the main train station, the Hauptbahnhof. Just be sure to buy tickets in advance, either online or via the DB app, as there is no possibility to buy on the train and fees for traveling without a valid ticket are no joke, ranging from 40 to over 100 Euros.