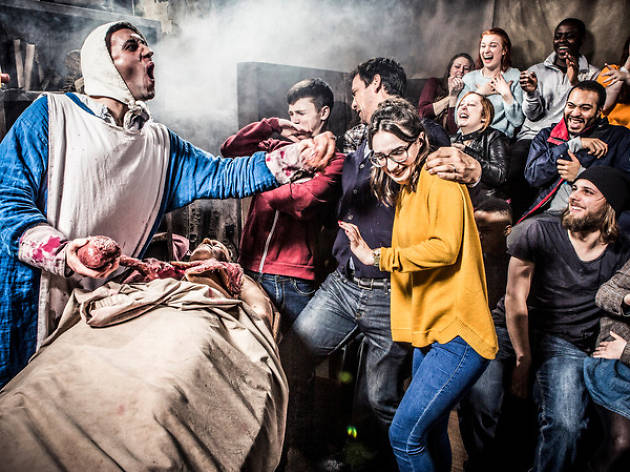 Fed up of tapestries and suits of armour? Discover Edinburgh's grislier side with this deliriously fun tour through the muck and mire of history
Part of a family of attractions that also reside in London, York and Blackpool Tower (not to mention Amsterdam, Berlin and San Francisco), the Edinburgh Dungeon is a gory alternative to the somewhat sterilised version of history you might hear about in stately homes or royal residences. Unafraid to wade about in the muck and mire of the city's inglorious past, the Dungeon invites groups of unsuspecting visitors to meet grisly figures plucked straight out of history (beheaded freedom fighter William Wallace, Edinburgh grave robbers Burke and Hare) and hear in their own words how horrible history really is. It's all deliriously good fun: some of the more elaborate rides (the Sawney Bean boat ride especially) are giddily terrifying, and the actors inhabiting the historical roles are simultaneously eager to get in your face and aware of when to rein in their performances (kids aged eight and up are welcome).
More
Less
The Edinburgh Dungeon says
The Edinburgh Dungeon is a uniquely thrilling attraction that will whisk you back to the city's most perilous past. See, hear, and (ahem) smell the chillingly amusing characters from the bad old days as they are brought to life before you. Will you lose yourself in fear or fun? Whichever way, it's not looking good for your underwear.
With 11 live action shows, 2 thrilling underground rides, 360-degree sets, special effects and a cast of talented actors, it's dark, scary, and very very funny.

Meet Burke & Hare. They've been keeping the population of Edinburgh down since 1832.
Come face to face with the witch, Agnes Finnie. She's got a thirst for a curse and unless you confess, it's coming your way.
Sail the Caverns of Galloway on our Boat Ride, in search of the cannibal clan of Sawney Bean. But stay afloat! For the catch of the day ... is you!
And when you see the ghost of the Green Lady - RUN!

The Edinburgh Dungeon can be found in the heart of the city centre, right next to Waverley Bridge and 100m from Waverley station. Savings online of 20% if you book in advance. Open every day except Christmas Day.
More
Less
Venue name:
The Edinburgh Dungeon
Contact:
Address:
31 Market Street
Edinburgh
EH1 1DF

Transport:
Edinburgh Waverley rail