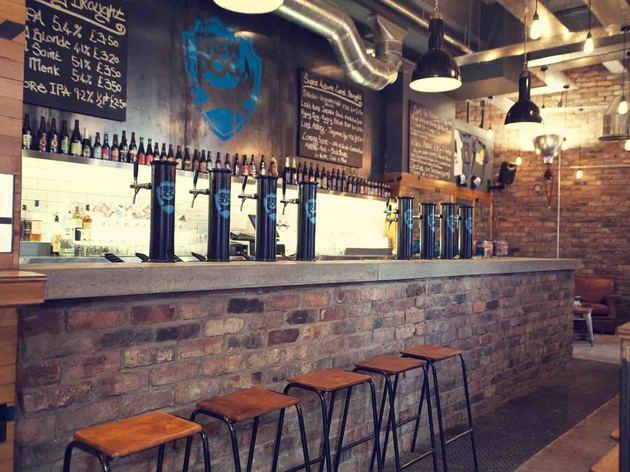 Time Out says
Mouthy marketing and a chilly, high-ceilinged space can't get in the way of good beer served well in a welcoming bar environment
Despite being the more established of Edinburgh's two main anti-mainstream beer outlets, BrewDog's second licensed premises (following their flagship in Aberdeen) has recently lost a bit of steam among capital craft connoisseurs thanks to the arrival of The Hanging Bat. BrewDog, smirk its detractors, is all mouth and no trousers: their in-your-face marketing and obnoxious, anti-establishment posturing ('Beer for Punks' indeed!) get in the way of more important considerations – such as, is the beer any good?
Thankfully, it is. Obviously favouring their own brand, the range of BrewDog beers on offer includes a handful of IPAs, a dangerously dark porter and – whisper it – a lager (unequivocally titled 'This. Is. Lager.' for those in doubt). Home brews aside, there's also a selection of top quality guest draughts, with Mikeller's gluten-free ales, Weihenstephan and Brooklyn Lager (another one!) all getting a look in. And that's before you even start sniffing around the bottles, a collection of as unabashedly garish and fascinating beverages as you'll find anywhere else.
Crucially, the drinks are not foregrounded at the expense of the bar atmosphere – BrewDog Edinburgh is a fully convivial environment, with high-backed booths encouraging intimacy and slumped, battered couches perfect for falling onto. There's a decently priced food menu too, with £5 Pieminister pies and £9 handmade pizzas split almost evenly between carnivorous and veggie options.
That's not to say that the bar is without downsides – prices quickly escalate into double figures in the guest bottle selection, the marketing is indeed less than shameful (branded tees are available behind the bar) and the high ceilings, exposed vents and concrete floors mean the space never really warms up (though the friendly and informative staff will do their best to mitigate that with their welcoming demeanour). If you want craft without pretension though, there's no better bar in town.
Details
Users say