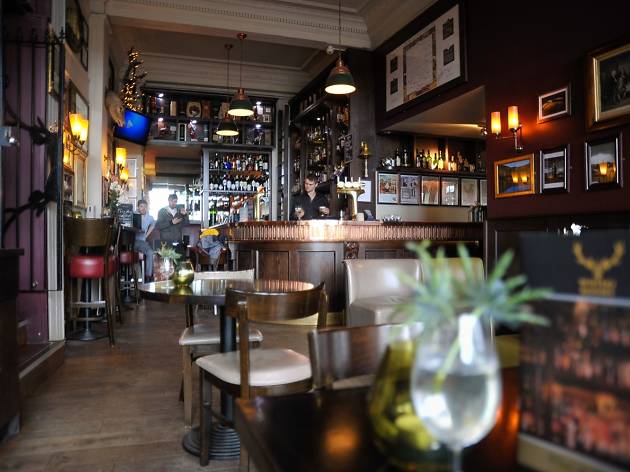 Time Out says
Try before you buy at this dedicated whisky bar and shop. There are more than 300 varieties on the menu, so even the most hardened fan will find something new.
Poor spellers they may be, but they certainly know a thing or two about whisky at Whiski Rooms. What could so easily have been a tourist-driven travesty is instead a neat place for fans of Scotland's most beloved spiritus frumenti to eat, drink and shop.

Just off Edinburgh's historic Royal Mile, on the Mound, the Rooms ticks a fair few boxes from the off. But inside is where the real action happens. The drinks menu comprises more than 300 malts and blended whiskies, alongside cocktails, wines and an array of Scottish craft beers. And whether you're in search of a quiet drink or a lengthy meal the warm welcome remains the same, as it slickly juggles its hybrid status.

Open brickwork, leather seats, wooden furnishings and the odd stag's head craft a relaxed atmosphere in a space that buzzes with tourists and whisky-loving locals. The food menu has some nice flourishes, one of which is that the steak pie, haggis, smoked pork belly and chicken supreme all come with whisky recommendations.

Malt aficionados can choose to sit in the separate Ardbeg area off the main bar. Like a mini Willy Wonka's Chocolate Factory for dram fans, it's essentially a celebration of what many consider to be one of Scotland's finest whiskies.

The whisky shop has a hefty array on offer, some of which date back to 1950, and the tastings are definitely worth a whirl – particularly the one that pairs Scotland's mighty nectar with some of the country's cheeses.

And any dram you try in the bar, or in a tasting, should be available to buy in the shop. Which offers up the perfect excuse to try, try and try again before you finally buy.
Details
Users say
Special offers
2 or 3 course set menu £12/ £15
2 or 3 course set menu £12/ £15 Terms and Conditions: Maximum of 8 diners. Includes VAT, excludes service. Valid For: 1 - 8 People Mon-Fri 12:00PM-4:00PM
Offer valid until
Sep 4 2020