Paul Sinha: Postcards From the Z List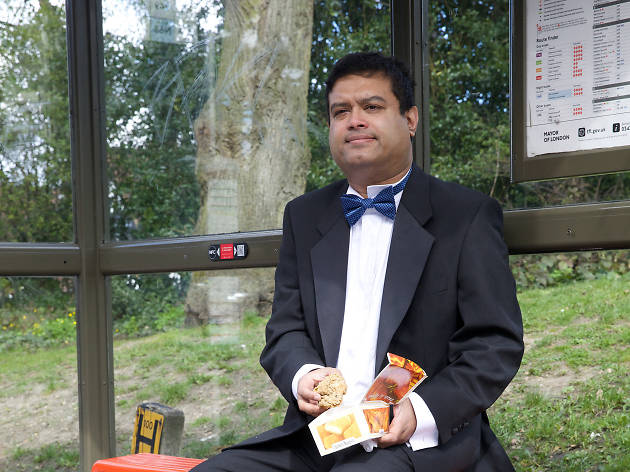 Time Out says
It's been four years since Paul Sinha's last run at the Edinburgh Fringe, and he has a good reason for his absence: he's been busy becoming a minor celebrity. Recognise his face? You might know him better as 'The Sinnerman', as he's nicknamed on ITV teatime quiz show 'The Chase'.
Of course, Sinha has been a comedian far longer than he's been foiling contestants' attempts at winning a few grand, and he shows off his whip-smart comedy chops in 'Postcards from the Z List'. But he's also aware that he's found a new audience, and there's plenty for fans of 'The Chase' to enjoy in this hour of joke-packed tales.
Stories of his new-found placing at the bottom of the celebrity ladder make up the majority of Sinha's latest effort. He was invited to the Houses of Parliament, got pissed at the National Television Awards and watched the Twitter abuse flow in as his first episode on 'The Chase' was broadcast. But the 45-year-old comic also touches on society's increasing obsession with celebrity, as well as the post-election political landscape as he comes to terms with the fact that his boyfriend doesn't share his liberal views.
Sinha pitches his celebrity shenanigans just right: never arrogant, nor overly modest. He's amazed to be hobnobbing with Jonathan Ross, but is well aware that he's only well known to a specific group of people. More often than not, he's the butt of his own jokes.
But despite his fumbles, Sinha is the happiest he's ever been, and it shows. He's making a living from his love of quizzing and reaping some of the benefits that come with fame without too many of the downsides. After all, his level of celebrity is just right: not famous enough to be a contestant on 'Dancing on Ice', but well known enough that Phillip Schofield will read out his tweet live on air.
Details
Users say