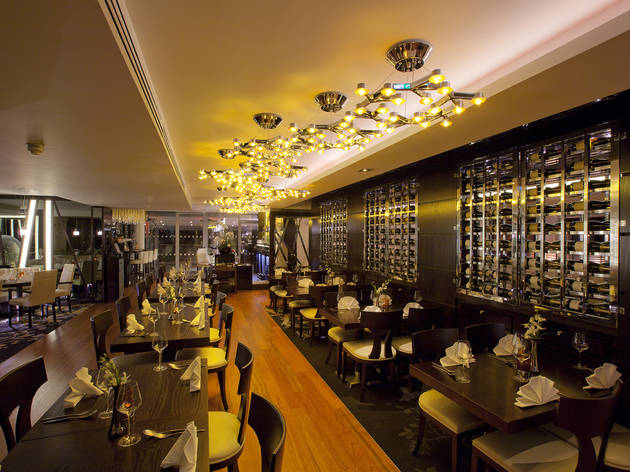 Time Out says
Offering one of, if not the best, (restaurant-based) views in Edinburgh, this Thai restaurant is a feast for the eyes, as well as the belly. Set in the former residence of Tony Singh's much-loved high-end Oloroso, Chaophraya's rooftop location offers an awesome outlook over Edinburgh Castle.

While fellow Edinburgh Thai restaurants like Ting Thai Caravan and Dusit offer their own unique – and largely excellent – take on the cuisine, Chaophraya is an altogether blingier affair. Which is not to say that it's style over substance here – far from it. With sister outfits in Birmingham, Glasgow, Liverpool, Leeds and Manchester, Chaophraya hasn't a whiff of the tired chain venture about it and manages to create a destination dining experience that feels very tuned into the place and space it inhabits. Stylish décor and attentive service adds an additional layer of charm.

Established by chef Kim Kaewkraikhot, Chaophraya's menu is largely made up of classic dishes originating from different regions of Kaewkraikhot's native Thailand. Following the motto 'ow jai sai', meaning 'from the heart', the sizeable menu selection is sprinkled with some interesting signature dishes. Highlights include crispy duck salad, pork belly with Thai basil, massaman lamb curry and the roundly delicious Thai fisherman's soup shabu shabu. Thai purists have plenty to satiate their wants, with a fine array of staples such as pad thai, satays, skewers and dumplings, as well as old dependable favourites, like red and green curry.

Prices can be a little on the sharp side depending on what you opt for, though there are more reasonable avenues to explore with the lunch and early bird two- course menu, available from noon-6pm, Sunday to Friday.

The adjacent bar space is a nice spot to hang out in and enjoy an aperitif or one for the road, with the Thai cocktail selection coming highly recommended.
Details
Users say