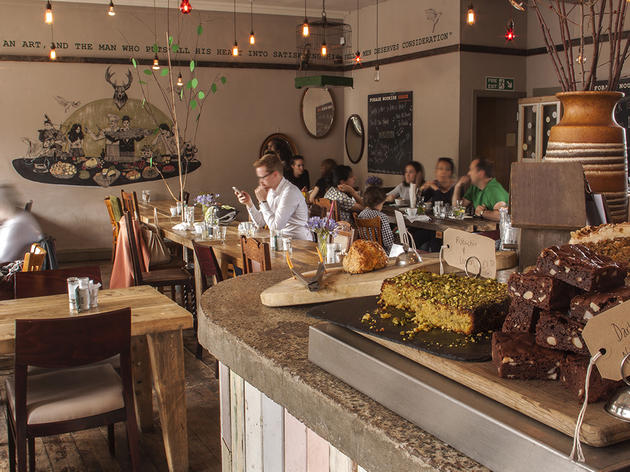 Restaurant that's an off-shoot of the original Earthy supermarket, serving wholesome, good quality food with a hefty price tag
The first time Edinburgh heard about Earthy, it was because the owners had opened a cooperatively run, ethical, right-on, but also – we couldn't help but notice – impeccably styled mini-supermarket in Causewayside.

That was back in 2007, just after Dirk Douglas quit his well-paid job to team up with Patricia Stephen, an organic farmer from East Lothian, and Pete Jackson, a horticulturalist. Their idea of running a farmer's market, but one that was indoors, and kept normal supermarket hours, stocking local, organic, seasonal, Fair Trade, free range and ethical produce, was obviously just what Edinburgh had been waiting for.

The original supermarket is still very popular, but Earthy has since spread its branches, and expanded from the café and garden centre underneath the original Causewayside market to another food shop in Portobello, and a restaurant at Canonmills, heading out towards the Botanic Gardens. The Canonmills branch is open every day for coffee and cakes, or breakfast and lunch, but only serves dinner from Wednesday to Saturday. It's kitted out simply – a warm, inviting and cavernous garden hut, with pastel-painted wooden boards striping their way up the main counter and walls, and dangling naked bulbs hanging from the ceiling. Civilised signs in the ladies toilets invite diners on their foraging workshops (the Earthy motto is, after all, 'Forage. Nourish. Share.'), painting classes, or the Earthy Food Festival and monthly barbecues (jerk barbecue and Korean barbecue were both recent successes). Like the store joined on to the Canonmills restaurant, you'll find ingredients that will surprise you, delight you and make you pull all sorts of embarrassing facial expressions, as you lose it briefly, in bowled-over, salivating appreciation.

Hot heritage tomatoes, smoked almond pesto, East Lothian venison with chocolate and chilli, apple and sumac relish, chorizo scotch egg, chunks of blood orange and mint in the table tap water... The reliance on the best quality, seasonal ingredients mean the menus stay fresh – in all senses of the word – and the flavours stay interesting.

It doesn't come cheap, though – peaches have been known to cost £1 each (granted, they may be the most incredible white peaches you've ever tasted, chosen for their sweetness, smelling like honey, carefully transported from a tiny farm somewhere in France, but still, £1? For a tiny peach?). Similarly, portions in the restaurant can seem a little dainty for the price. The best things in life might be free, but the good life, it seems, requires a bit of cash. That said, it's wholesome, colourful, imaginatively cooked food, and, considering the quality, still better value than a lot of places a few minutes up the road in the city centre.
Venue name:
Earthy Canonmills
Contact:
Address:
1-6 Canonmills Bridge
Canonmills
Edinburgh
EH3 5LF