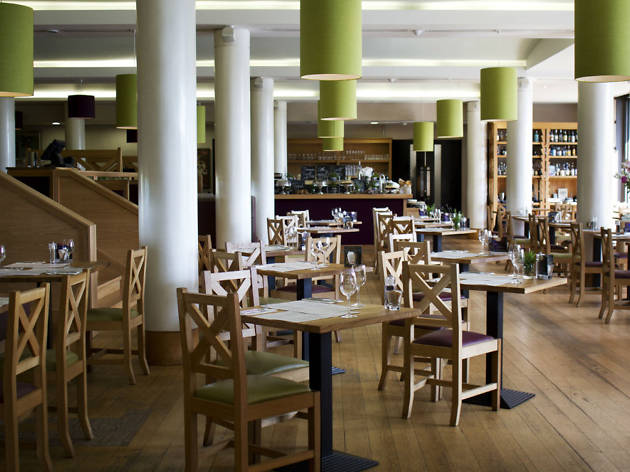 Forgive the unimaginative name – this is a great, central spot for coffee, afternoon tea or lunch. The three-course deals are particularly good value
Not to get all 'Location, Location, Location' about it, but as it stands, the Scottish Café and Restaurant is certainly using its setting to its advantage. Located within the Scottish National Gallery, you can enter from the Princes Street Gardens entrance. And a walk through the gardens alone offers great views of Edinburgh Castle on Castlehill, and an up-close-and-personal peek at the gothic glory of the Scott Monument. Factor in some Monet, Gauguin, Van Gogh and Constable in the National Gallery itself, and you're winning before you've even ordered your first cup of chai.

Part of Victor and Carina Contini's stable of Edinburgh restaurants, here, as the name suggests, things are suitably Scottish. Food is locally sourced, sustainably produced and carefully selected from around the country, and they don't simply play lip service to it either.

If you're simply after some respite from shops, art or general meandering, there's plenty from the homemade cake and drinks menu to fill a hole or quench a thirst. Sure, £3.95 is a tad hefty for a large cappuccino, but not everything is so painful on the purse strings. The lunch menu is good value, given the location, particularly the three-course deal, complete with glass of fizz. Other highlights can be found on the Scottish sharing platters, which boast Robert Corrigan's award-winning – and frankly delicious – homemade pies. The butteries (a rather lush savoury bread roll from Aberdeen) from the afternoon menu are rightly popular. Afternoon and high tea options are also available, so too a smallish but decent children's menu selection.

The restaurant space itself is light and airy: vast high windows offer some cracking views out over the gardens. And while service can be slow during busier spells, those with time to spare and art to ponder won't really care. When the sun shines, the outside seating area comes into its own, as one of the best spots in the city to take a pew and people watch.
Venue name:
The Scottish Café
Contact:
Address:
The National Gallery of Scotland
The Mound
Edinburgh
EH2 2EL