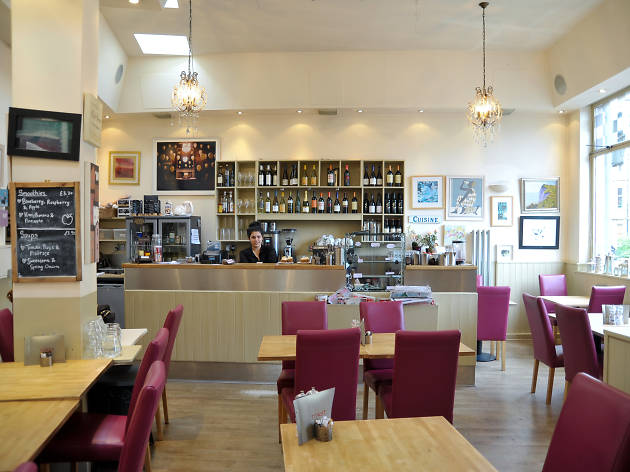 An off-the-beaten-track Morningside cafe-restaurant, boasting impressive (and exceedingly popular) breakfast and bruch menus
Most of the people eating French toast and Belgian waffles in this friendly cafe are there because they live close by; it's a slightly off-the-beaten track venue for anyone living near the centre of town, seeing as it's on the other side of the Meadows, but a neighbourhood favourite for Marchmonters (Marchmontites?).
Pancakes, croque monsieurs, ham and cheese rarebits, open sandwiches (with crab and peashoots, or steak and horseradish, for example) bulk out the ample breakfast and brunch menu, which also boasts good versions of the classic full breakfast (complete with pork and leek sausages, Stornoway black pudding, thyme-baked tomato and potato scones) and meat-free alternatives (with sweetcorn fritters, vegetarian haggis and homemade beans). Although they serve lunch and dinner too, it's busiest in the mornings, when the small room swells with buggies, sleeping dogs, chairs swinging with bike helmets and shopping bags, and staff trying to slink gracefully amongst it all.
Venue name:
Toast
Contact:
Address:
146 Marchmont Road
Edinburgh
EH9 1AQ

Opening hours:
Mon-Sat 10am-10pm; Sun 10am-4pm