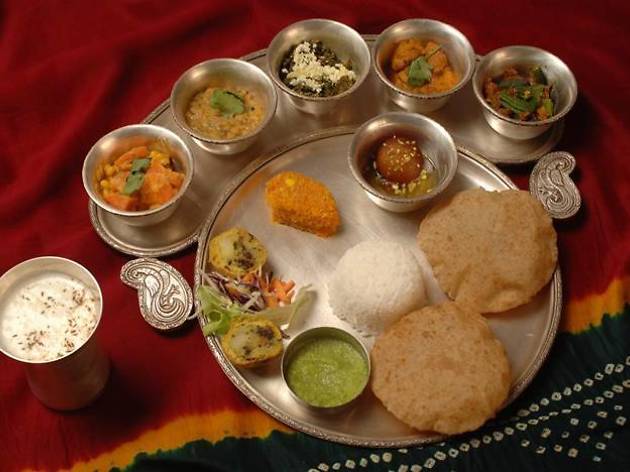 Covering two bases in one, owner and head chef Ajay Bhartdwaj's Kalpna restaurant has three decades of experience serving vegetarian-only Indian food in Edinburgh, taking influence from Bhartdwaj's first-hand research into Punjabi, Gujurati and South Indian cooking before he set up store in the city. Functionally sleek and decorated with bright wall reliefs, the atmosphere is that of a pleasant, modern Indian restaurant which isn't too uptight about itself, with a menu which displays a similar blend of traditionalism and hard-working modernity.
The South Indian dishes, for example, are classics in their home country which have just begun to take off in popularity here - these include dosa, which are soft pancakes made with rice and lentil batter, whose fillings include various vegetables combinations and a side of 'sumbhar', a lentil-based broth. The specialities list, meanwhile, contains the signature dam aloo kashmeri, which is potato stuffed with vegetables, paneer and nuts and served with sauces of tomato, honey, almond and saffron, or the baingan achari, a chilli-marinated roast aubergine.
For the undecided, set thali meal deals offer a little bit of lots of things (a vegan option is available) – or even better, go at lunch time if you can, when an all-you-can-eat buffet system operates. And save room for some dessert, notably Bhartdwaj's cardamom-infused, Indian-style rice pudding.
Venue name:
Kalpna
Contact:
Address:
2-3 St Patrick Square
Southside
Edinburgh
EH 9EZ

Opening hours:
Mon-Sat noon-2pm, 5.30-10.30pm. Also Sun 6-10.30pm (May-Sep only).