'If You're Feeling Sinister: A Play with Songs' review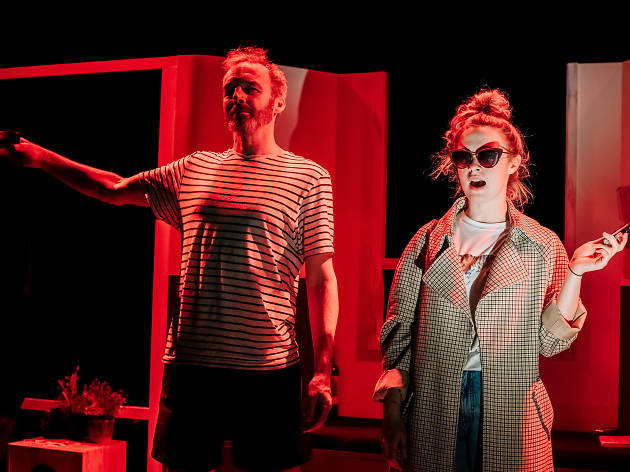 Time Out says
Friendly warning! We're working hard to be accurate. But these are unusual times, so please check that events are still happening.
Creepy relationship drama with some Belle & Sebastian songs grafted on
'Get Me Away from Here, I'm Dying' is the name of a song on Belle & Sebastian's second album and also a thought that rang around my head with increasing volume throughout this play, which playwright Eve Nicol somehow extrapolated from said LP.
It would be technically inaccurate to say that we've been lured into the Gilded Balloon Patter Hoose (nee C Venues) under false pretences. Most of the songs off 'If You're Feeling Sinister' are represented, performed by the two-strong cast of Sarah Swire and Alan McHugh. And the official description of they play does allude to it being something or other about an art heist. You couldn't do it under trade descriptions.
Still. The profoundly unlovable storyline concerns Kid (Swire), a Manic Pixie Dream Girl, and Boss (McHugh), a much older dude who she hangs around with in some sort of weird, uncomfortable relationship. It's set in Glasgow, which is the bare minimum you might expect from a play inspired by Stuart Murdoch and pals, and it's about... well, the pair nick a painting of Jesus and then sort of moan at each other for an hour while taking their shoes on a off a distractingly high number of times. Yes, I'm being slightly glib, but the relationship between Boss and Kid is creepy, exhausting, underexplained and seems to have very little to do with the lyrics to 1996's most seminal chamber-pop album.
I am sure Nicol is a devoted fan of the band and the album, but there is a certain audacity to putting them so front and centre in the publicity for a show and then simply thrusting your own, half-baked play at the audience. Yes, the songs are there. But not all of them, and rarely in complete form, and in Paul Brotherston's production they're invariably cheapened by wilfully tuneless singing and torturous attempts to contexualise them within the story of the play.
Sure, I'm a thirtysomething indie dad, grumpy that I didn't get my hit of nostalgia. But I could easily forgive that for a good play. This is not a good play.
Details