Heads up! We're working hard to be accurate – but these are unusual times, so please always check before heading out.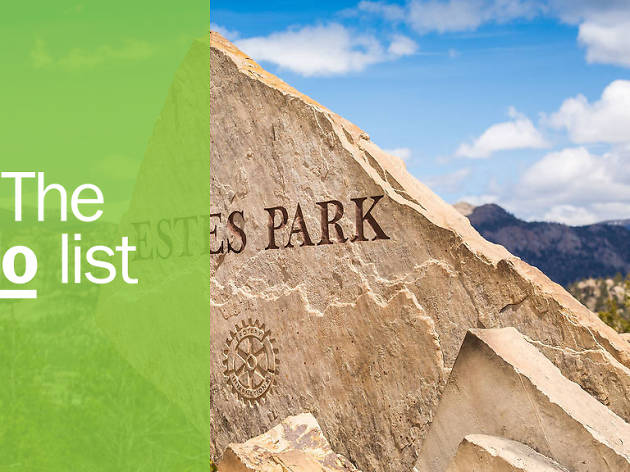 The 10 best things to do in Estes Park
Bring out your adventurous spirit and explore all the best things to do in Estes Park, at the foot of the Rockies
Surrounded by some of Colorado's most majestic peaks, Estes Park is a hamlet that stands apart from the typical mountain town. Perhaps it's because there's no mega ski resort here; just unfettered access to one of the most treasured national parks in the country and an outdoor culture that boasts a charm all its own. Just 1.5 hours northwest of Denver, the town is a hub for all things Rocky Mountain, from wilderness adventures to wildlife watching to artisan booze made with the alpine waters from the neighboring peaks. If you can, plan your trip for late September, when the aspens are in full golden bloom and the elk are out in droves during rutting season, filling the air with their haunting bugling. Whether you're an adrenaline junky in search of your next thrill or more of a sit-back-and-take-it-all-in kind of traveler, Estes Park has plenty to keep you entertained.
Done something on this list and loved it? Share it with the hashtag #TimeOutDoList and tag @TimeOutEverywhere.
Find out more about how Time Out selects the very best things to do all over the world.
Best things to do in Estes Park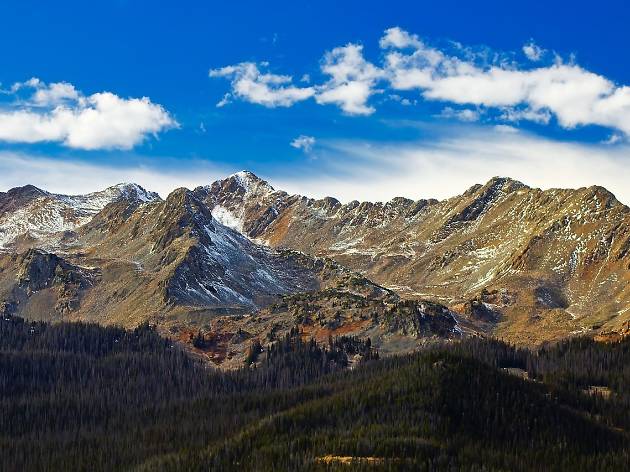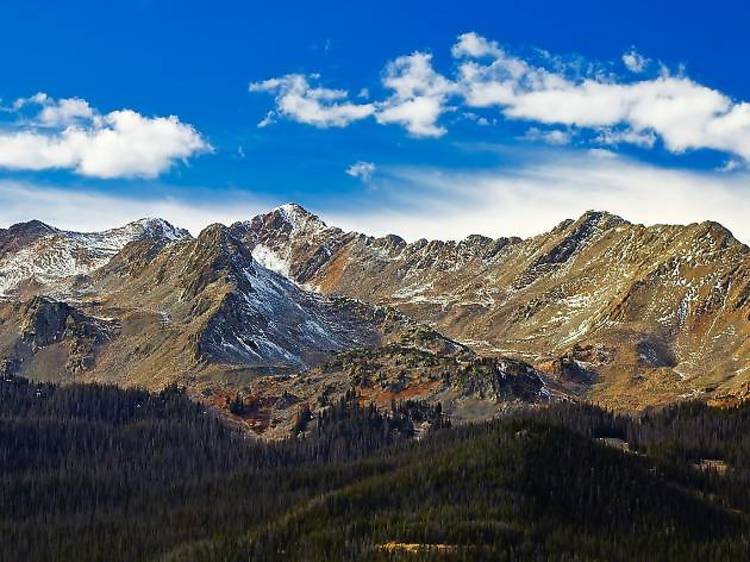 1. Rocky Mountain National Park
What is it? The park is just minutes outside the gateway of Estes Park, covering 415 square miles of breathtaking protected mountain wilderness.
Why go? With more than 300 miles of trails, panoramic vistas of snowcapped peaks, picturesque meadows, valleys, and meandering rivers, and Trail Ridge Road (the highest continuous paved road in the United States, hitting 12,183 feet in elevation), the choose-your-own-adventure options are endless. Hike it, bike it, fish it, climb it, drive it, camp it, photograph it…or all of the above.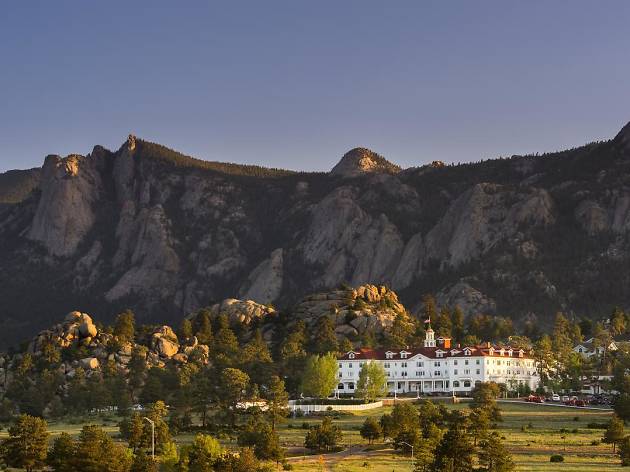 Photograph: Courtesy Booking.com
What is it? If there's one iconic place to stay in Estes Park, this striking red-roofed landmark, on the National Register of Historic Places, is it. The restored behemoth overlooks town in a perpetual state of grandeur.
Why go? Ever read The Shining? A one-night stay at The Stanley inspired Stephen King to write the bestselling masterpiece, and the television adaptation was filmed there. You don't have to be a guest to visit; try the guided Night Spirit Tour…if you dare.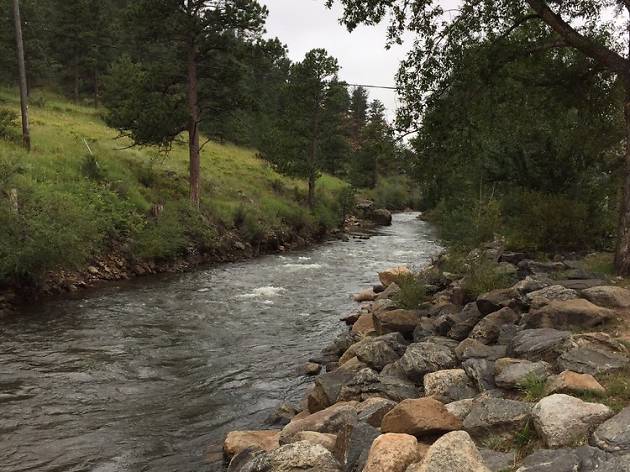 Photograph: Courtesy Yelp/Stephen W.
What is it? This idyllic paved trail runs along the banks of the Big Thompson River as it babbles through downtown Estes Park along Elkhorn Avenue, meandering past shops, eateries, and galleries.
Why go? Estes Park tends to get crowded in the warmer months, and strolling the Riverwalk is a neat alternative to elbowing through the throngs drifting in and out of the touristy storefronts. It lets you traverse the downtown and still retreat to a riverside patio for lunch or a cool beverage.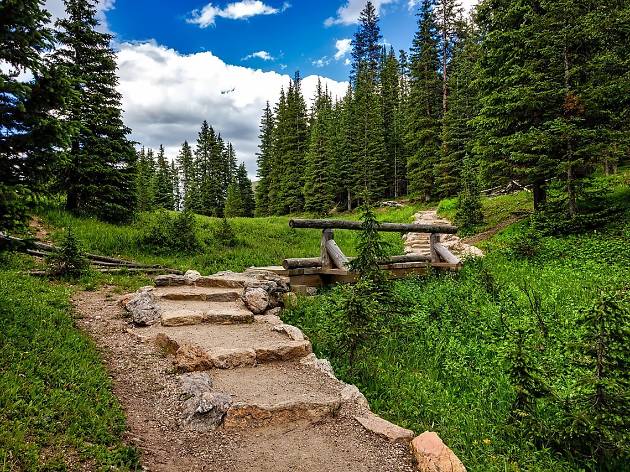 What is it? This Estes Park outfitter is your key to a behind-the-scenes deep-dive—think wildlife safari or seasonal photo safari—in the spectacular wilderness of Rocky Mountain National Park.
Why go? Whether you want to maximize your wildlife sightings, develop phenomenal nature photography skills, or get a front row seat during the elk rutting rituals that the Estes Park region is known for, Yellow Wood proprietor and naturalist Jared Gricoskie is your guy for private hiking, snowshoeing, or SUV tours.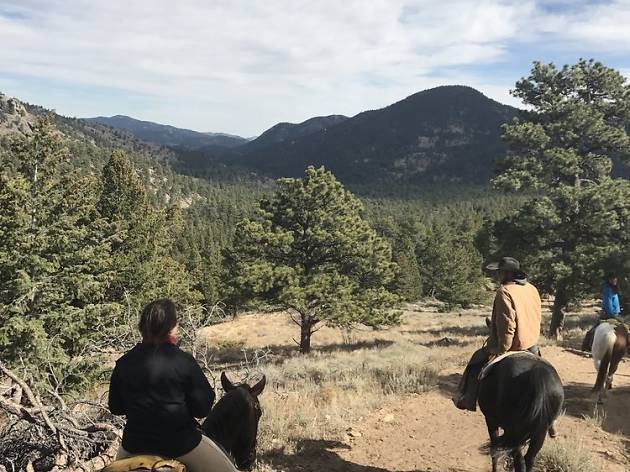 Photograph: Courtesy Yelp/Nick G.
What is it? The stables will hook you up with a steed for trail rides in Rocky Mountain National Park, pony rides for the littlest guys, and horse-drawn hayrides that include family-friendly stuff like marshmallow roasting and entertainment by Estes Park's Singing Cowboy.
Why go? The Rockies on horseback. Need we say more? OK, fine: Cowboy up (all day or just for an hour) to explore glacial basins, meandering rivers, alpine wildlife, blooming wildflowers, pristine lakes, and aspen forests, all from your perch in the saddle.
Photograph: Courtesy CC/Wikimedia Commons/DXR
6. Peak to Peak National Scenic Byway
What is it: Celebrating its centennial this year, this 55-mile stretch of road—the oldest scenic byway in Colorado—runs from Estes Park to the Victorian-era mining town of Central City.
Why go? The recreation options and historical riches along the byway make for a fantastic way to beat—or rather, leave behind—the crowds in Rocky Mountain National Park. The road winds through a wilderness area, national forest, and state park, hitting quirky mountain hamlets, alpine lakes, countless trailheads, and ghost towns along the way.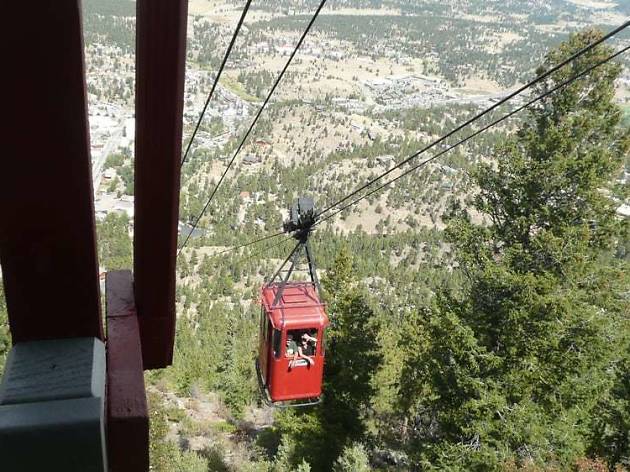 Photograph: Courtesy Yelp/Dave L.
7. Estes Park Aerial Tramway
What is it: Opened in 1955 and running roughly Memorial through Labor Day, the tram to the summit of Prospect Mountain was modeled after "free span" European versions that run the entire length of cable between the top and bottom stations, without supporting towers in between.
Why go? Want the mountain summit experience without the actual, you know, work? (Nobody's judging.) This is a cool way to do it. Awesome views all around, plus a few trails and a café at the top.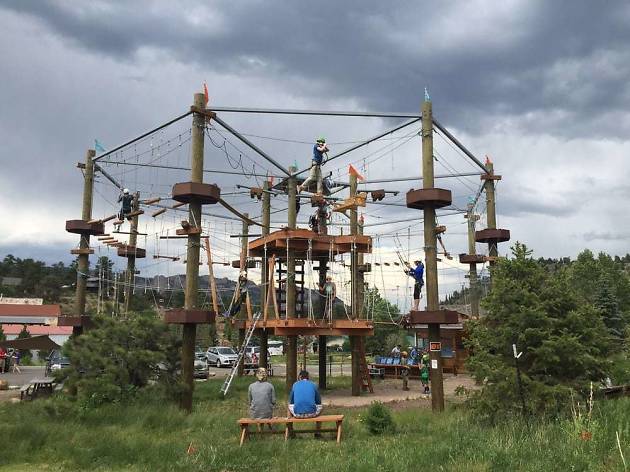 Photograph: Courtesy Yelp/Amy A.
8. Open Air Adventure Park
What is it? Think of it as ziplining 2.0: A 32-element course—including aerial tightropes, swinging logs, rope bridges, and shifting platforms—that lets you climb, swing, leap, maneuver, and traverse the challenges up to 21 feet above the ground.
Why go? Calling all daredevils: This is your happy place. You get 90 minutes of self-guided exploring (yes, you're harnessed in) to work your way through the obstacles. Staff are on the course—but you're on your own adventure up there.
Photograph: Courtesy Yelp/Blake T.
9. Lumpy Ridge or Rock Cut breweries
What is it? Both new within the past few years, these craft breweries set up shop after previously restrictive zoning codes changed, rounding out the town's once-limited artisan booze options.
Why go? There's nothing better than a cold one after a long day on the trail. Lumpy Ridge, housed in a repurposed gas station, serves its pours with a side of funky Americana, and Rock Cut is the perfect pit stop on your way out of Rocky Mountain National Park. Bonus: Food trucks!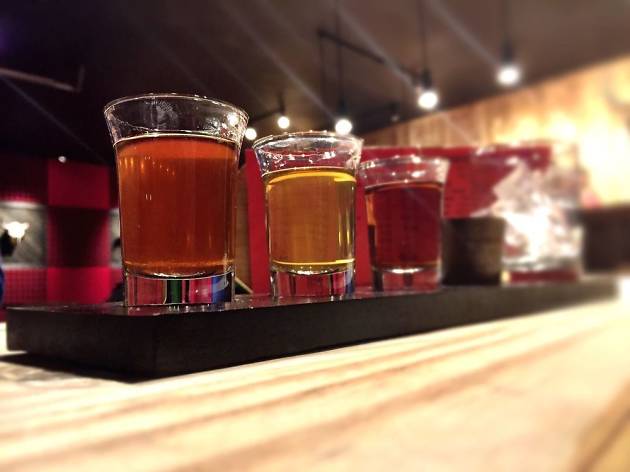 Photograph: Courtesy Yelp/Matt C.
10. Elkins Colorado Whiskey
What is it? Estes Park's first and only (legal) distiller opened in 2016 right across from the shores of Lake Estes, and has been impressing patrons with its medal-winning white corn whiskey ever since.
Why go? It's the Wild West—whiskey slugging is a rite of passage! The friendly owners know their spirits; take a distillery tour, then sip it straight for true local flavor, or order from a thoughtful cocktail menu. Try the Old Fashioned or The Dude.