A thriller with a twist, 'Searching' finally arrives in our cinemas next month. Its set-up is simple – a panic-stricken dad searches for his missing daughter – but the execution is unlike anything you've seen before. Here's why you should be getting excited.

1. It's a thriller – with a big difference
A sensation at this year's Sundance, 'Searching' is a detective mystery with a seriously modern twist. It's the story of David Kim (John Cho), a San Jose dad whose teenage daughter (Michelle La) has vanished and who has only the wonders of modern tech to help him find out what happened to her. If California-set thrillers are often languid affairs, 'Searching' is the exact opposite – a breakneck ride from start to finish. Get to your local cinema, find a chair arm and cling to it.
2. It's got heart as well as smarts
Take away its nerve-pulsing beats and clicking-clock tension and 'Searching' is really the story of a dad who just wants his daughter to take the bins out. But it soon uncovers deep emotions as dad David faces up to the disappearance of his baby girl, inviting you to imagine how you'd deal with the situation. It's immersive, immediate and quietly terrifying. Trust us, this is a thriller in emotional 3D.
3. It's full of surprises
Headlined by John Cho of 'Star Trek' fame, 'Searching' also boasts the mighty Debra Messing ('Will & Grace'). Like her co-star, she may be best known for comedies but you won't want to miss this chance to see her showing off her chops in a more serious role as an investigating detective. It's not just the cast that's full of nice surprises: the plot twists and turns like a sidewinder. Grab your popcorn and hold on tight.
4. It's one of the debuts of the year
'Searching' is directed by first-timer Aneesh Chaganty and on this evidence, the filmmaker has a massive future. He first made waves with a 2014 short called 'Seeds', which was shot entirely using Google Glass. For his first feature film, he's taken an equally revolutionary approach, reflecting our relationship with technology back to us without ever pulling focus from the seriously emotional family story at its heart.
5. It'll make you question your relationship with technology forever
A razor-sharp examination of the power our technology holds over us, 'Searching' will have you thinking more carefully about your next social post or chat room you visit. As the movie demonstrates to chilling effect, your online identity can come back to haunt you in a big way. A temporary tech detox will never have seemed more appealing than when the credits roll.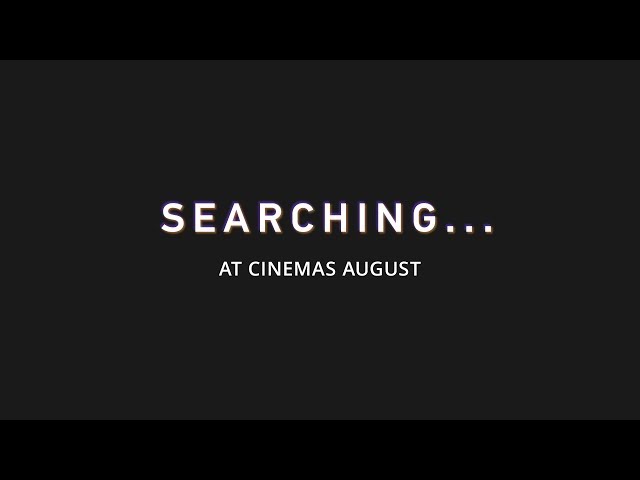 'Searching' opens Fri Aug 31. To book a place to watch it as part of Time Out's 'Searching' screening programme head to www.seeitifirst.com and the following enter code: K6MXTV.
Time Out's 'Searching' screenings take place on Wednesday, August 15 at 6pm for 6.30pm at Vue Finchley Road and Piccadilly Circus, and Odeon Greenwich and Wimbledon.
Terms and conditions: Tickets are subject to availability and will be allocated on a first come, first served basis via www.seeitfirst.com. Each reader may claim up to two tickets and should have matching named ID available if required. The tickets are not for resale. No cash alternative. No late admittance. The cinema reserves the right to refuse admission. In the event of a dispute, the cinema manager's decision is final.

©2018 Screen Gems, Inc. All Rights Reserved.