Andy Samberg walks in an Angeleno but sits down a New Yorker. "I'm slightly mortified that we're in L.A., doing this by a pool," he says, on a fine Sunday morning on the Sunset Tower Hotel rooftop. "It's completely bogus." Sunglasses come off and are replaced by Steve Jobs–esque glasses; the hoodie is tossed to one side to expose the comedian-actor in a plain white tee. "Coffee," the former Saturday Night Live star says, groggily, to the waiter. The waiter is stumped. "Like, a latte, sir? We can do that with almond milk if you'd wish." He accepts. Once the almond-milk latte is halfway done, it seems like he'd rather be sipping a dollar cup from a corner bodega in NYC. The West Village pad Samberg shared with his wife, pop classicist musician Joanna Newsom, is being rented out while the couple lives in a huge Hollywood Hills abode. He picks up my pot of black coffee and pours it into his latte. "I'm bailing on this almond milk! It's done. Oh, God, I miss New York."
Samberg does have California to thank for some things, though. It's where he was born, as David A.J. Samberg—he changed it to Andy at the age of five; "hippie mom was down," he remarks—and where he met his funny BFFs Jorma Taccone and Akiva Schaffer in college. For the past 15 years, the trio's been creating comedy rap as the Lonely Island while Samberg also does TV series (currently Brooklyn Nine-Nine), celebrity gigs (he hosted the 2015 Emmy Awards) and movie roles (Celeste and Jesse Forever). His seven-year stint on SNL coincided with the rise of YouTube, making his biggest sketch, "Dick in a Box," costarring Justin Timberlake, a viral phenomenon and instant classic. It's Hollywood, however, that has brought us here today. The forthcoming feature film Popstar: Never Stop Never Stopping is a vehicle not just for the Lonely Island to make songs parodying everything from Macklemore to Katy Perry but also to transform Samberg into the tribal-tattooed boy-band frontman turned solo star Connor4Real. Popstar, which the LI trio wrote and Schaffer and Taccone directed, is shot mockumentary style and follows the highs and lows of Connor's newfound solo success while the likes of Nas, Questlove, 50 Cent, Mariah Carey and Seal pine for the reunion of the original boy band. Now that I have Samberg good and caffeinated, it's time to get down to the really important questions.
What are your top guilty-pleasure boy-band pop songs?
Of all time?
Sure. I don't like the term guilty pleasure.
I don't either. I love "Please Don't Go Girl" by New Kids on the Block, "Can You Stand the Rain" by New Edition. I love Justin Timberlake's music a lot.
I recall that initial moment of hearing "Cry Me a River" on the radio. It felt like discovering Beethoven's Fifth Symphony for the first time.
[Laughs] Well Jorma and Akiva and I knew what was coming when we heard that last song he did with 'N Sync ["Gone"]. We were like, "Wait, is 'N Sync actually great?" He was singing his ass off. That was probably also the moment Pharrell [Williams] went, "Oh, shit, I can work with this!" Speaking of, I think I like that new Zayn [Malik] song?
"Pillowtalk"?
Yeah, it's badass, right? I don't even know what he's singing, but good for him.
What must Harry Styles be thinking?
He's chomping at the bit. It's interesting with the Zayn thing. By the way, I didn't care about any of this before we started writing this movie. We watched the One Direction documentary. It is genuinely charming, and they seem like good guys. But now I'm stuck caring about it?
You should care. Boy-band members transitioning into solo stardom is a fascinating insight into the human condition.
Yes. And also, when they go solo, how sexy and not-for-kids they wanna take it. Suddenly nobody's telling them no.
Right, like in Zayn's music video, there are flowers flying out of his girlfriend's crotch.
Yeah. It got dirty. Wait, how old is he? Like, 19? [Editor's note: He's 23.] That's a big part of what we were exploring [in the film]: the idea of growing up in front of the public. People always say, "Justin Bieber, what a jerk!" But he was 17. Think about what you were doing when you were 17. Now imagine that version of yourself with unlimited money. "Want a Ferrari? You can have it. Wanna have sex? Go have sex." Whereas for us, it's like, "I wonder if anyone will ever have sex with me."
When you were preparing the role of Connor4Real, did you shadow any boy bands?
No, but we watched all the documentaries. Remember the 'N Sync one [Bigger Than Live]? That was huge, right? And it was in 3-D before 3-D technology was good!
That was a missed opportunity for Backstreet Boys because they had the song "Larger Than Life." A 3-D movie would have been perfect.
Mmm-hmmm, they shoulda done it on IMAX, clearly. Huge mistake on their part.
So how did you get Seal in your movie?
Cold call! We have really good luck. It was similar to when we asked Michael Bolton to do the "Jack Sparrow" music video. With Bolton, we had multiple meetings to convince him we'd protect him.
Physically protect him while on the boat or you mean generally from ruining his career?
Creatively. God, we shot so early on Coney Island Beach in the dead of winter. We color-corrected it nicely. It looks really blue.
So you called Seal and said, "Hey, we're going to make this joke about your facial scars, and then we're going to attack you with wolves in this scene"?
I sent him the script and said, "Check it out; if there's anything that makes you uncomfortable, let me know." He showed up, did it, and the crew died laughing.
Were the wolves real or CGI?
It's a combination. There were real wolves involved, the wolves from Game of Thrones. They were beautiful and gigantic. I have had a pretty solid level of interaction with Game of Thrones folk. I did [HBO movie] 7 Days in Hell with Kit Harington, who plays Jon Snow.
You should do Game of Thrones.
That would ruin Game of Thrones for people. I would definitely get naked.
You dressed up as Joffrey once.
I did, at the Emmys. I felt great. I was playing him as goofy, so I didn't live in his despicable world. I know Emilia Clarke [Daenerys Targaryen] now. We presented together at last night's MTV Movie Awards.
Is that why you're a little bit late today?
You know, I wish I had some cool story, but the truth is that Akiva, Jorma and I went to sound mix this morning to make sure that our Will Smith tribute sounded okay.
"Think about what you were doing when you were 17. Now imagine that version of yourself with unlimited money."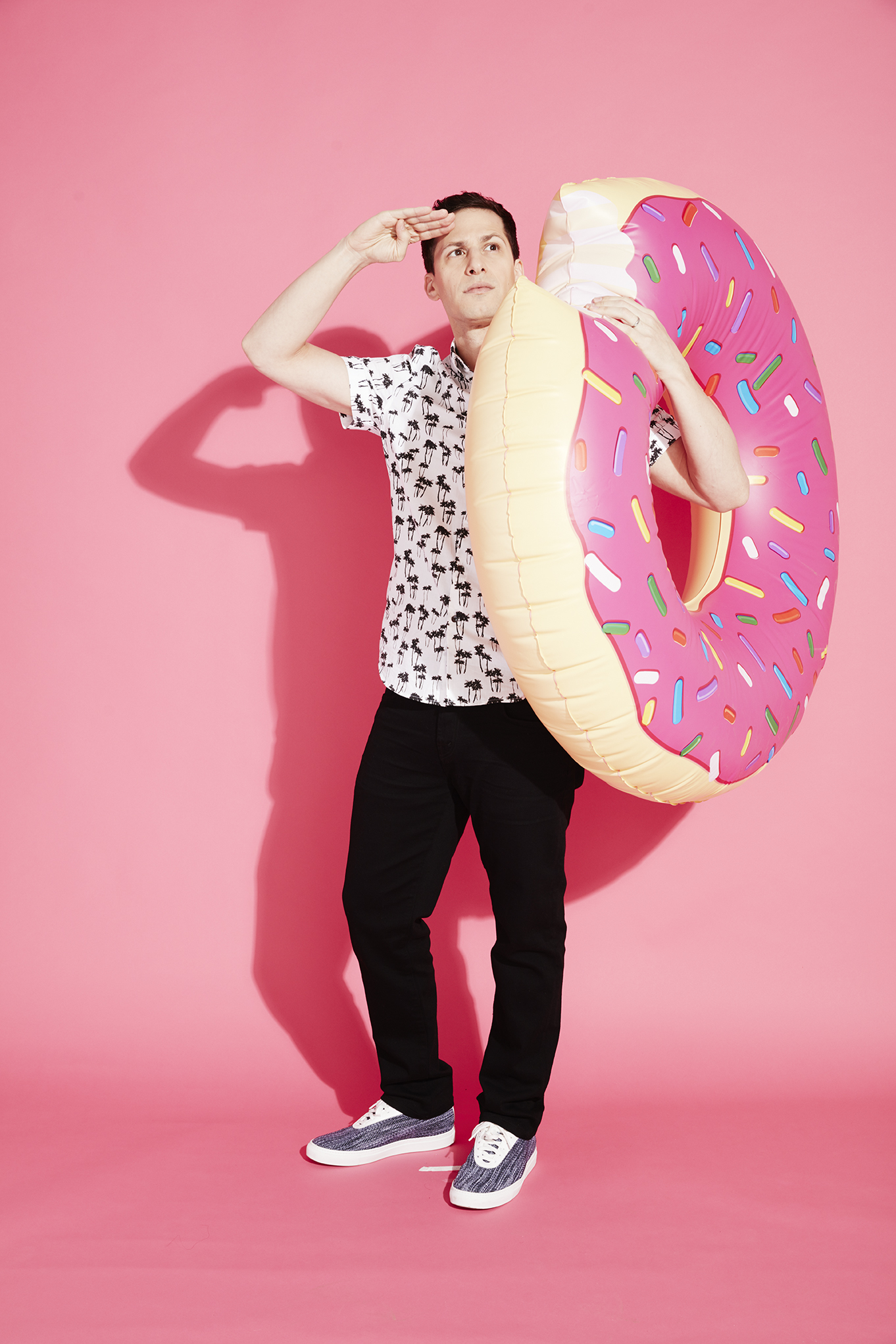 Photograph: Matthew Salacuse


I can't believe he got an Old Dude Award.
That's what he said! At the Awards, he goes, "I mean, the Lonely Island said it: Parents just don't understand!" How cool is that?
Are you excited for Independence Day: Resurgence? Will Smith is not in it.
He's gotta do a cameo, right? I tell you what: No disrespect to Will Smith, but I'm seeing it either way. It looks fucking awesome!
Back to your movie. You also managed to get Mariah Carey to make fun of herself.
People will say to you, "Oh, Mariah, she's a diva, this and that." She was literally on a show called Divas on VH1, right? She was pleasant, super fun.
You also make a joke about Taylor Swift murdering someone. Could she go that far?
Not yet. We love Taylor Swift. Obviously. The joke is that she's so squeaky clean. She'll find that funny. I'm not saying that in a Kanye way. It gets a huge laugh.
Do you always have music playing around in the house?
More in the car than the house. I'm married to a musician who listens almost exclusively to vinyl from the 1970s. I do my pop research in the car. She endures Kanye, Frank Ocean, Kendrick Lamar…. I made her listen to "Where Are Ü Now" by Jack Ü.
There is an element of strings to that song, right? I feel like there are strings.
It's just undeniably good. Even she was like, "Okay, that's a good pop song." Generally we listen to Kris Kristofferson.
Do you have a harp room in your house?
Multiple harp rooms. [Laughs] No, there's one. It's a beautiful room, make no mistake. It's where people who like her music would want her to play the harp.
The abridged version of the story is that you went to a Joanna Newsom show and then decided upon marriage.
[Laughs] Well, I went to watch her show in New York when I worked at SNL. Fred Armisen knew her a little. We became friends; I went out to dinner with her crew. We stayed in touch and then eventually got married. Best thing that ever happened to me.
I mean, I've tried that in the past, but it hasn't worked. Pop down to a Devendra Banhart show, leave empty-handed.
Well, if you want me to put you in touch with him, I probably could through Joanna…or Fred! I've became buddies with Carrie [Brownstein] through Fred. He's the indie guy. Carrie is the fucking coolest person I've ever met. When you talk to her, you just think, How are you so comfortable, great, funny, smart and kick-ass?
And what does she say?
Well, I don't ask her that directly, but she'd probably say, "Oh, shut up." Which is so cool. I love that last record; what a fucking return!
So, Justin Timberlake. Do you guys just hang out, text? What's the vibe?
Not as much as we'd like. He's got a kid. And I'm hanging with my wife. Ugh. He's good at everything. And he's nice.
You and Joanna don't go and play doubles golf with Justin and Jessica Biel?
No, but I want to. Although he's fucking good at golf. It would be humiliating. He's probably the best golfer on Earth. Nowadays he's probably better than Tiger Woods.
Together with Justin, you made some of the best SNL skits ever. As a big Lady Gaga fan, I think "3-Way (The Golden Rule)" is the best…
The best of the trilogy?!? That's controversial, but I like that you like it. Gaga was super laid-back. She was on the same episode of SNL as Justin, so she was really down with just being like…
The third wheel.
Literally. It's funny that we made a song with two of the greatest vocalists of our time. And then there's me, singing in a weird baritone.
When did you discover the baritone?
It was on [the first skit], "Dick in a Box." We were trying to figure out a way for me to sing. We had agreed we wanted it to be set in the world of '90s R&B because we all had love for that.
Did you try to sing in a soprano?
I go there when we're temping stuff for other people. I've done a lot of Rihanna temp vocals for the Shy Ronnie skits. Then we play it for them, and I say, "That's my terrible impression of you." When we were making "Shy Ronnie 2," Rihanna was chilling in our SNL office, and the head of her label came in. They had a powwow about what the new single should be. We saw them decide that the next single was gonna be "Rude Boy." We were part of music history. This new song "Work" is like "Rude Boy: Part II." "Work" is my shit.
Man, Rihanna is so cool.
She's like Carrie Brownstein–level cool.
Have you ever had any awkward run-ins with any of the people you've done impressions of? Keanu Reeves, Elton John, Mark Zuckerberg?
Zuckerberg loves it. We're buddies. We text each other.
Are you Facebook friends?
Well I didn't have a Facebook account, and then we went to visit him at the Facebook campus, and I said, "Yeah, I never signed up for it. I just feel like I'm in touch with everybody I wanna be in touch with." He insisted I get Facebook, so I made him a deal: "I'll sign up for Facebook if it's a private account and my only Facebook friend is you." He signs me up and gives me some forms. I ask, "I'm not gonna start getting tons of friend requests? It's all private? It's just me and you?" And he's like, "Yeah! 100 percent!"
And you trust him? Have you seen The Social Network?
Oh, that movie's bullshit. [Within] the next few days, I started getting friend requests from random people, so I text Zuckerberg, "Hey man, I'm getting these friend requests, so I'm gonna need tech support." He was right on it. Immediately texts back, "That shouldn't be the case. Okay, go into your settings. Click on this tab…."
Mark Zuckerberg walked you through your Facebook privacy settings?
Yeah! I was like, "Holy shit, I just got Facebook tech support from Mark Zuckerberg."
Amazing. I see that Popstar comes out the same weekend as the Teenage Mutant Ninja Turtles movie.
I've noticed they've already started putting billboards up for that. I wanna start a smear campaign against them. Just that they're all sex offenders.
Even Michelangelo?
Oh, yeah, especially him. They were roofie-ing those pizzas. I saw the first movie, and there was a weird dynamic with one of the turtles trying to fuck April. April raised those guys. Now they're teenagers and turtles, and this movie's for kids?!? It's borderline sexual harassment.
Well, anyway. Thanks for the coffee, Andy.
Oh, my pleasure. In L.A. it only costs about $75.
Popstar: Never Stop Never Stopping opens June 3, 2016.