A couple of years ago Daisy Edgar-Jones was starring in small but grabby parts in telly shows like Cold Feet and Silent Witness. Then the pandemic happened, Normal People landed and she went supernova as Marianne, the Irish student whose love affair with Paul Mescal's Connell (and his chain) kept us all sane during the dark days of lockdown. Colossal fame, inevitably, feels a bit abstract when you're stuck in your house 24/7. 'It was all happening online, so it felt like playing a video game,' remembers the 23-year-old north Londoner. 'I couldn't tell if it was real or a Sims game.' Her first major movie role pairs her up with one-time Avenger Sebastian Stan in Mimi Cave's Fresh, a gnarly, twist-filled social thriller about the horrors of online dating.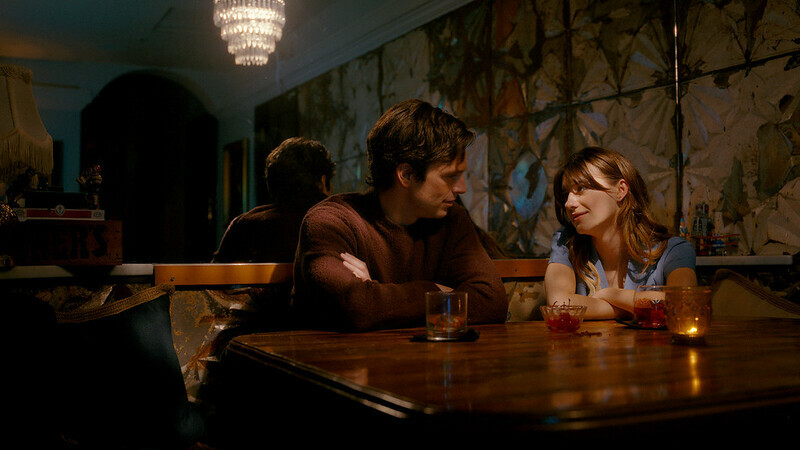 After a gentle opening, the film goes off in a dark and surprising direction. Did you feel the same rug-pull the audience feels when you first read the script?
'Yes, I really did. I genuinely didn't expect all the twists and turns. I was on a drive somewhere and when I got out I had to walk to a hotel and I was genuinely scared walking on my own.'
Did you watch any films to prepare?
'I watched Silence of the Lambs, Get Out and Sightseers, which is a favourite of mine and helped with [locating] the film's tongue-in-cheek tone.'
'Fresh' tackles dating red flags. What are yours?
'My character, Noa, experiences all of them in the film. I definitely think taking leftovers [home from a restaurant] is a bit rude, and being rude to a waiter would be a big red flag.'
Is social media a red flag? Being on it too much or not at all?
'I think it's quite cool to not have it, to be honest. If you don't have social media it means you're against the grain a little, which is quite cool.'
How did you prepare for the role? Did you go online a lot?
'Mostly it was the accent, because I'd never done an American dialect and I was nervous about getting it wrong. And I did a lot of zooms with Sebastian Stan and (co-star) Jojo [T Gibbs]. Luckily, we also had two weeks of quarantining [together] to get to know each other, work on our scenes and make carrot cakes.'
I've always had an ear for accents. I feel very shy when I'm acting in my own voice
Is it true you used to do accents with your mum when you were a kid? Did that help?
'It definitely did. I grew up with lots of strong accents in my house, and mum and I would do wee characters with each other. It's always been something I've had an ear for. I much prefer acting in an accent. I feel very shy and self-conscious when I'm acting in my own voice.'
Normal People racked up 62 million iPlayer views in 2020. How surreal was it to have this massive moment during lockdown?
'Surreal is the word. Since then I've gone from Covid to a year abroad on different film sets, so it's only been in the last few months that I've become aware of the shift. Now people actually come up and tell me they loved the show. It's been really lovely to know how many people genuinely love the series.'
Do people shout 'Marianne' at you in the street?
'I haven't had that yet, although it might come. But a lot of people have said that it was a big part of their lockdown. It's mad to think that we were in people's houses when they were going through such a weird time.'
It was you guys, banana bread and Tiger King keeping us sane.
'... and I May Destroy You.'
Right, of course. Do you still keep in touch with Paul Mescal?
'Yeah, we talk on the phone a lot. He's in Australia filming at the moment. It's amazing that our careers launched together with "Normal People". Do I follow @connellschain on Instagram? I think I do, yes.'
People don't shout 'Marianne' at me in the street yet, but it might come
Where do you think you'll be in ten years? Do you have ambitions to make your own films?
'I definitely have an interest in directing. I'm drawn to stories and characters that are really different from anything I've done before – to seeing how far I can depart from myself in my characters. I really like working with visual filmmakers and I loved being in Mimi [Cave's] world with Fresh. I liked how it takes romcom tropes and gives them a contemporary female spin.'
You studied drama at the National Youth Theatre in Holloway. What were your old student stamping grounds?
'Definitely Holloway Road and Finsbury Park. We went to Camden a lot: Camden Lock and the vintage stores to buy clothes. I grew up in north London, so north was where I'd hang.'
What was your style back then?
'Gosh, it was terrible. I bought this tweed green jacket that I thought was really cool and halfway through the day I felt something biting my back. I realised that there was something living in it that was eating me. I bought a pair of overalls and found a smushed-up chocolate bar in the pocket. I had good hygiene, but that was not good.'
I read that you're learning to DJ. What would be your dream London club to play in?
'That's a great question. Maybe Printworks? My favourite club is Bussey Building in Peckham, where they have the Soul Train nights. That would be a cool venue, although I'm not sure I'm good enough to DJ in front of people.'
What's your guaranteed floor-filler?
'Any Peggy Gou for a mooch on to the dancefloor, then maybe Bicep to be more thinky, and remixes of Chic's "I Want Your Love" for a boogie.'
'Fresh' is streaming on Disney+ from Mar 18. Read our review here.